Google Business Profile (formerly known as Google My Business) is a free tool that helps businesses manage their online presence across Google. When you create and verify your business on Google, you'll be able to control how customers see your business and decide which information is displayed.
Having an active Google Business Profile makes it super easy for customers to contact you and leave reviews. You can also post updates and special offers that will appear on Google Search and Google Maps.
We often see questions like, "why do I need to verify my business on Google?" or "what is the best way to verify my business on Google?" To get answers to these questions and more, read on.
Why you need to verify your Google Business Profile
Google wants to make sure that your company is genuine and exists at the address it claims. To accomplish this, Google offers a variety of ways for companies to verify their business. After Google has verified your company and its address, it can then be seen on Google Search.
Verifying your Google Business Profile helps your business appear correctly across Google's products, such as Search and Maps. It also guarantees that people looking for the products or services you provide can find your business online.
How to verify your business on Google
Typically your business will have an existing Business Profile on Google. If your business does not have a profile, you will need to create one.
To create a Google Business Profile for your business first, go to google.com/business and sign in with your Google account. If you don't already have a Google account, you'll need to create one. See our step-by-step instructions on how to create your Business Profile from scratch for one location or for multi-location businesses.
Manage my Google Business account
If your Google Business Profile already exists, but you haven't claimed it yet, go to google.com/business and enter your company name. If your Business Profile already exists, it will appear in the Google knowledge panel on the right side. Click on "Own this Business, then select "Manage the business" appears. Now, you verify your Business Profile.
Google offers different ways to verify your profile. You can use a phone, text, email, or video call to do this. The type of verification needed depends on the information Google has about your business. Each verification process is straightforward, but you may need to verify with more than one method.
[Free Toolkit] The Complete Google My Business Marketing Toolkit to Generate More Leads – Download Now
Let's dig a little deeper into each of the Google Business Profile verification options to see what each process looks like.
Verification methods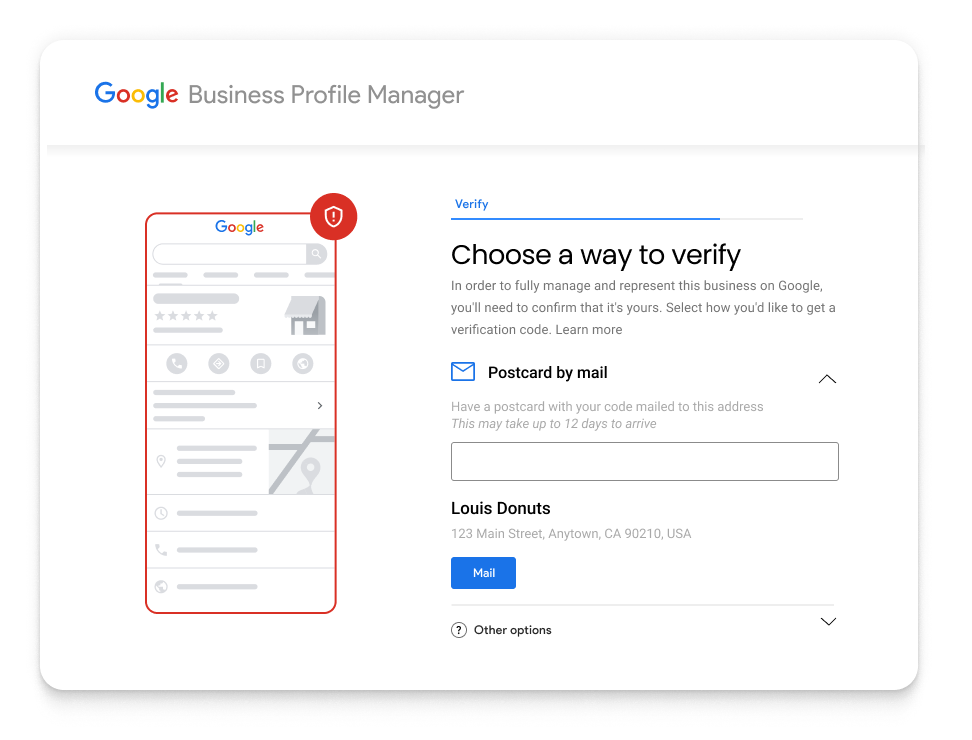 Since there are a few different ways to verify your Google Business Profile, pay close attention to the important information for each before you decide which method will work best for you.
1. Postcard verification
With the postcard request method, Google will send you a postcard with your Google My Business verification code by mail. Your postcard should arrive within two weeks. Once you've received it, you'll have to enter the unique five-digit code on Google to confirm your company is at the specified address.
Once you've requested a postcard from Google, don't make any changes to your company name, address, or category while you wait for your card to arrive. Don't request another code, either.
If you change your profile information or request a new code, Google will cancel the code on the original postcard and send a new one to maintain the integrity of your account.
Each verification code is assigned only to your company and your provided address. Verification codes are valid for 30 days after they've been generated.
Step 1: Request the postcard verification method. Go to your Google Business Profile. Select "Get verified," and then click on "Postcard." Make sure your business address is correct. Then, request the postcard.
Step 2: After you receive the postcard, enter your verification code. Go to your Google Business Profile. In the "Code" field, enter your unique five-digit verification code provided on the postcard. Then click "Submit.
If you're wondering how to verify my business on Google without a postcard, you're in luck, the next methods might work better for you.
2. Phone or SMS verification
You may be asking yourself how to verify my business on Google. But before you pick this option, it's important to remember your business phone number must be able to receive direct calls and text messages. Unfortunately, interactive voice response systems cannot get the verification code.
If your business phone can be directly answered and receive text messages, follow these steps for verification:
Go to your Google Business Profile.
Click on Get Verified > Phone or SMS.
If you select Phone, answer the call and listen for the verification code. Make sure you write it down so you don't forget it. If you choose SMS, open the text with the verification code.
Then, enter your code into your Google Business Profile to complete verification.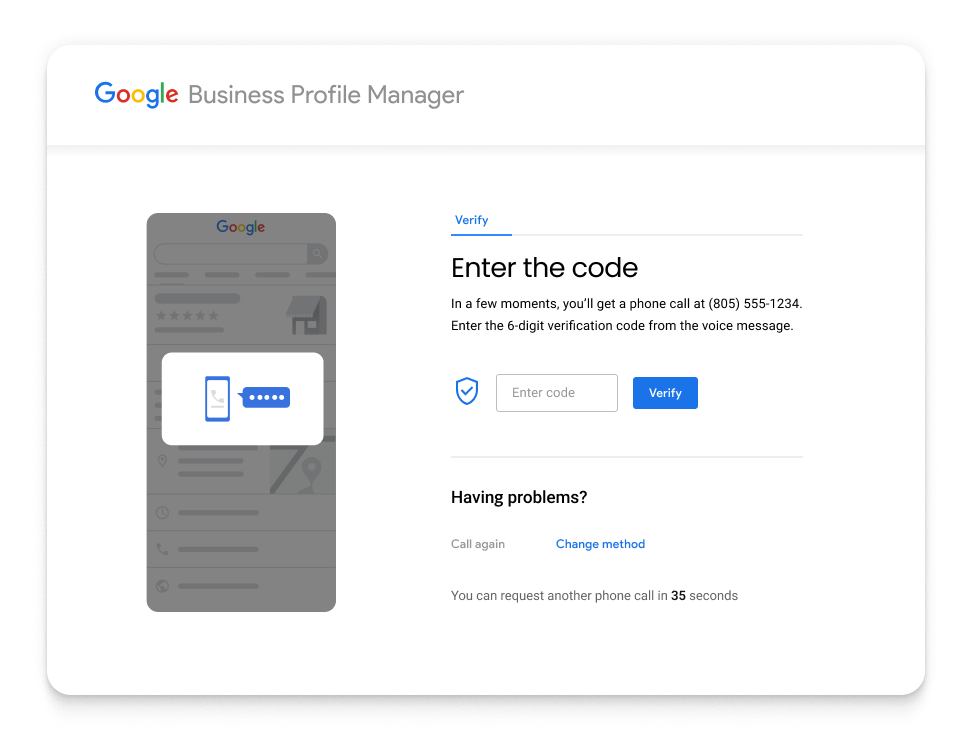 3. Email verification
If you decide to verify your business by email, make sure you use the same exact email address on the verification screen.
Go to your Google Business Profile.
Click on Get verified, then click on "Email."
Follow the steps outlined in the email from Google
4. Video recording verification
If you choose to verify your account with a video recording, keep in mind that if you cancel the video upload to Google at any point, neither you nor Google can access it.
Before you hit that record button, you'll need a game plan for your video. Google requires a continuous recording that includes the following points:
Your business location. To display your Google Maps location, capture video of the outside of the business, such as street names, neighboring businesses, or the neighborhood around your company.
Business or equipment. Capture a video of your operations to show your company occupies this Google Maps location. This might cover items such as stock items for sale, branded equipment, marketing materials, and customer-facing tools.
Proof of management. Include footage of employee-only items or places that prove you're authorized to represent your company. This could include a cash register, kitchen, storage room, or non-sensitive business papers. You could also use your keys to enter your building.
Once you have your plan to be able to record these elements above, you're ready for the next steps:
Step 1: Upload your video
Go to your Business Profile on your cell phone. If you started your verification process on a desktop computer, you can scan a QR code to continue on your phone.
On your Business Profile, tap Get verified > Capture video.
Tap Start recording. Follow the steps and record your video.
Tap Stop recording > Upload video.
Step 2: Wait for review
Once you've uploaded your video to Google, it will be under review for up to five business days. If you're verified, you'll get a notification. If this verification method doesn't work, you'll still see the "Get verified" button., which means you'll have to try a different verification method.
Step 3: Delete your video
Once you've been verified, go back to your Google Business Profile. On the top right, click More, then click Advanced Settings, then click Video Uploads, then click Delete Videos.
5. Live video call verification. Before you select this method, make sure your phone can take live video calls and you're within the Google support hours for video call verification. Like the video recording verification method, you'll need to confirm you're at the location of your business and prove you're the business owner on the video call. Then, follow these steps:
Go to your Google Business Profile.
Click "Get verified," then click "Video Call," then click "Next."
Select language.
Click "Start call" to begin chatting with the next available representative.
When you're ready, a support representative will help guide you through a video call.
Show your business location and proof of business ownership.
Google My Business instant verification
It doesn't happen often, but sometimes Google can tell if a Google Account owns a certain Business Profile. For example, your Google Business Profile might be verified right away if you previously verified your website with Google Search Console– the free tool from Google that helps website owners, SEO professionals, and developers understand how they're performing on Google Search.
For new Search Console users, if you verify your matching website after you add or claim your profile, click "Get verified." From there, you may edit your profile and connect with customers right away.
If a qualifying business manages 10 or more locations of the same business, that business might be able to use bulk verification.
Bulk Google Business Profile verification for multiple locations
You can use Business Profile Manager to manage multiple profiles in bulk. Before you take any action, make sure your account can be verified.
First, make sure a verified account doesn't already exist for your business, and that your account has no errors. Next, you'll need to provide a spreadsheet with 10 or more profiles from the same business. This spreadsheet should only contain the profiles you manage. If you operate a service area business, then you can't use the bulk verification method.
When you are ready, sign into Business Profile Manager on your computer. On the left, click "Verifications." Then, select "Chain." Fill out the form and include the business name, business countries and regions, the contact name of everyone who manages this Business Profile account, the contact phone number, the business manager email, and the Google Account Manager email address. When you're done, submit the form. Google will then email you to let you know when your account is bulk verified.
Can somebody else verify my business on Google?
You can only verify and manage your company information on a Google Business Profile if you're the owner or an authorized representative. You can add a manager to your Business Profile if you'd like to share management access with others.
You can also add trusted third parties to your profile after you enter your verification code using any of the methods outlined above. You'll then have the option to transfer primary ownership to a third party.
Additional benefits of verified status
By verifying your business, you're essentially telling Google you're a legitimate business and your information is accurate. This comes in handy when potential customers are searching for your business online. Most importantly, verified businesses tend to rank higher in search results, making it more likely that customers will find you.
Verified businesses can also take advantage of additional features, like including photos, videos, and Google Business Messages. All of these things can lead to more customers and increased sales for your business.
When you've verified your Google Business Profile, you'll also get access to information about how people are finding your profile. This includes data on branded and non-branded searches and information about where people are seeing your listing.
Tips for maintaining a verified status
It's important to maintain your verified status on Google. It can help you build trust with customers and help protect your brand.
When your business information is verified on Google, you can keep your online presence current with accurate and timely information. When information about your business changes, make sure you update your Business Profile right away. Regular updates help make sure Google can share the most accurate information with your potential customers. In some cases, Google might not accept changes if there are inaccuracies.
For best results, you should:
Consistently represent your business as you would in the real world across signage, stationery, and other branding.
Make sure your address and/or service area are accurate and precise.
Choose the fewest number of categories it takes to describe your overall core business.
There should only be one profile per business location, as this can cause problems with how your information displays on Google Maps and Search.
FAQs about how to verify my business on google
How do I know if my business has been verified on Google?
Visit Google Business Profile Help, "Verify Your Business" tab, to check your verification status.
How much does it cost to verify my business on Google?
There is no cost to verify your business on Google. The Google Business Profile is a free tool that allows businesses to manage their online presence across Google, including Search and Maps.
Should I verify my business on Google?
Yes, you should verify your business on Google. This will help improve your local search ranking and make it easier for customers to find your business.
How do I register my business with Google?
You can register your business with Google by creating a Google Business Profile/Google My Business account. To do this, you'll need to provide information about your business, such as your name, address, and phone number. Once you've created an account, you'll be able to update and manage your listing on Google. You'll also need to verify that you are the owner or manager of the business in order for it to appear in local search results. Verification is usually done by mail or phone.
How can a Google My Business location be verified?
To verify your Google My Business location, you need to enter the business address that Google can find. Make sure to enter the correct and complete address. For example: 123 Main Street, Anytown, CA 90210.
How to verify a Google business without an address?
If you don't serve customers at a physical business address, leave the address field blank and list your service area(s) instead.
Why is a verified business not showing on Google search?
It can take a few days for your verified Google Business Profile to appear in the search results. If it's been longer than a week, contact Google support.
How do I put my business on Google?
Setting up a Google business page is a simple and straightforward process. You just need to create a Google My Business account and enter accurate, up-to-date information such as your address, phone number, and hours of operation. Once you have verified your profile ownership via phone or postcard, it will begin appearing in relevant searches and make it easier for customers to find you.
Birdeye's complete Google marketing package
Google has become the front door to local businesses. It's where that initial search for a business starts — "best podiatrist," "pizza restaurant near me," and so on. This has made the power of the organic Google listing immense. In this digital age, 90% of consumers say they use Google to find businesses, and a whopping 61% of them only select from the first three businesses to come up in a Google search. This makes your Google Business Profile an indispensable search, review, and marketing tool that your business needs for growth.
Birdeye provides multi-location businesses with a complete Google marketing package, one of the many reasons why more than 100,000 businesses use Birdeye to help boost their local search engine optimization (SEO) and online reputation, communicate directly with prospects, and win new business. Check out our marketing toolkit on how to generate more leads from your Google Business Profile by clicking the banner below.


        

This blog post is part of our Complete Google My Business Guide:


        

Google Business Profile


        

Google My Business Related Training


        
Originally published