Local lead generation is a great way to reach potential customers in your area and increase your revenue. But how can you generate local leads? In this blog, we'll show you the best strategies for generating local leads that will help you get more revenue from your business. From optimizing your website to leveraging social media, we'll cover everything you need to know about local lead generation so that you can start growing your business today.
Overview: Local lead generation
Local lead generation is a location-based approach to pinpointing customers in a specific area. Smaller businesses work to generate local leads using tactics that will attract customers located within close proximity.
The types of businesses that benefit the most from these leads include hardware stores, bars, restaurants, coffee shops, electricians, florists, independent retailers, mechanics, plumbers, and realtors. This approach can also apply to healthcare providers, such as medical providers and dentists, that may use social media to attract local patients and drive them down the lead generation funnel.

Local lead generation advantages
Targeted tactics
To generate leads for local business, it's crucial to focus on the target audience rather than a broader market. Consider a small-town bakery that sells croissants and other pastries daily and how they would reach potential customers. Primarily, they would focus on attracting French pastry enthusiasts and coffee lovers. And since traditional wheat-based croissants are not gluten-free, they would avoid targeting customers with gluten intolerance.
For the bakery to reach these target customers, it must implement digital strategies such as paid search ads and social media campaigns. These channels let businesses set up parameters based on demographics like age, gender, and interests. By using specific keywords and phrases, the bakery can target French pastry lovers more accurately.
Increased visibility
You can increase your online visibility by capitalizing on the power of local search engine optimization (SEO) and social media marketing. Six out of 10 people use social media worldwide, so investing in social media campaigns tailored for a regional audience can help you reach more potential customers in your geographic area.
Additionally, you can use tools like Google Maps and other local business listing services to help boost your visibility with your local audience. Be sure to include relevant keywords and high-quality photos on your business listings. Then work to encourage customers to leave reviews. Reviews help to show that you are an active and popular business.
Better ROI
Localized lead generation can produce a better return on investment (ROI) by streamlining your marketing efforts to target customers who are more likely to convert. By leveraging the targeting tactics mentioned earlier, you can effectively get the right message to the right people at the right time.
Plus, it's possible to do all this inexpensively compared to traditional marketing methods like print and television ads. So not only do you increase conversion rates, but also reduce your overall marketing costs.
Top local lead generation strategies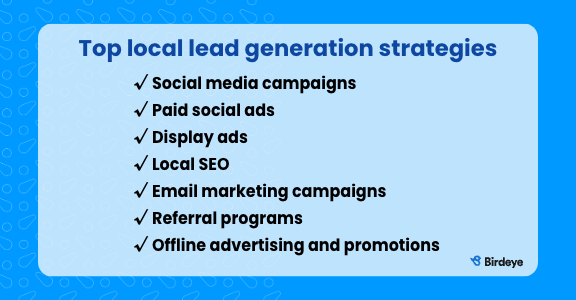 Social media campaigns
A great way to attract more customers in your local area is by running localized social media campaigns. Posting content to social media channels like Facebook, Nextdoor, or Instagram lets you reach out to a specific demographic in a way that is both engaging and cost-effective.
You can also use local groups and hashtags to promote your business, letting you put your brand in front of an audience that is more likely to become customers. Additionally, running contests or giveaways can help encourage prospects to take action and convert into leads.

Paid social ads
The true power of paid social ads is that they boost a business's social media content to the top of people's feeds. It bypasses the algorithm for organic traffic so that your content is seen first. This will help to raise awareness much faster and potentially drive leads.
You can also target a specific audience you want to see your ads. Thus, the right people will view your ad, and you're not wasting resources. Keep in mind that paid ads aren't free and require a budget.
Display ads
Display ads appear on websites and in emails. They usually take the form of a landscape, skyscraper, or square image with some text that briefly describes the brand, product, or service offering. However, it's best to place a display ad on a website that appeals to the target audience for a satisfactory click-through rate (CTR.) For example, a car dealership should place an ad on a vehicle review website aimed at a local audience looking to buy cars.
Local search engine optimization
Many small businesses rely on their social media pages and websites to generate leads. However, due to competing priorities, those channels are most likely outdated. This stale information creates a bad user experience and hurts the business's online presence and search engine optimization (SEO). A poor SEO rating can hurt your online visibility, making local lead generation difficult to achieve.
To fix this, you have to optimize your website with localized content and take advantage of local SEO best practices. This involves making sure the business information is accurate on all major listing sites such as Google My Business, Bing Places for Business, Apple Maps, etc. You also want to make sure that your website is mobile-friendly and that you are posting relevant content regularly to improve your search engine ranking.
Email marketing campaigns
Email marketing campaigns work well if potential customers opted-in via a form, landing page, or website. Make sure you use catchy and clever email subject lines so that you encourage the reader to open the email. An effective way to increase interest is to offer prospective customers a lead magnet, such as an eBook with valuable information they can't find elsewhere. However, building a mailing list of genuinely interested recipients takes time so be patient with the results.
Referral programs
Have you ever wondered how to get local business leads without breaking the bank? An easier way to do this is by running a referral program where customers spread the word about your brand to their friends and family. To encourage their participation, you may want to incentivize them.
You can offer free product samples, exclusive deals, or even points if you're running a customer loyalty program to get them to refer more people. This is a great way to build a community of loyal customers and increase your customer base.
Offline advertising and promotions
Offline advertising and promotions work best with a targeted approach. You can hand out flyers to people visiting your premises, at your local library, or at local events. You can use physical items such as branded t-shirts, mugs, and pens. These items typically have a longer life cycle than digital ones and help keep your brand top of mind for longer.
Popular lead acquisition tools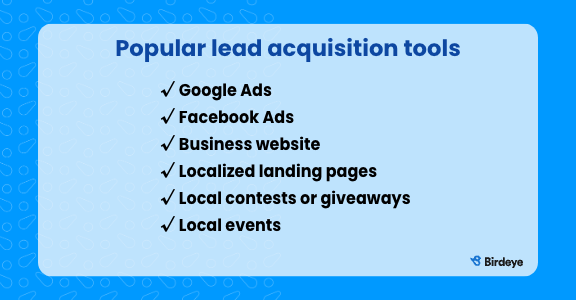 Google Ads
Google Ads allows you to place and target ads that will appear on Google and other websites. By taking advantage of the platform's targeting feature, you can reach specific demographics, locations, and interests. You can also select which pages and ad formats to use for your campaigns.
Furthermore, you can track how well the ads are performing by selecting automated reporting. With Google Ads, you'll be able to increase user engagement and generate local leads quickly and efficiently.
Facebook Ads
Facebook Ads takes local lead generation to the next level with a comprehensive range of tools. These include Lead Ads, which will help you craft high-intent forms, tailor questions, and even add a click-to-call but, which lets potential customers contact you directly from the ad. And if you couple Lead Ads with an effective Facebook marketing campaign, you'll be able to generate valuable leads sooner rather than later.
Business website
You can use your business website to help you generate leads by incorporating pop-ups, forms, and chatbots that can capture customer data such as their name and email address. These features provide you with an opportunity to get more email signups for your blog or newsletter, which will help you promote your products and services and build trust.
Localized landing pages
Localized landing pages work great for multi-location businesses. When prospective customers sign up at a specific landing page, they'll only receive deals and promotions related to that particular branch. Therefore, the business benefits from having a streamlined mailing list of high-intent leads per location.
Local contests or giveaways
As we mentioned earlier, running a local contest or giveaway works great for attracting new customers or reminding past customers about your brand. You can promote your contest on social media and be sure the prize is something that will encourage a lot of people to participate.
Local events
Local conventions, fairs, farmer's markets, and trade shows provide the perfect opportunity to generate new local leads. And since you'll meet customers face-to-face, it's easier to raise awareness and start relationships within a short space of time. Be sure to have opt-in forms on the ready so people can sign up for your email newsletter or blogs to find out about promotions and sales.
Local lead generation metrics
Lead generation metrics help you assess the effectiveness of the lead generation strategies of your business. These metrics, which are collected using local lead generation software, will help you determine if your strategies are working or if require improvement. Here are some of the more important metrics to be aware of.
Conversion rate
This metric describes how many of your leads actually convert. The rate will vary depending on the industry and product but should be monitored closely to determine if adjustments are needed.
Conversion rate equation:

(No. of conversions / Total no. of visitors) * 100 = Conversion rate (%)
Lead quality
Lead quality helps marketers and business owners understand which leads are more likely to convert into customers and which ones are not. This metric is measured by the number of leads that enter a sales pipeline and can be used to focus marketing efforts on prospects that have higher chances of turning into customers.
Lead quality equation:

(No. of qualifying questions * Lead quality weight) / Total no. of questions = Lead quality score
Reach and engagement
It's crucial to know how many people have interacted with your content and their level of engagement. These metrics will let you know if you're reaching new leads and creating content that interests them.
Cost per lead (CPL)
CPL is a formula to calculate how much it costs to acquire a lead. For example, if you've spent $1,000 on social media ads and managed to generate 180 leads, then your CPL is $5.56. To work out your CPL, divide your marketing spend by the number of new leads generated.
Cost per lead (CPL) formula:

Campaign cost / No. of leads generated = CPL
Cost per conversion (CPC)
CPC is a formula to calculate how much it costs to convert a lead into a paying customer. For example, if you've spent $1,000 on your total marketing campaign and gained 80 paying customers, then your CPC is $12.50. To work out your CPC, divide your total marketing campaign costs by the number of recently converted customers.
Cost per conversion (CPC) formula:

Campaign cost / No. of conversions = CPC
FAQs about local lead generation
What is local lead generation?
It's the process of finding potential customers within a close geographic location to a business. It's a tactic used to generate leads for local business and brands.
Is local lead generation profitable?
Yes, generating local leads and converting them into paying customers will determine whether a business becomes profitable.
How do I get local leads?
To get local leads implement targeted tactics using the following channels: email marketing, local SEO optimization, social media campaigns, paid ads, referral programs, and attending local events. It's not necessary to use all of these at once. Choose the strategies that fit your goals and budget.
How much should you pay for lead generation?
The cost of lead generation can range from a few dollars per lead to hundreds or more. This will depend on the type of campaign and goals you have. Factors such as the quality of leads, targeting options, and marketing materials should be taken into consideration when calculating the cost per lead.
What is the easiest way to find leads?
The easiest way to find leads is by using online ads to target potential customers in the area and capture their emails or contact information. Businesses can also use local word-of-mouth referrals from satisfied customers to introduce their services to even more potential leads.
Final thoughts on local lead generation
Lead generation for local businesses is a powerful tool that can help local businesses reach their target customers and drive sales. By understanding the metrics used to measure success and using strategies such as email marketing, SEO optimization, social media campaigns, and more, you'll be able to generate leads efficiently and cost-effectively. With these tips in mind, your business will have all it needs to succeed with its localized lead generation efforts.

Originally published