Dentists and dental practices are increasingly turning to social media as a way to connect with patients, promote their services, and grow their businesses. Social media marketing provides dentists with an effective platform for connecting with potential customers and building relationships that will last. However, it can be difficult to know where to start and how to best use these social platforms.
In this guide, we'll share valuable information about how you can use social media effectively in order to reach more people, build trust and loyalty among existing patients, increase the online visibility of your practice, and ultimately get more appointments. With this comprehensive guide in hand, you'll have all the knowledge you need to get started using social media marketing for dentists today.
What is social media marketing for dentists?
Social media marketing for dentists is a powerful and necessary tool for growing a dental practice. With the help of social media, dentists can promote new products and treatments, boost patient engagement, respond to inquiries quickly, increase referrals from trusted sources, and run successful campaigns targeting specific demographics.
Social media is also a great way for dentists to stay up-to-date with industry innovations while establishing themselves as an industry authority. Through this marketing channel, dentists can expect to gain greater loyalty from their existing patients and attract new patients looking for a reliable provider.

Social media benefits for dentists
Dentists can take advantage of the numerous benefits that social media marketing brings to their practice. With the help of a well-crafted social media strategy, dentists can experience higher patient engagement and improve their overall online reputation. Here are a few other benefits of social media for dentists.
Create brand awareness
Social media is an excellent way for dental professionals to raise awareness about their practice and stand out from their competition. These platforms make it easy for dentists to share content like blog posts, videos, and information about their services that will generate attention online. This kind of outreach helps patients better understand the experience they can expect with the dental practice and makes it easier for them to think of the practice when it's time to choose a provider and make an appointment.
Attract new patients
Another way social media benefits a dental practice is that it attracts new patients by making it easier for them to find a dentist online. Dentists can use social media to answer questions, provide helpful tips, and share news about their practice. This will leave potential patients with a positive impression and help them decide which practice is best for their needs.
Connects you with your patients
People spend two and a half hours on social media each day, which means dentists can use these platforms to connect with their patients in the places they frequent the most. Dentists can respond to messages and comments, share pictures of their current dental projects, and give helpful advice that patients can apply in their daily lives. Dentists should also take the time to thank patients for reviews and testimonials, as this will strengthen the doctor-patient relationship.
Improves your SEO strategies
Social media can also help your dental practice improve its search engine optimization (SEO) efforts. Creating quality content and sharing it on your social channels can drive more people to your website. More traffic means more visibility, translating into a higher search engine ranking. You can also use social media to determine your target audience and create SEO content relevant to your patients.
Strategies for dentists social media success
The key to success with social media for dentists is to create a well-crafted strategy. Dentists should strive to post regularly and engage with their patients on these platforms. Be sure that the content you post is relevant, educational, and engaging. But before you click send, take a look at these social media strategies. This will put you in a better position for success on these platforms.
Create your brand voice
For starters, you need to create your brand voice. This will make sure that all of your posts express the same underlying message and tone. It will go a long way toward helping your audience remember your brand and the type of content it's known for. Therefore, dental practices should have a clear idea of what they want to communicate to their audience and stick to it.

Pick a social media platform
There are many things to consider when choosing a social media platform for your dental practice. Each platform has its own unique user base and set of features, so it's important to select the one that best suits your needs.
A good place to start is to figure out what type of content you'll be creating. If your content involves more images or short-form videos, then platforms like Instagram and Facebook could be a good fit. If it's blog posts or other thought leadership material, then LinkedIn might work best.
Something else to consider when selecting a platform is who your target audience is. Each social media platform caters to different demographics. For instance, if you're an orthodontist and want to target younger patients, being present on TikTok or Snapchat could be important. If you serve older patients, then Facebook would be a safer bet.
Develop a content strategy
Once you've chosen the platform that's right for your dental practice, it's time to develop a content strategy. This will help you create and manage your social media content so you can provide value to your patients. Having a plan will also help make the content creation process easier by giving you an outline of what kind of topics or themes you should focus on. Here's a checklist to get you started:
Start a social media calendar
A good way to keep your content organized and on time is to start a social media calendar. This document should contain all of the important details about each post, such as messaging, content type (image, video, etc.), publishing date, author, platform, and any other relevant information that will help you. A social media calendar lets you view your content on a larger scale which can help make sure that your posts align with your goals and target audience. Plus, you'll have an easy-to-follow list to reference when it's time to perform a content audit to make sure your content isn't stale.
Be consistent with your posts
Social media is all about consistency. Posting regularly on the same days and times will help keep your stream of content relevant so that followers remain engaged. If you post inconsistently, your followers may forget you exist. According to research, weekdays during the morning time is the best time for posting on social media. This is because people typically check in with their favorite platforms as they're getting their day started. Additionally, if you're going to be posting more than one post a day, make sure that all of the content is related and of value – avoid posting random pieces of content.
Improve your practice with patient feedback
As we've mentioned, social media is a great way to stay connected with your patients. You can use it to start conversations, answer questions, and get feedback from patients on how you can improve your practice. However, if patients take the time to leave you feedback, it's important that you listen and find ways to apply it to your practice. Besides building trust by showing that you value their feedback, you are also taking steps to improve their experience to provide better care.
Use paid advertising – if you have the budget
Once you have a solid content strategy in place, it might be time to consider paid ads. With paid ads, you can help boost your content and reach more potential followers faster. While this isn't a social media marketing deal breaker, if you have the budget to invest in social media ads, they could potentially help increase awareness of your practice and improve your visibility on the platforms where you have a presence.
Social media best practices for dentists
Using social media best practices will make sure that you're applying your social media strategies appropriately and using the platforms to their fullest potential. Here are some of the top best practices for dentists on social media.
Engage with followers and respond in a timely manner
Social media is about connecting with people and building relationships. Just having a presence on these platforms isn't enough to make a meaningful impact. Make sure that you're actively engaging with followers by sharing content and responding to their comments and questions. It's also important to respond to positive and negative comments in a timely manner. This shows followers that you are interested in participating in conversations as well as eager to resolve any issues or complaints.
Audit your performance regularly
It's important to audit your performance on social media on a regular basis. This will help you understand how your content is performing and if there are any areas that need to be improved. You can use social media analytics tools to get an accurate picture of how your content is performing and make any necessary changes based on the data.
Stay up-to-date with social media guidelines
Social media platforms are constantly changing and updating their guidelines to ensure the best experience for users. Make sure that you keep up with these changes so that you can avoid being penalized and hurting your online dental reputation.
Schedule posts in advance using social media software
Social media management software makes it simple to stay organized and on top of your content strategy. You can use the software to plan ahead by scheduling posts days, weeks, or months in advance. This will save you time and make sure that all posts are going out as planned.
Be patient with your results
There is no doubt that social media for dentists can be a powerful tool to help reach more patients and build relationships. However, it's important to remember that results won't happen overnight. You need to be patient and consistent with your posting and eventually, the results will come. With the right strategy in place, you'll soon start seeing improvements in your social media marketing.
Top social media platforms for dentists
With so many options these days, it can be difficult to decide which social media platform works best for your dental practice. The best course of action would be to select the ones that will help you achieve your social media goals. Here's an overview of some of the most popular social media platforms to help you decide.
Facebook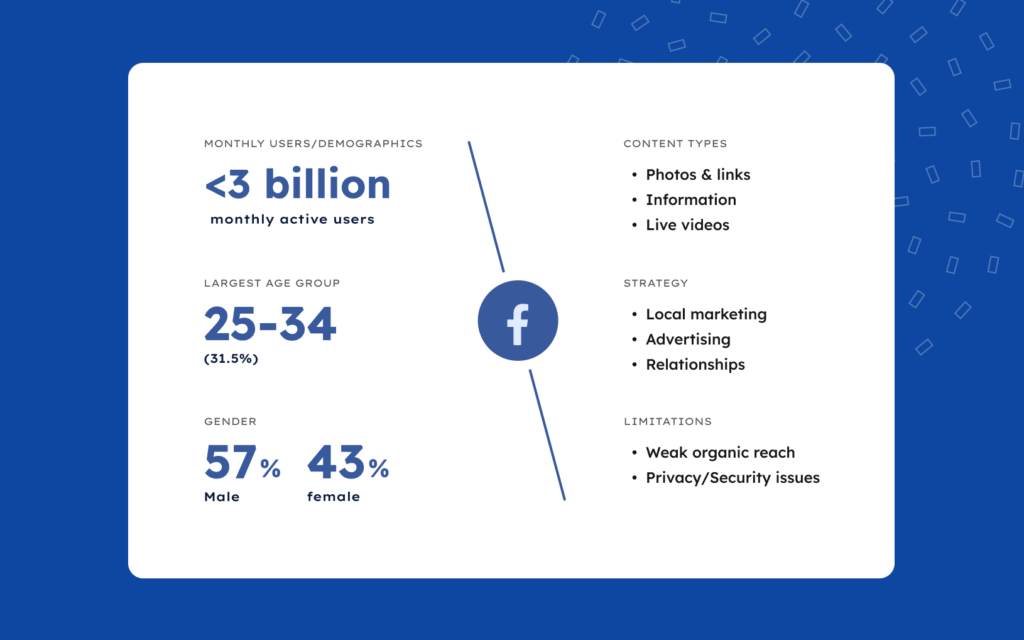 Facebook attracts 2.9 billion users to its platform. With such a large user base, you'll be able to share your content with potentially more followers. Facebook also provides the capability to target posts and ads to specific audiences.
Instagram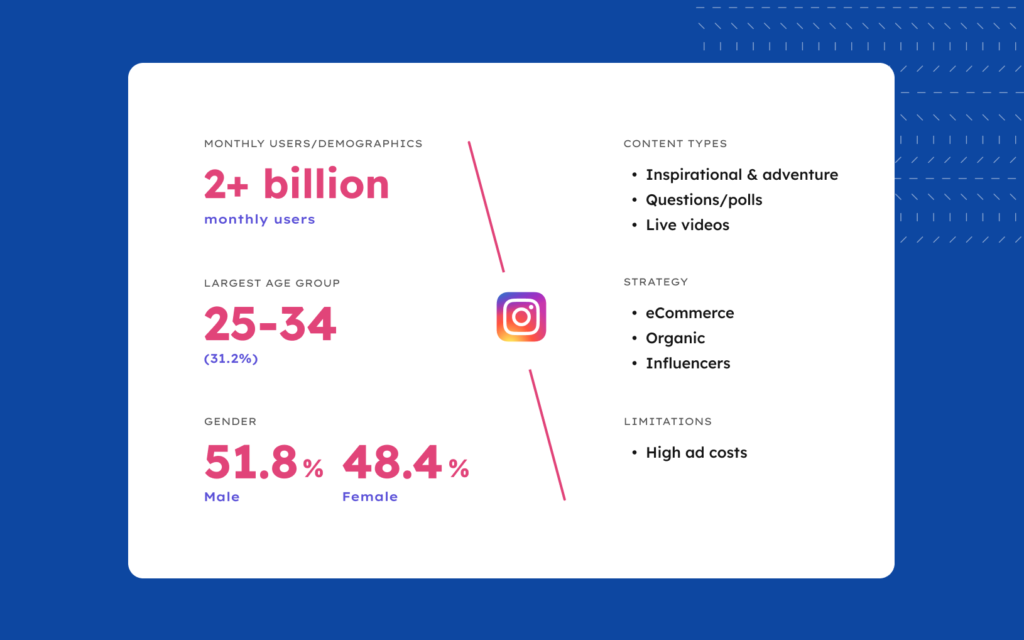 Instagram lets dental practices showcase their services using high-quality images and videos. Stories and Instagram Live provide dental practices with additional opportunities to increase engagement with patients.
Twitter
Dentists can use Twitter to share tips, provide helpful information, and connect with other dental professionals or influencers. Twitter limits users to 280 characters per post, which means dentists should try and focus on creating short, concise tweets. With that in mind, videos optimized for Twitter can increase engagement by 33%.
LinkedIn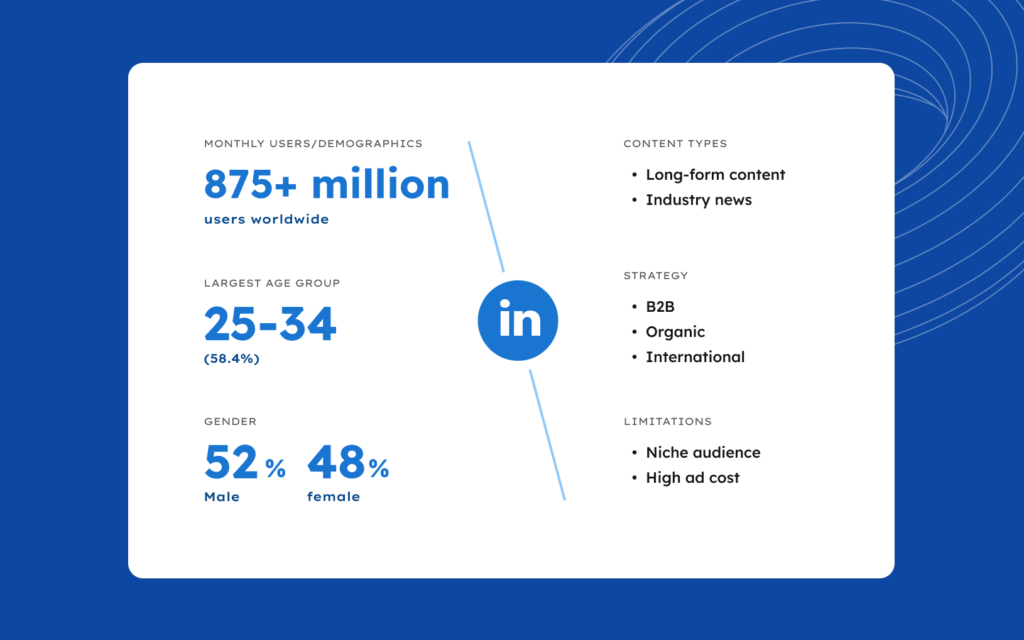 LinkedIn is focused on connecting professionals and facilitating business opportunities, making it a natural choice for dental practices looking to promote their products and services. You can create company pages and share content with your audience to help increase brand awareness. And according to experts, conversion rates on LinkedIn are 2x higher.
Pinterest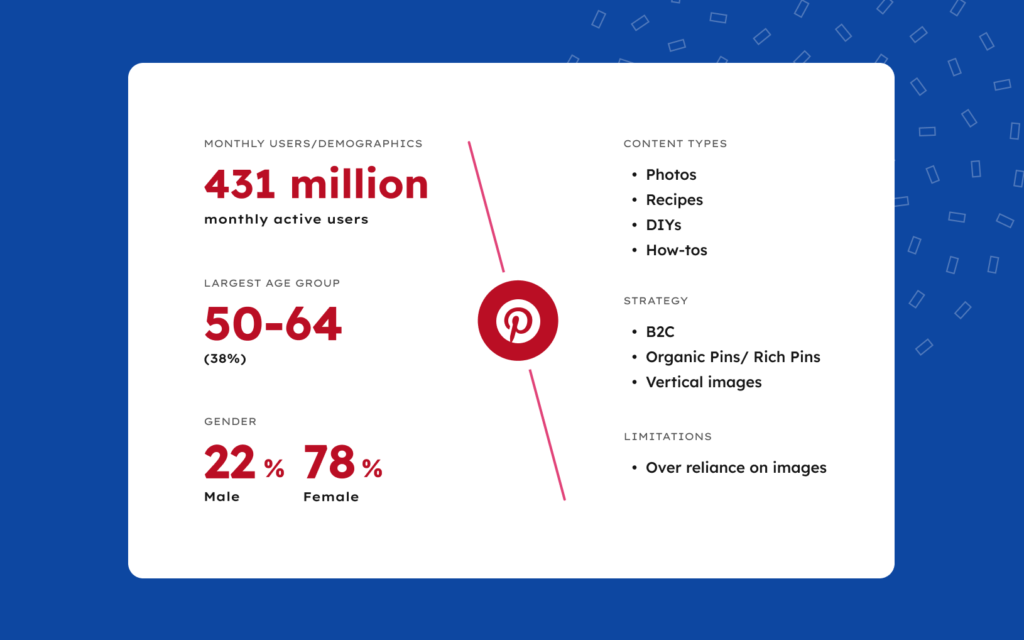 Use Pinterest to show before-and-after pictures of successful treatments, spotlight new services, and share helpful resources by creating eye-catching pins with attractive visuals. It's also an ideal platform if your practice is looking to attract an older demographic.
YouTube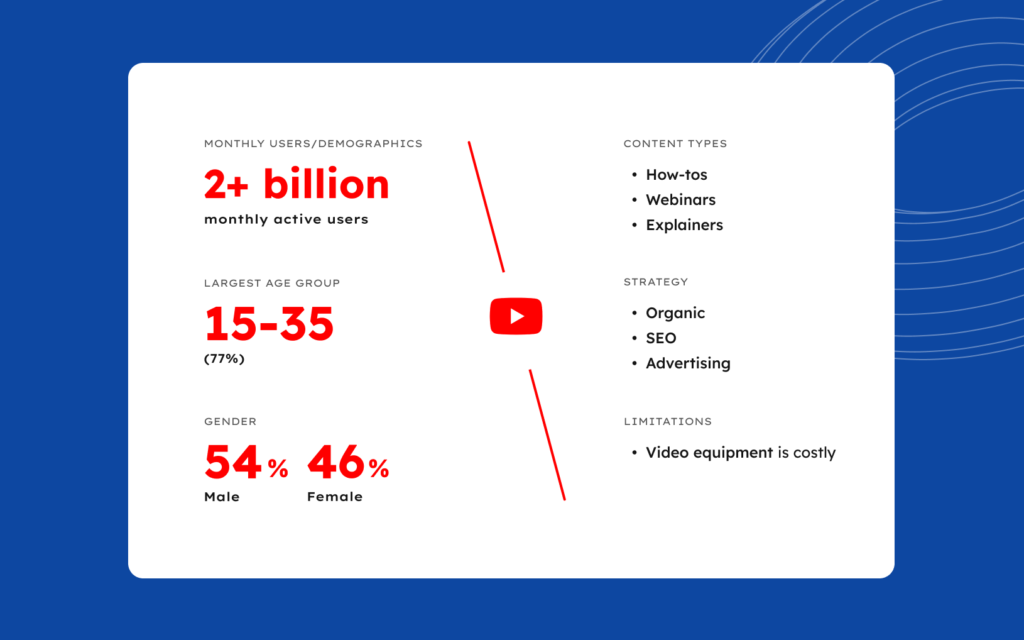 YouTube is primarily a video-based platform. Over 500 hours of content is uploaded to YouTube every minute. Dentists can use it to share educational videos and showcase treatments or procedures. Whether it's short or long-form, video is the preferred way to consume content.
TikTok
TikTok is an outstanding platform for those looking to create a meaningful connection with the younger generation through entertaining and engaging short-form video clips. Because of its popularity with gen Z and millennials, dentists should create content that combines educational and entertaining.
For the latest social media stats to help you with your campaigns, check out our blog post 100+ social media statistics to help your marketing in 2023.

While you're here, don't miss our article highlighting the top 6 dentist review sites.
FAQs about dentists social media marketing
Should dentists use social media?
Yes, dentists should use social media because it's a great way to reach new patients and build relationships with existing ones.
What should I post to social media for my dental practice?
You can post content that relates to dental health, such as tips and news about oral hygiene, common treatments and procedures, helpful information about insurance coverage, or even fun educational videos.
Should I have a social media policy for my dental practice?
Yes, it's important to have a social media policy for your dental practice. Having a clearly defined set of guidelines for social media usage will reduce potential legal risks related to communications about the business.
Is social media for dental practices free?
Yes, social media for dental practices is free. You can create accounts and post content on most platforms at no cost. However, investing in paid ads or using software to help manage your social media presence will require a budget.
What social media platforms do dentists use the most?
Dentists use popular social media platforms like Facebook, Instagram, YouTube, TikTok, and LinkedIn. These platforms offer a wide range of features and tools to help dentists connect with more patients.
Connect with more patients with Birdeye Social
For dentists, connecting with patients on social media is a great way to promote your practice and build trust faster. With so many social networks to choose from, it can be challenging for a dental practice to juggle multiple accounts. With Birdeye Social, you can connect to popular platforms such as Facebook, Instagram, Twitter, LinkedIn, and YouTube all from a single, easy-to-use dashboard. Watch our free demo today.


        

This blog post is part of our Social Media Management Guide 


      

           



Originally published