A well-crafted social media campaign can turn your brand's content into a powerful marketing tool. However, it's not always easy to create a campaign that's guaranteed to help accomplish your specific business goals. You'll need to spend time and effort pre-planning your campaigns if you want to see more followers, higher engagement, and boosted brand awareness.
This article will show you how to create a social media campaign strategy that actually works for your business. We'll explain what a social media campaign is, how it works and show you five successful social media campaigns that created massive awareness for the brands that created them.
What is a social media campaign?
A social media campaign is a thorough marketing plan designed to accomplish a set of goals in a specific amount of time. Creating specific objectives and sticking to a timeline can help you track your progress, reach a deadline, and measure your results.
A social media campaign also allows you to do the necessary research to define your target audience, pick your content, and choose the right marketing tools based on your ideal social media platforms.
[Free Guide] The ultimate social media marketing guide for local businesses
Download Now
How do social media campaigns work?
Social media marketing campaigns are designed to reach a particular audience and accomplish a specific goal for your business on social media. The same is true of a social media content strategy. A well-planned campaign can help you narrow down the content you create and tailor it to the exact goals you're trying to reach.
You're probably posting content regularly on your social media profiles, and that's a good practice to continue. But a social media campaign only works when you have set goals for your business. Without those goals established, your campaign doesn't have a target. You'll need to decide what your campaign is trying to accomplish for your business before you start posting content.
For example, you might try to boost brand awareness by creating a campaign on your Facebook Business Page. Your goal could be to build your follower count as much as possible throughout your campaign. The more followers you gain, the more clout your brand will receive.
Another goal could be getting as much feedback as possible from your followers about a new product. A campaign built around this goal would be very content-focused to generate engagement. Likes, comments, and shares are all good metrics for success.
Once you've established your goal, you need to decide what kind of content will be in your social media posts to support it. This isn't a time to for generic post ideas at random times. You need to be precise with your posts, making sure they reach the right followers at the right time to advance your end goal. The more fine-tuned your campaign is, the more likely it will be successful for your business.
How to craft a successful social media campaign
1. Establish your campaign goal
We've already talked about this, but it can't be understated. The goal you set for your campaign is what will make it work. Whether you're promoting a new product, spreading the word for an upcoming event, or trying to get more likes on your Page, you need to know the point of your campaign before you craft it.
2. Decide who you're trying to reach
Even if the content you create is great, you won't get the results you want if it reaches the wrong audience. Consider who your followers are and create a buyer's persona for the ideal person who would benefit from your campaign.
If your followers are primarily retail customers, consider their age, gender, income, location, interests, and pain points to determine your target audience. Or, if your followers are likely business owners, think of their industry, the size of their business, their customer base, location, revenue, and growth to pick the exact followers you want your campaign to reach.
Facebook Audience Insights is a tool that makes it easy to learn more about your audience. With Audience Insights, you can view your audience demographic and compare that demographic to Facebook users as a whole. You'll have new information about your audience that can help you tailor your social media campaigns around achieving your business goals.
3. Choose the content and platforms you'll use to promote your campaign
Depending on your campaign, you'll find that different forms of content will be more advantageous than others.
For example, If your campaign is meant to promote an upcoming event like a webinar, short videos announcing the date and time can be useful on Facebook and Instagram. If you're trying to boost your follower count, entertaining content like images and videos might serve you best. If you want to see positive results from your campaigns, you'll need to figure out what kind of content makes the most sense for your goals and decide which platforms you want to focus on.
4. Schedule your posts with a social media calendar
You'll need to stay organized when managing your social media campaigns. You won't just have to stay on top of the content you post – you'll also have to keep a close eye on when you post it.
A social media content calendar can keep you on track and make your content manageable as you fulfill your campaign.
You'll want to research your particular audience and social media platforms to decide what times to schedule your posts. There are general guidelines you can follow when posting on different platforms, but digging into the habits of your audience can give you a more accurate plan for posting your content.
If you're looking to get started right away, we've created a free social media calendar template you can use to schedule your posts effectively. Feel free to follow the link and make a copy for you and your team.
Once you plan your schedule, stick to it. You'll find your campaign moving forward smoothly and be more likely to see better engagement on your posts.
5. Monitor your campaign and adjust where needed
After planning your campaign, you'll start posting content and hope for the results you want to see. But you can't stop at wishful thinking. You need to pay close attention to how your campaign is performing, including what you're doing right and where you need to improve.
Look at your analytics using tools like Facebook Audience Insights and see where your content is performing as planned and where you need to reevaluate your marketing strategy. You might find that the images you've been posting on Monday, Wednesday, and Friday mornings to promote your latest product aren't getting the engagement you hoped for. But the video content of that same product has been exceeding expectations on Tuesday and Thursday in the afternoon.
After carefully analyzing your campaign's performance, you can make adjustments as needed to reach your goals. You'll also have a frame of reference for what was successful this time and make your campaigns more fine-tuned for success the next time.
5 Examples of the best social media campaigns
Now that we've covered what social media marketing campaigns are and how they work, we'll show you five successful social media campaigns you can turn to for inspiration.
1. Spotify Wrapped
Spotify Wrapped gives Spotify users a visual recap of the music they listened to the most over the year. With just a few clicks, music lovers can learn about their top streamed artists, tracks, genres, and other fun information about their listening tendencies at the end of the year.
This campaign has been wildly successful since it launched in 2016. It incorporates both personalized information and shareable imagery. Spotify Wrapped results were shared over 60 million times in the last year alone. Now, Spotify Wrapped is a viral conversation at the end of every year. The use of user-generated content (UGC) has turned this annual campaign into a slam dunk that brings Spotify massive brand recognition on social media.
2. Apple #ShotOniPhone
During a 2015 contest, Apple encouraged iPhone users to share their best iPhone photos for a chance to be featured on a billboard. There were thousands of entries, and 10,000 lucky winners scored a spot on billboards around the world.
In 2017, Apple turned to Instagram to keep the movement alive. As of the date this article was published, there are just under 27 million posts under the #shotoniphone tag on Instagram. This is another excellent example of using UGC to your advantage. As iPhone cameras become more sophisticated, the pictures become even more compelling. More #shotoniphone pictures appear on social media daily, bolstering Apple's brand and selling more iPhones simultaneously.
3. Disney #ShareYourEars
In 2018, Disney's partnership with Make-A-Wish led to a very successful #ShareYourEars social media campaign. The idea was simple: For every photo someone posted on social media wearing the famous Mickey Mouse ears using the hashtag #ShareYourEars, Disney would donate $5 to the Make-A-Wish Foundation, matching up to $1 million dollars. The campaign spread quickly and resulted in a $2 million dollar donation to Make-A-Wish.
This campaign was successful for several reasons. It was light-hearted, easy to do, and played into the goodwill of people willing to help a good cause. By the end of the campaign, Disney received 420 million social media impressions, and Make-A-Wish saw a 554% increase in engagement on Facebook and Instagram.
4. Aldi #FreeCuthbert
Humor can go a long way in a social media campaign. In 2021, grocery store chain Aldi entered into a lawsuit with Marks & Spencer (M&S) over a caterpillar-shaped cake. M&S claimed that Aldi's "Cuthbert the Caterpillar" cake was too similar to their "Colin the Caterpillar" cake. But rather than hiring legal representation, Aldi took a different approach.
Aldi took the feud to Twitter with posts like "This is not just any court case, this is… #FreeCuthbert." The comedic approach to a serious situation resonated with Twitter users who were quick to join the cause for Cuthbert's freedom, following the hashtag #FreeCuthbert. By the time the dust settled, Aldi generated 60,000 tweets in defense of their caterpillar cake.
5. McDonald's Menu Hacks campaign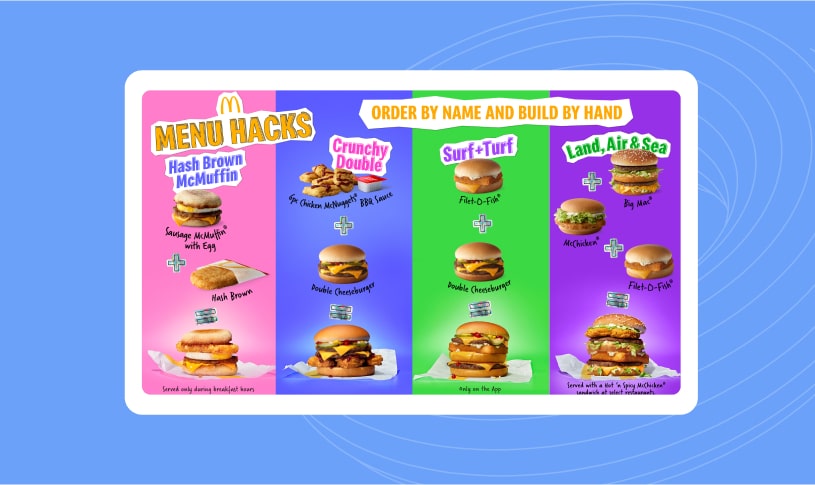 "Secret menu" options or "menu hacks" have consistently provided social media followers with entertainment. These hacks encourage customers to think outside the box when ordering at their favorite fast food stops. McDonald's has always been a primary source of secret menu options. Recognizing the appeal, McDonald's decided to make their secret menu options official with their own menu hacks social media campaign in 2022.
Creating odd mashups like a six-piece McNuggets piled on top of a double cheeseburger to create the "Crunchy Double," Mcdonald's created an entertaining and successful social media campaign with little effort on their part. They made it a success by paying attention to their followers on various social media platforms to see what combinations they created and capitalizing on them by officially adding them to their menu.
FAQs about social media campaigns
What is a social media campaign?
A social media campaign is a marketing plan designed around meeting a specific goal. 
Why are social media campaigns important?
Social media campaigns help you avoid creating generalized content and give you a clear goal with the content you post.
Are social media campaigns effective?
When executed properly, social media campaigns can boost brand awareness and help you reach your target audience.
How much can a social media campaign cost?
Social media campaigns can cost a few hundred dollars to thousands of dollars, but the estimated range is between $1,000 and $20,000 per month.
How do you run a social media campaign
1. Establish your campaign goal
2. Decide who you're trying to reach
3. Choose the content and platforms you'll use
4. Schedule your posts on a social media calendar
5. Monitor and adjust your campaign where needed
How do businesses manage their social media campaigns?
There are things you can do to manage your social media campaigns like consistently posting on the social media platforms you're using, sticking to a content calendar, clearly valuing your followers, etc.
What action will help make a social media campaign successful?
Creating content that is both compelling and reaches your target audience is key to a successful social media campaign.
Monitor your campaigns with Birdeye Social
You invest a lot of time and energy in coming up with a social media campaign that will resonate with your audience. With Birdeye Social's monitoring feature, you can see how followers are reacting to your campaigns in near real-time. This information provides insights that will let you know if they are working or if you need to make a change. Talk with a Birdeye expert today to learn more.


        

This blog post is part of our Social Media Management Guide 


      

           



Originally published