Do you know you're using AI without even realizing it? You rely on artificial intelligence when using Waze, Alexa, Siri, facial recognition for phone access, or even your e-mail spam filter.
Think about how you interact with Amazon and Netflix's personalized recommendations and content. Sephora uses it in its Visual Artist program, and smart companies use AI chatbots for customer experience.
This article will help your business get ahead by using artificial intelligence in marketing. 
Want a quick answer? Here are 11 ways artificial intelligence in marketing in helps you: 

1. Advertising
2. SEO 
3. Competitor insights
4. Customer insights
5. Customer experience
6. Respond to customers
7. Monitor brand reputation
8. Data analytics 
9. Personalized content
10. Email marketing campaigns
11. Programmatic media buying

Want to read detailed explanation? Jump to the section from our table of contents:

What is AI marketing?
AI in marketing refers to using advanced machine learning algorithms and techniques to improve and optimize various marketing strategies. AI automates the analysis of large volumes of data and makes data-driven decisions.
Manually doing these tasks would be time-consuming and error-prone.
In addition to tracking consumer data, AI tracks trends, customer behavior, and effective customer engagement options.
In practicality, AI's work is faster than humans ever could.
Here are some key benefits of AI in marketing:
Benefits of artificial intelligence in marketing
The main benefit of AI marketing boils down to one simple but vital factor: every customer wants to feel special. As a business owner and digital marketing professional, you want to make every customer feel special.
Here are the key benefits of AI in marketing:
Predict future customer behavior
Generate unlimited text and visual content
Analyze customer data to segment the audiences
Map out the customer journey across various touchpoints
Act as a recommendation system to suggest products
AI marketing uses machine learning to create a personalized experience for each customer. It's an investment in lead generation, customer retention, and brand reputation.
Learn more about real-world uses for artificial intelligence in your marketing strategy below. 
Manage Posts, Reputation, and Reporting across Locations
Want to see the impact of Birdeye on your business? Watch the Free Demo Now.
11 Ways artificial intelligence in marketing is used
1. Advertising
AI is used in marketing efforts, such as Pay-Per-Click and Google Shopping ads. With PPC, you create an advertisement through a social media platform, like Facebook, Instagram, or X (formerly Twitter), and only pay for as many clicks as the ad receives.
Search engines, like Google, also offer these types of advertisements to marketers and business owners. These targeted ads appear on the sidebars and as banners on the sites you visit.
Here is an example of a PPC ad as it appears on Facebook: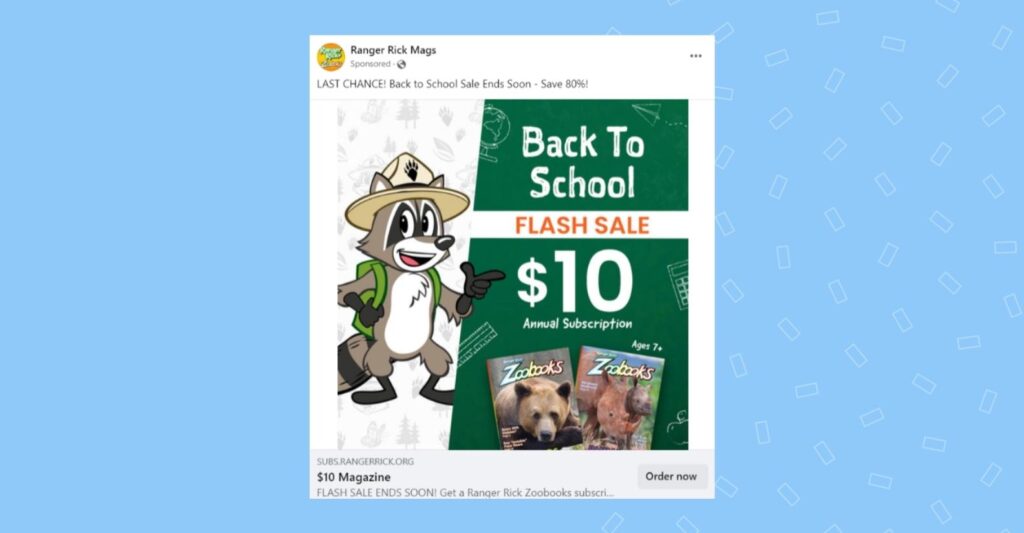 How does AI in marketing work?
Artificial intelligence uses consumer information to find patterns that help determine who should see the ad.
Then, it uses this information to provide marketing professionals with detailed reports to help them streamline the ad test process and reach more customers.
With AI, advertisement creation, reach, and analysis take seconds.
2. Effective SEO
Artificial intelligence is present in all elements of search engine optimization, from website ranking to user-friendliness. Web crawlers (the bots responsible for indexing and ultimately ranking websites) are types of AI.
They are also why search keywords are so important – although AI is simplifying that aspect of SEO, too.
More recently, with programs like Google's RankBrain, AI has been helping users find the results they want.
Did you know even when you type "densist near me" (with typo) you get the same results as "dentist near me"?
Thanks to AI, search results are becoming more intuitive and accessible.
This change in SEO also allows original content to sound more natural and approachable without affecting searchability.
Here are Google search results for the two search phrases: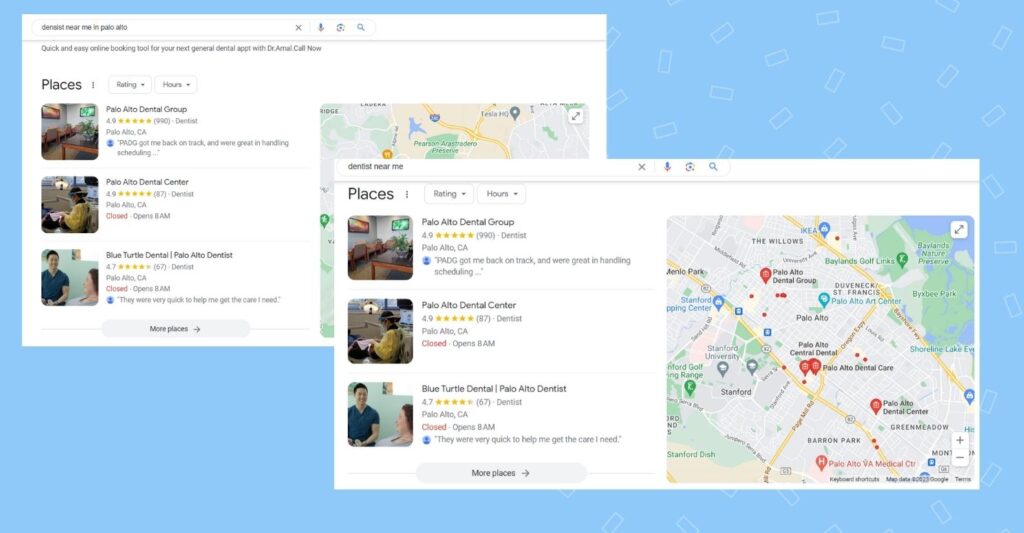 3. Competitor insights
AI excels when used as a competitor analysis generator. Here is an example of what AI-powered competitor analysis might look like with Birdeye Insights:
Anything available on the web to help you gain insight is data for AI tools to access, analyze, and report. Analyzing insights from them helps you outrank and outperform the competition.
Birdeye's competitor analysis allows you to:
Compare performance across categories
Identifies trends
Ranks your reviews against your local competitors to better understand your place in the market.
Track strategies, products, and customer information throughout the industry.
4. Customer insights
Customer insight using AI is something that Birdeye excels at.
Our unique natural language processing (NLP) engine, Athena, analyzes customer feedback and big data to help you understand what existing customers want, who to target, and how to convert. It also acts as a competitor analysis tool.
With AI, you can achieve actionable insights laid out in an approachable way for you and your team.  From a previous Birdeye article-competitor analysis tool for businesses:
5. Personalize customer experience
What makes today's AI marketing tools so exciting is their ability to act on these insights. The most obvious example of this type of machine learning is targeted marketing.
For AI to improve customer experience, you must have a targeted marketing plan to reach your potential customers.
Personalize your review replies at scale with help from AI and generate tailored, error-free responses with a single click.
With Birdeye Reviews, you can be sure that no review goes unanswered:
Reply to reviews at scale with auto-response rules and personalized templates.
Automatically translate reviews into English and then translate your response in your customer's language.
This personalized AI marketing is the closest you'll get to reading a customer's mind and elevates your reputation management.
Artificial intelligence in marketing is here to elevate how you do business in coming years!
6. Respond to customers
Today's customers are conditioned and used to instant gratification, and customer service is no exception. However, you don't have to have a person on staff 24/7 to provide 24/7 customer support.
Chatbots are automated programs and take responses from your existing content, like FAQs and articles, and use them to answer questions even after business hours.
Livechat works when an online customer has a question, they are connected to a live customer service representative.
Whether you use livechat or chatbot, both are excellent tools for addressing common questions and problems fast.
Use AI chatbots to book appointments, improve customer wait times, and save your human staff from wasting time answering repetitive questions.
This is an example of a chatbot from the Birdeye homepage:
7. Monitor brand reputation
The best use case of AI for customer feedback management because it seamlessly monitors customer sentiment. It detects positive and negative sentiments of the comment.  

It would be a full-time job for an employee, but AI makes social listening quick and easy.
This strategy requires paying attention to all social media reach and scanning them for mentions of your brand, competitors, and indirect feedback.
An AI brand monitoring tool could be trained to notice that people in this home improvement Facebook group are discussing a Nature's Miracle product.
It could then determine whether the user is saying something positive or negative and then report back about customer sentiment.
8. Gather valuable reports from data analytics
AI-powered data analytics helps small businesses gather valuable insights from their customer data.
For instance, David's Bridal used Birdeye's Insight to analyze sales data and customer behavior to identify trends. By spotting patterns in customer purchases, they optimized and created exceptional omnichannel experiences.
9. Deliver personalized content
The best use case for home services businesses using AI in marketing is when you reply to diverse customer messages and queries from one place.
It can be quite overwhelming to keep switching between tabs and chats but with Birdeye's AI-powered customer Messaging platform for local business, you can respond to customers in record time.
Organize messages by customer and channel.
Add notes and flag conversations that need attention.
Use BirdAI to rephrase your responses and get quick conversation recaps.
Whether a customer is contacting you about a leaky faucet, a damaged roof, or a broken air conditioner, you can respond from a single inbox.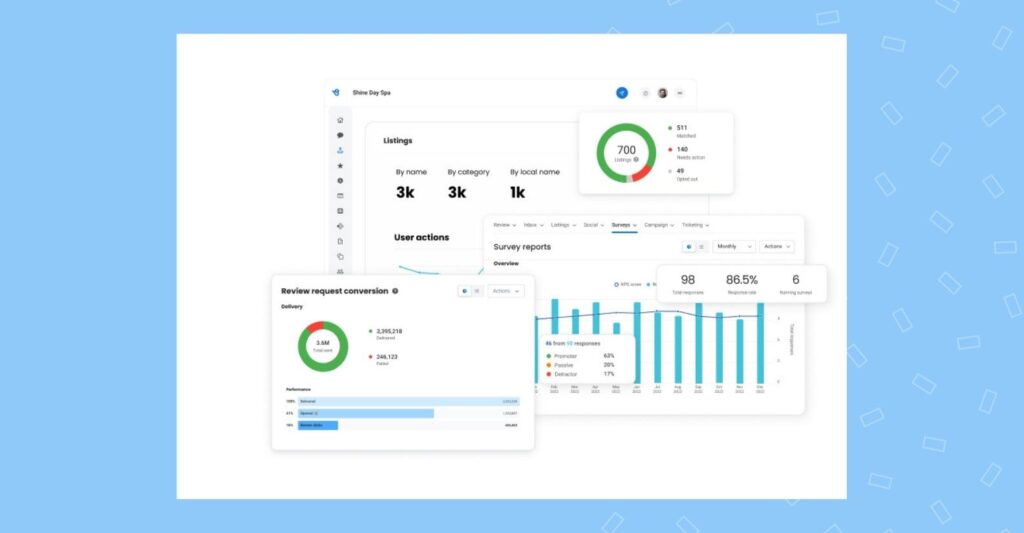 10. Streamline email marketing campaigns
Small businesses, when using AI in marketing, can streamline their email marketing efforts. AI-powered email marketing platforms can analyze customer behaviors to send targeted and relevant emails.
An art supply store can send automated emails with product recommendations based on a customer's previous purchases or browsing history.
11. Reach the target audience with programmatic media buying
AI-driven programmatic advertising allows small businesses to reach their target audience more effectively and efficiently.
A local automotive repair shop can use programmatic advertising to display ads to users who have recently searched for "gears and steering wheels" in their area, increasing the chances of attracting new customers.
Example: A family-owned auto dealership business can utilize programmatic advertising to run geo-targeted ads to potential customers within a specific radius, promoting specials or holiday promotions to drive foot traffic.
How is generative AI used in marketing?
Generative AI generates new content based on similar analyzed content. This content can include articles, images, videos, charts, animation, and more. With endless input and output potential, the uses in marketing are endless, too.
Use generative AI to create:
Advertisements
Informative written content
Infographics
Marketing videos
Customer surveys
Will marketing automation replace marketers? 
Artificial intelligence can't replace human intelligence. As we mentioned above, AI must be monitored to remain useful. Marketing automation is just one of several tools that today's marketing professionals need.

How do you leverage AI with Birdeye?
To deal with all the challenges, Birdeye's platforms are powered with BirdAI, an AI and NLP engine that helps businesses effectively generate and manage customer feedback, enhance customer interactions, and drive better business outcomes.
Why should you create an integrated AI marketing strategy?
You must use an integrated AI marketing strategy to stay ahead of the game. Those who use artificial intelligence will collect, analyze, and report data faster than you and act on it faster than you. 
Steps to create an AI marketing strategy
Plan how you want to use your AI tool. You could focus on predictive analytics, customer data, and content marketing. Prioritize what suits your goals.
Choose your AI marketing tool. There are multiple AI platforms available. Once you determine your goals, you can research the best AI program for the job.
Train your marketing team. Team cohesion is the secret sauce of business success. It's unfair to expect your marketing team to know everything about the new AI tool they'll be using but motivate them to learn it. 
Start small. It may be best to start with several small goals for your AI marketing tool, like answering FAQs or generating social posts, then build up to more advanced tasks, like solving customer problems or generating full articles.
Artificial intelligence in marketing predictions and trends
If the following trends and statistics are any indication, the artificial intelligence market will only grow: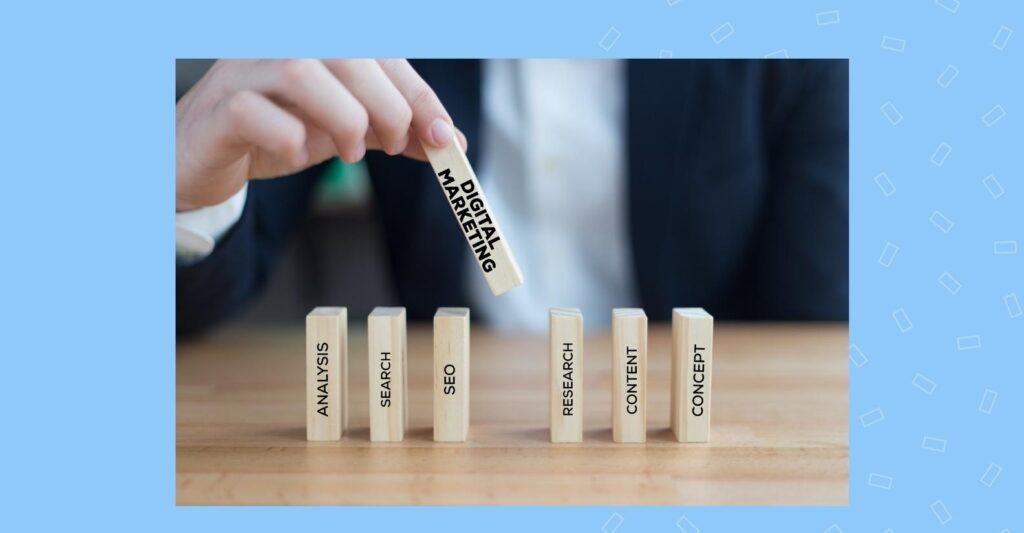 FAQs about artificial intelligence in marketing
What is the use of AI in marketing?
Artificial intelligence forecasts trends, connects with customers, generates content, personalizes content, analyzes competitors, automates simple tasks, and improves customer experience. 
How can small businesses leverage AI in their marketing strategies?
Small businesses leverage AI to enhance customer engagement by providing 24/7 support through chatbots, analyzing customer sentiment, personalizing recommendations, offering promotions, and more.
How does generative AI contribute to content creation in marketing?
Generative AI provides almost any type of media, including video, animation, images, and text. Generative AI will create something unique to your marketing goals when given a reference.
How can AI improve content personalization in marketing?
AI can analyze customer data to create personalized content recommendations. This includes suggesting products, tailoring email campaigns, and delivering optimal website experiences. This increases customer engagement and conversion rates.
How can businesses measure the ROI of AI in marketing?
ROI can be measured by tracking KPIs, such as conversion rates, customer acquisition costs, customer retention rates, and revenue generated from AI-driven marketing efforts.
AI in marketing elevates customer experience
Today's digital marketing professionals can save time and money with AI. In fact, it's so ingrained in social media, websites, and customer service that we often don't realize we're using it.
Don't get left behind in the widespread adoption of artificial intelligence for business and marketing. Birdeye's all-in-one AI-powered platform can help you get ahead in the fast-paced world of AI marketing.

Originally published