In the internet-driven world, branding highly depends on what your customers think about your business rather than what you say about your business. But how do you measure that? And that is where the reputation score comes in.
Reputation was an abstract concept and difficult to measure for businesses. You can quantify perceptions and actively work on improving it.
In this blog post, we explore all things regarding reputation score and how you can leverage it to grow your business.
Manage Posts, Reputation, and Reporting across Locations
Want to see the impact of Birdeye on your business? Watch the Free Demo Now.
What is a reputation score?
A reputation score is a numerical value that quantifies overall customer sentiment about your business derived based on publicly available information such as reviews, testimonials, and social media mentions, to name a few.
By understanding what drives your reputation score, you can take steps to bolster your online reputation, improve customer experience, and identify opportunities for growth in your business.
A business's reputation score:
Highlights your position in search rankings
Helps understand overall customer sentiment
Makes reputation management easy
In a nutshell, your reputation score is a vital tool in the world of reputation management.

Why is your reputation score important?
The reputation score can serve as a north star for businesses looking to improve their connection with customers, identify strengths and weaknesses, and grow their business faster.
Your score has a far-reaching impact on various aspects of your business. It is important to understand them in detail so that you can devise strategies to leverage them the right way.
Sales impact
Customers look into businesses they are going to transact with at least 4-7 times before they finally pick up the call. When they look up your business, your reputation score is bound to come up. A higher reputation score at this stage:
Builds trust in the company
Disples any doubts they have about your products, service, or overall brand
Gives you an edge over your competitors
Makes it easy for the sales team to convert leads into customers
Hiring impact
Your reputation score isn't just about attracting customers – it also draws top talent to your business. The best candidates research your online reputation before applying. Seeing a high reputation score tells these prospective employees that your company is trustworthy and values quality service.
A high reputation score also shows them that you hire only the best and attracts a higher quality talent to your company. This, in turn, helps you serve your customers better.
Impact on overall customer perception
Your reputation score is a reflection of customers' perceptions. It is a result of your online presence across various platforms, including reviews on websites like Google, Trustradius, Capterra, some niche review sites, and social media.
But what you may not realize is that it also impacts customer perceptions. A highly-rated company will likely influence customers to trust your brand and products.
If you have a low reputation score, your customers will complain loudly about the slightest mistake instead of trusting you to sort it out.
Improve your website ranking
Customers aren't the only ones looking at your online reputation. Google pays attention as well. Being a highly regarded brand will help your website climb up in search results.
The Google algorithm ( E-E-A-T) values expertise and trustworthiness while evaluating content for search engine ranking. A higher domain reputation score would help you climb up in those rankings and be more visible to your customers.
How to calculate reputation score?
Reputation can be a beast to keep track of, as it is a composite of many moving parts. To get an accurate number, businesses have to keep track of many factors and employ the following processes:
Sentiment analysis
Monitor social media
Analyze customer feedback
Sentiment analysis
With sentiment analysis, you look at your online reviews and figure out the overall sentiment concerning your brand. Imagine that someone who knows nothing about your business was to look at your review.
Then, determine what their impression would be. You may have a mix of positive and negative reviews that makes determining the accurate sentiment a challenge.
Work with tools like Birdeye that can help you quantify reviews and understand if the overall sentiment is positive or negative.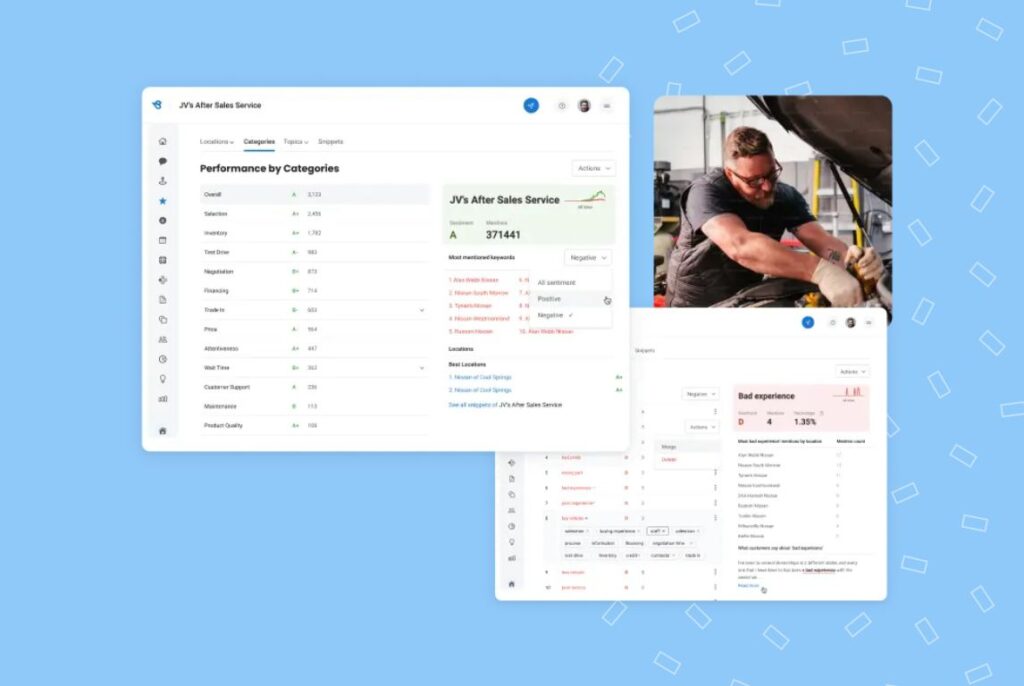 Monitor social media
Actively engaging in social media marketing means being on alert for how users feel about your brand. Keeping track of what people are saying about you can give you an overview of how your online reputation management strategies are working.
Businesses can leverage social listening and monitoring tools to keep track of
Comments
Tags
Social media mentions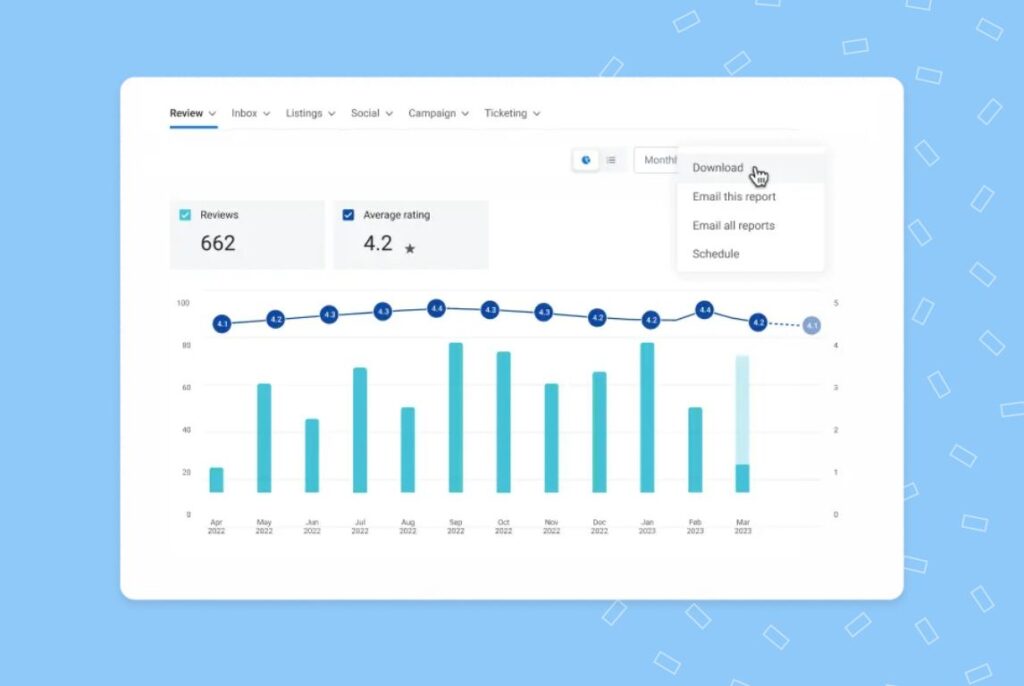 Analyze customer feedback
It's always worth going to the source. Those people who have used your products or services know what you're doing great and what you need to improve upon. Whatever you find out through customer surveys, chances are it impacts your reputation score.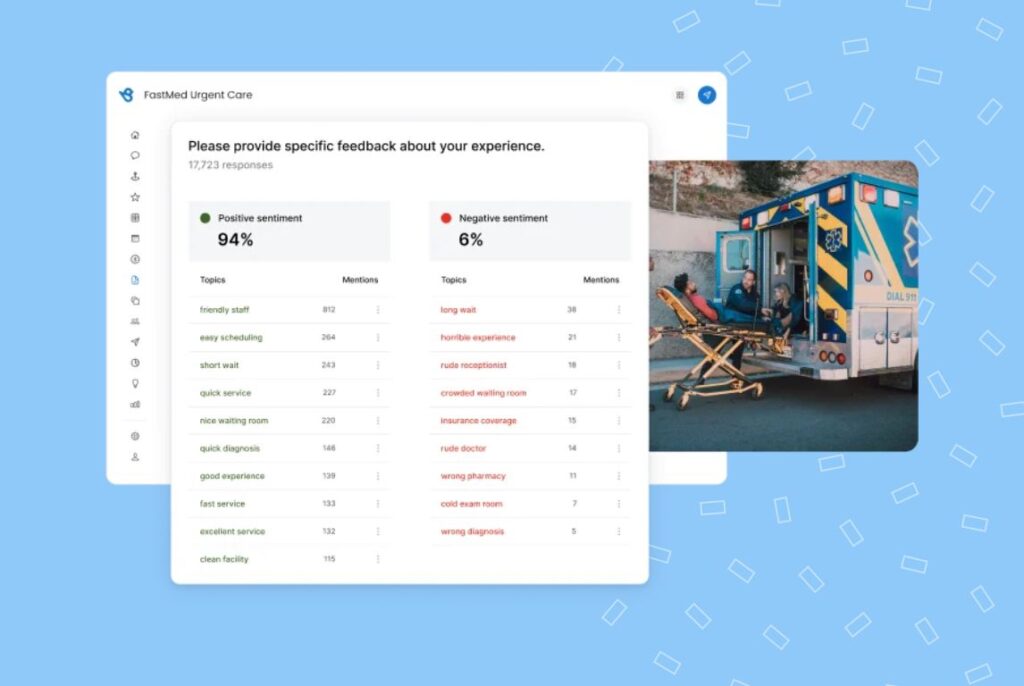 What factors impact reputation score?
You can break down the elements that shape your reputation score into various components. These include the quantity, caliber, and freshness of your online reviews.
Additional factors include your business listings as well as your social media activity. Let's unpack everything that goes into your reputation score.
Online reviews
It all begins with online reviews. Lots of positive reviews significantly boost your score. Up to 82% of consumers research a brand before making a purchase. And reviews are the first place they go.
With zero reviews, there's an 80% chance they'll abandon their carts. The likelihood of a purchase increases by 270% when there are five reviews or more.
A higher volume of reviews also leads to higher revenues. All of that means your reputation score directly impacts your bottom line.

Listings
Your business listing management matters too. A high star rating on your listings makes customers confident about their purchases. The key isn't perfection but authenticity.
A perfect five-star average rating can seem too good to be true. Work on achieving a rating that puts you above 4 stars and is slightly under the perfect 5 star rating. This shows customers that there are some not-so-positive reviews too and presents an authentic view of your business.
Online reputation
Online reputation management is more than just the volume of reviews and ratings. New reviews matter more than old ones.
To keep your online reputation fresh, you should use reputation management strategies that track new reviews across platforms. That way, you'll see reviews from business review sites to your social media presence all in one place.
Social media presence
Your social media presence is crucial to your reputation score. With 59% of the world's population on social media, a booming presence on these platforms is necessary.
Use platforms like Instagram, Facebook, YouTube, and Twitter to enhance your brand's awareness and engage with your customers.
Remember, social media isn't just for promotional messages. It's a space to build relationships and interact with the world.
Online reputation score tools
A solid online reputation score will make-or-break businesses in today's digital world. Here are three great tools to achieve a good reputation online by monitoring mentions and managing feedback.
Google Alerts
You can sign up for Google Alerts to receive an email whenever your brand appears online. You'll see immediately if your business appears in the news or other online content.
Birdeye
Birdeye offers a cost-effective way to know your score in real-time. With our Local SEO scan tool, you can determine:
Your business's overall rating on the internet
Overall customer sentiment
Distribution of Google reviews (percentage of 5-stars vs 2 or 3-stars)
Review generation rates
Review response rates
Google review benchmarking against the industry standards
The tool examines your reviews and ratings across the internet to help you understand the state of your online reputation. You can also connect with a Birdeye expert to understand how to improve your online reputation.
How can businesses improve their reputation score?
In our digitally saturated world, a positive online reputation score can do wonders for your brand's credibility.
Here are some strategies that can help your business earn a good reputation and reap all the benefits that go along with being well-regarded.
Collect online reviews
The more reviews you get, the better. Encourage smiling customers to leave beaming reviews on platforms like Google, G2, and Trustpilot. Collecting reviews is an ongoing process that needs a consistent process to ensure all your platforms have authentic customer reviews.

Update listings
Double-check that your business listings across platforms are up-to-date. An updated listing puts potential customers at ease. And accurate information helps your online reputation score.
Grow your social media profiles
A solid social media presence that is alive and kicking is critical to a robust online reputation. Killer content on platforms like Facebook and Instagram increases visibility and promotes interaction with your audience. And that is the golden ticket to building a strong online reputation.

Work on customer feedback
Addressing customer feedback promptly and professionally is good for your online reputation. This includes both positive and negative feedback.
When customers see that you value their feedback, they'll positively perceive your business.
You can collect feedback with pulse surveys, NPS surveys, and more. Work with Birdeye surveys to send customized surveys to customers and analyze feedback with extensive reporting tools.
Monitor online reputation
Regularly monitoring your online reputation gives you a chance to address issues quickly. And you can track improvements over time to know you're on the right track.
Prioritize customer experience
Your reputation score boils down to one thing: how well you do what you do. Phenomenal customer experience can turn a one-off consumer into a loyal customer. And that bodes well for your reputation score.
Birdeye offers a platform to manage reviews, send automated text campaigns, and chat with customers from one place,, making it easier to do all those things that translate into excellent customer service.
FAQs about reputation score
How do I check my reputation score?
You can check your online reputation score using various tools like Google Alerts or Birdeye. These tools monitor mentions of your brand online, helping you get a sense of your reputation score.
What is a good reputation score?
The good reputation score depends on the tools you use to measure that for your business. Some score on a scale of 1 to 1000, while some use a negative/positive rating to describe your reputation score. 
Do Google ratings matter? 
Yes, Google ratings play a vital role in determining the online reputation of a business. You must work on developing a positive rating by encouraging customers to leave positive reviews on your Google Business Profile. 
Conclusion
Reputation scores are a big deal to your business's digital presence and overall perception.
Much information goes into your reputation score, including online reviews, your listings' accuracy, the management of your online reputation, and the strength of your social media profiles. And it all affects your search results ranking and how potential customers perceive you. Ultimately, your reputation score affects your bottom line.
Birdeye can help your small business improve its reputation score. With tools for managing reviews, updating listings, social listening, and social media management, Birdeye can help you transform your online reputation and navigate the landscape of digital customer feedback.


This blog post is part of our Online Reputation Management Guide:




        


Online Reputation Management





Originally published