Customers' buying choices today are highly influenced by the online reviews they read. According to a recent study, 67% of consumers' purchase decisions are influenced by online reviews. More than half (54%) say these reviews play an important role in their final decision process (Moz). For business owners, one of the most important reputation management tip is to choose the correct review site. However, positive customer feedback can make one business stand apart from a crowd of similar ones, both in customers' minds and search results.
Company reputation
Be it healthcare or dental, real estate or retail, hospitality or restaurants, every industry is impacted by online reviews. These can be on major sites like Google and Facebook, but also on industry-specific sites. These niche sites have smaller audiences. But those audiences are made up of more focused customers further along in their path to purchase. They are also more likely to convert than those in the initial browsing stage.
So, of course, you want to get new reviews, but how do you know which review sites matter most for your business? Here are some pointers to keep in mind when determining where to focus your review generation efforts:
Define your goals
Every business has different objectives. Evaluate your motive behind collecting online reviews. For example, if you need to boost your search rankings and visibility, without a doubt Google and Facebook would bail you out since their popularity among all demographics gives them high authority.
Businesses intent on building trust and credibility with clients should also focus on industry-specific sites like Carsdirect.com, Vitals, Avvo, and so on. These sites are most visited by well-researched prospects, and reinforce the legitimacy of ratings on Google and Facebook. Reviews on these sites can also help your business claim more space on the first page of Search Engine Results Pages (SERPs).
Company reputation – Scan how your business appears online
This is a quick and straightforward way to see where your business stands. As a basic starting point, try Googling your business in Incognito mode. This mode throws your preferences like search history and location out the window, offering a clean, unbiased slate to search. In this mode you'll not only be able to see your organic ranking, you can also get an idea of how people are discovering your business. For example, if your Facebook page ranks higher than your Google page, you know the area where to divert your efforts.
There are useful tools out there that give you an even more precise view of your company reputation. For example, Birdeye's free Scan Your Business tool gives you an overview of your reviews and ratings, business listings, and industry ranking — and it just takes a few seconds.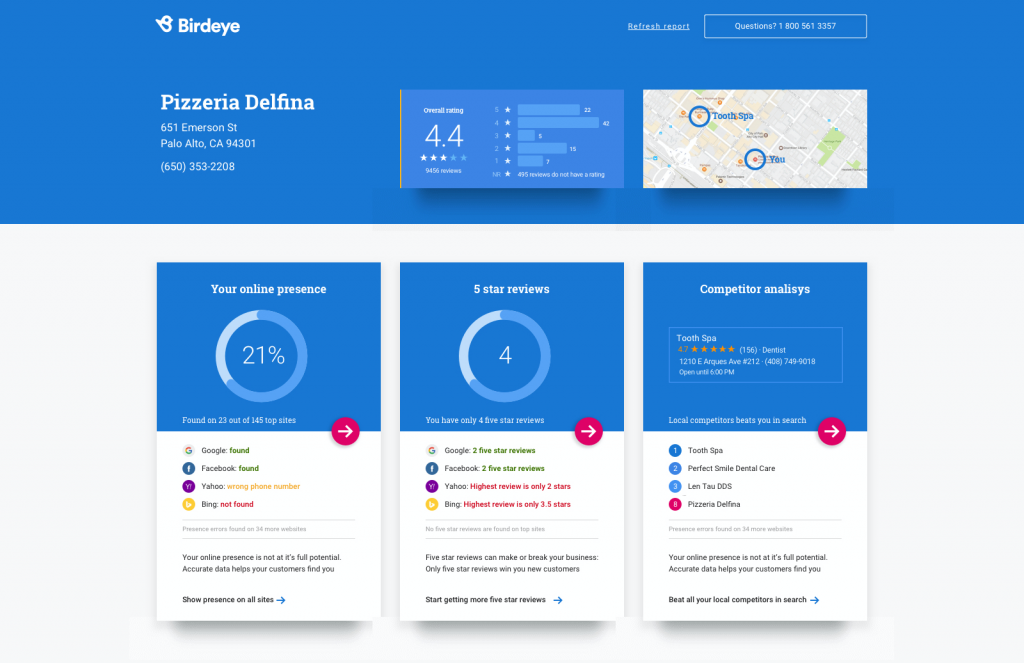 Ask customers where they found you
If you want more reviews on critical sites, don't be shy: just ask your customers how they discovered your business. A great way to do this is through a survey. Using a tool like Birdeye's survey designer, you can add logic to your survey questions to get super specific answers from each individual customer. For example, first, you can ask customers how they found you. Those who answer "online search" are then asked which site they looked at, with the option to list multiple. Analyzing these responses can tell you which sites have the most influence on your customer base.
What if you have lots of great reviews on one industry-specific site that you want more people to see? A great way to reach a wider audience is by sharing reviews to social media channels like Facebook, and Twitter and Google+. This engaging content maximizes your brand's exposure on social media. Plus, it drives more traffic to your company profiles on various review sites, strengthening your search ranking. Birdeye's Review Marketing tool lets you promote your reviews to social channels of your choice automatically, then measure customer sentiment through Social Listening.
This is another great starting point, considering 29.3 million websites use Google Analytics. And 69.5% of those rank in the top 10,000. Almost every business owner today relies on Google Analytics to gain insights into website traffic. They also use it to find the top referring sites on their website. To discover your top referring sites, click on 'Referral Source'. With that knowledge, you can direct your efforts towards the best-performing sites.
For an even deeper dive into your review distribution across all the sites out there, Birdeye's insights and reports show you a real-time view of your reviews and ratings over time by review source, and even lets you identify trending positive and negative topics so you know where to improve.
Interested in growing your business through reviews? Check out our comprehensive guide, The Ultimate Guide to Online Reviews. The icing on the cake is that it is completely FREE.


This blog post is part of our Online Reputation Management Guide:




        


Online Reputation Management





Originally published