Ever imagined a world where finding the perfect property is just a click away? Thanks to AI, that dream is rapidly becoming a reality. While AI's wonders have already transformed sectors like healthcare and finance, it's now making waves in real estate, and it's not here to replace agents but to empower them.
Need a quick answer? AI in real estate marketing helps businesses by providing data-driven insights, personalized marketing, and 24/7 customer support, enhancing efficiency, and increasing customer engagement for better results. 
Want to know more about these?
In this blog, we'll explore how AI in real estate is making life easier for agents and buyers. Read on!
What is AI in real estate marketing?
AI in real estate marketing helps real estate professionals leverage artificial intelligence to analyze customer data, provide property valuations, enhance property search and management, and improve customer experiences.
You can expect marketing AI's problem-solving capabilities and generative AI's content-creating abilities to give you a leg up in the real estate industry.
Read our guide on how AI improves your customer experience.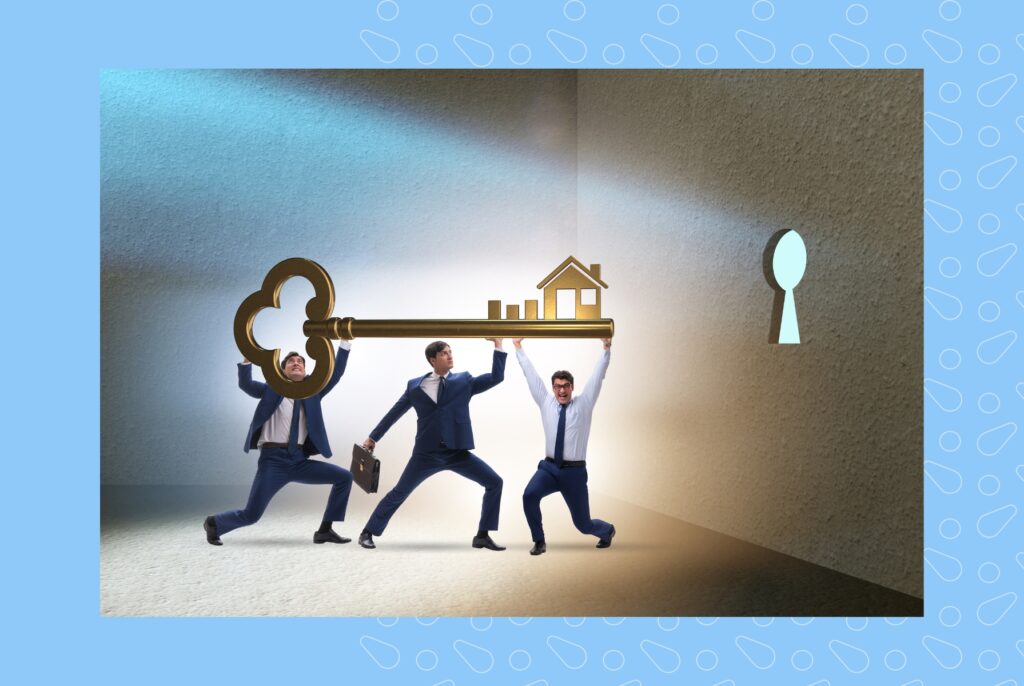 How can AI benefit real estate marketing?
Here are a few ways AI can benefit real estate marketing:
1 – Create immersive virtual tours of properties. 
2 – Optimizing property listings with 3D rendering.
3 – Precise property valuation.
4 – Personalized lead generation.
5 – Faster lead nurturing.
6 – Real-time analytics.
7 – 24/7 customer support.
8 – Predict future trends.
As AI develops, we expect to see even more innovative and effective ways to use AI in real estate marketing.
10 Ways to use AI in real estate marketing
From automating tasks to showing homes with augmented reality, AI can change the course of real estate marketing. Be sure you don't get left behind by considering real estate AI platforms for the following uses:
1. Review management
Convincing customers to leave reviews of your business is challenging, and you can only spend so much time hounding people to leave honest feedback.
Birdeye Reviews simplifies your online reputation management and lets you send a direct review link to your customers.
Birdeye's Review platform is powered by BirdAI, which lets you auto-generate responses to each customer review and use rules and templates when responding to reviews.
Those aren't the only benefits of AI in reputation management. You can also:
Translate reviews to respond in your customers' language
Generates a review summary to get an accurate overview of your reputation
Rephrase review responses without making last-moment typos or grammatical errors.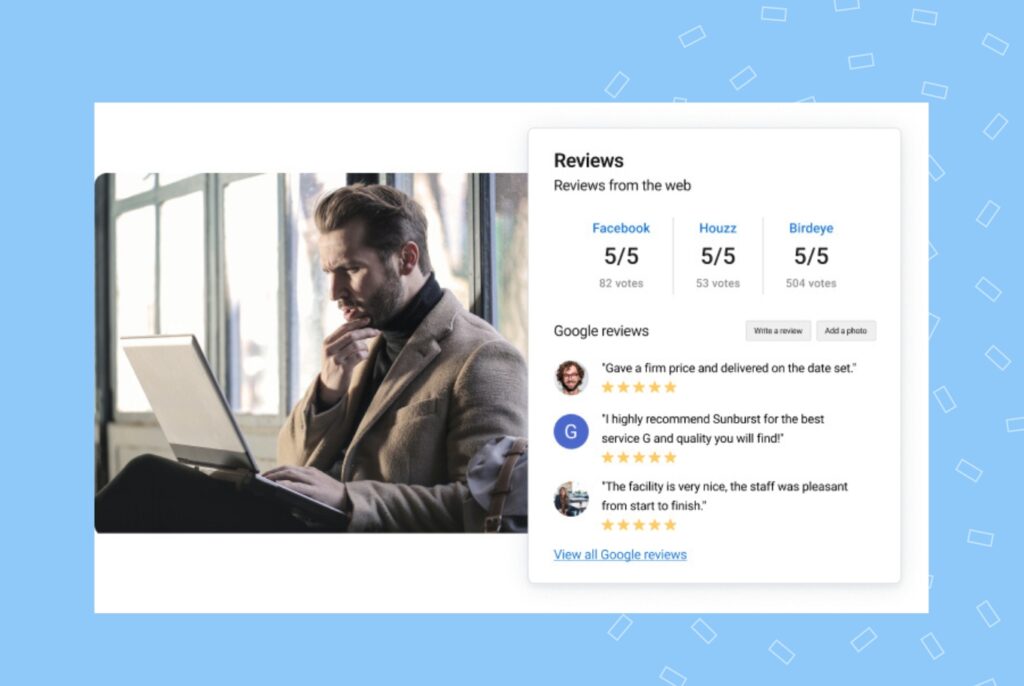 2. Feedback management
Let AI for customer feedback management do the heavy lifting while you analyze more creative tasks.
AI tracks customer sentiment across platforms, which sometimes requires a lot of manual bandwidth and resources for the business.
Whether someone is reaching out through online reviews, e-mail, social media, or another avenue, an AI real estate assistant can keep an eye on it all and alert you to any problems. 
3. Omnichannel communication support
A quality AI marketing tool learns the style and voice of your real estate or property management company. This allows an AI assistant to monitor multiple channels, help customers, and capture leads across multiple channels.

4. Customer data analysis
AI can offer information on your customers' journeys by answering questions like:
How did they find you?
Why did they choose you?
Are they walking away feeling satisfied?
AI can also provide reports and predictive analytics.
5. Listing management
Just as you can train AI to use your style and voice for customer responses, you can also teach it to use these skills when listing properties.
By analyzing real estate data you've written in the past, AI can generate listings for you. Instead of writing fresh content for every home, you'll only have to review it for accuracy.
Birdeye's Listing is AI-powered. Boost SEO with AI-generated business descriptions for your Google Business Profile in a simple way.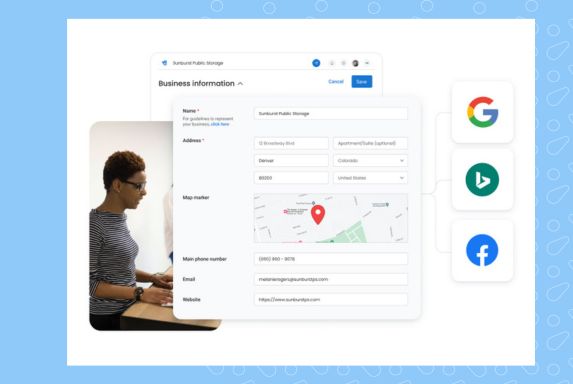 6. Enhanced advertising campaigns
As we mentioned, AI is a key component of targeted marketing. If a customer looks at one of your listings, you can keep that listing at the forefront of their mind or suggest similar listings by ensuring it pops up in their social media feed.
Since AI is so good at data analytics, it also helps by taking the guesswork out of advertising efforts.
Instead of putting an ad out there and waiting months to gauge effectiveness, AI tools can give you fast results and even use data from competitor efforts to help you make smart marketing decisions.
7. Personalized pricing models
Pricing houses is a tricky business. You want a property to sell fast, but you also want it to sell for as much as possible. Real estate AI can use real-time data specific to each area and market to make pricing suggestions.
8. Real-time engagement
Just about everyone who uses the internet has encountered an AI chatbot. While customers know they aren't speaking with a real person, they like this AI tool's immediacy.
Real estate agents can use them to answer common questions, schedule appointments, and provide personalized customer satisfaction 24/7.
9. Social media marketing
Your customers are on social media, and your brand should be, too. Use AI in social media management to create posts and advertisements and monitor what people say about your real estate services.
With Birdeye Social, which is powered by AI, you can:
Auto-create posts for holidays, special occasions, or industry-specific events.
Change the tone to be friendly, witty, professional, descriptive, and informative.
Complement posts with relevant, auto-suggested images.
Fix any grammar mistakes.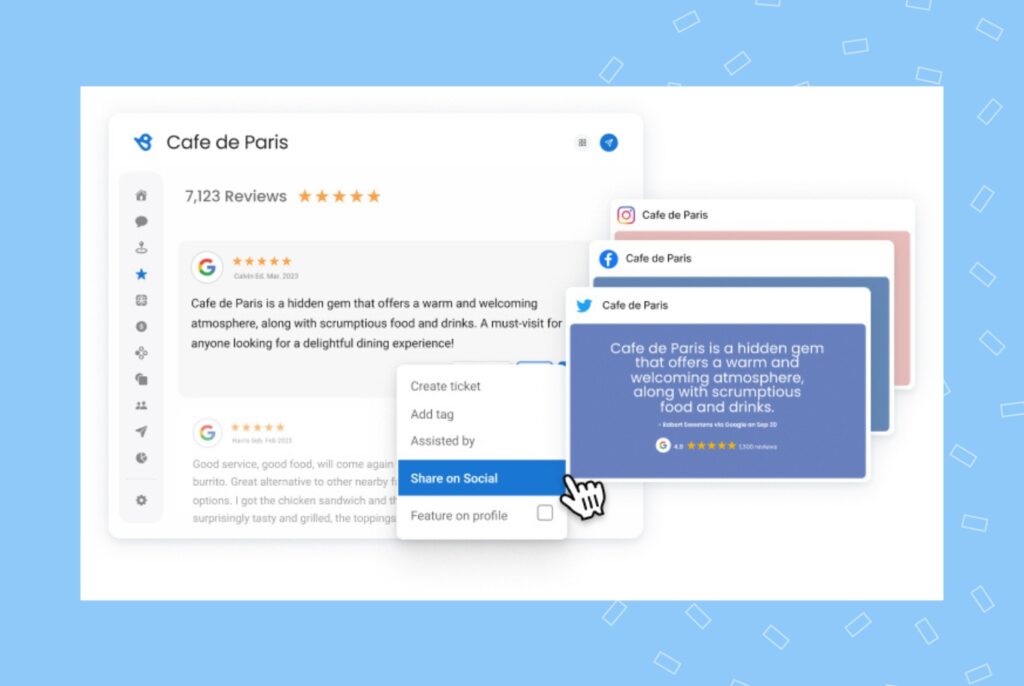 10. Understand buyer personas
When you create content and advertisements to reach potential clients, you must know who you're speaking to. This audience is known as a buyer persona.
Getting to know your buyer persona requires market and audience research, which you probably don't have time for – but AI does. It can even make suggestions for how to connect with buyers.
Challenges in real estate marketing
When residential and commercial real estate agents spend hours on data entry, social media marketing, and sifting through website visitors to determine who might genuinely be interested in buying or selling, there is little time left for that all-important buying and selling.
Here are five common, time-consuming challenges in real estate marketing that may sound familiar to you.
1. Establishing online presence
The time you spend writing web content and posting on Facebook to create an online presence could be spent looking at houses or managing properties. It's also difficult to tell if your online time is helping you reach customers.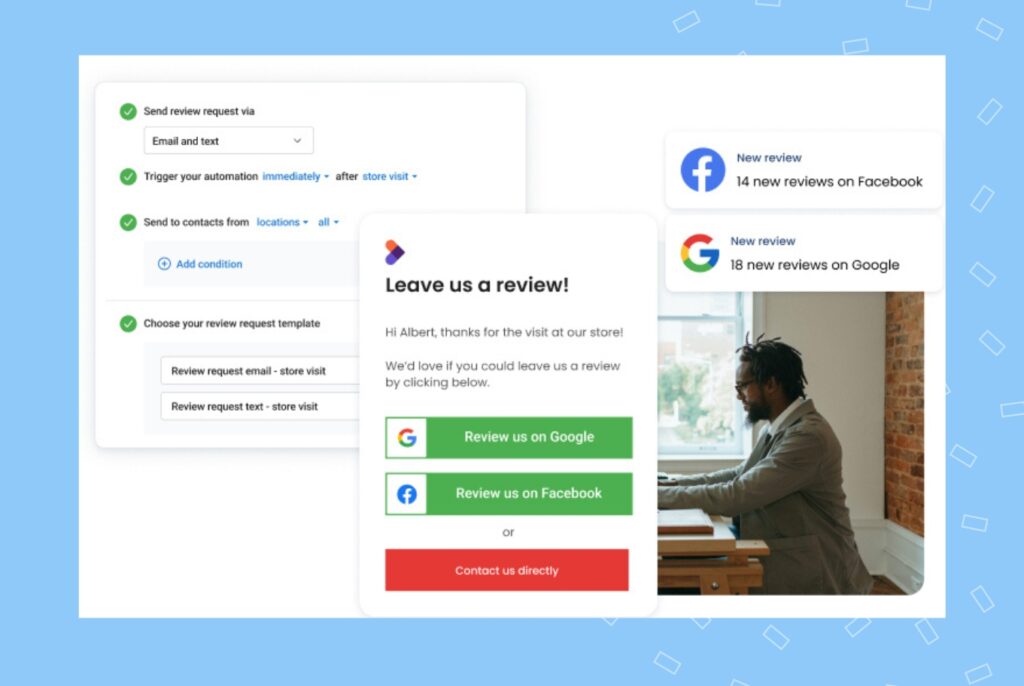 2. Capturing leads
Once you create an online presence, how do you use it to capture leads? A contact form, newsletter, and listing links could help, but it isn't easy to gauge interest and convince people to reach out. 
3. Consistency in social media marketing
There is one thing that every social media platform has in common: You must post regularly to get noticed. If you have a decent social media following but get caught up in other work and don't post for a while, you have to work your way back up from the bottom. 
4. 24/7 Availability
You might work 9-5, but home buyers are always awake. If a seller is motivated to discuss at 2:00 a.m. and responds to their e-mail at 10:00 a.m., you may have missed your window. 
Be Found Wherever Your Customers Search for You
Want to see the impact of Birdeye on your business? Watch the Free Demo Now.
5. High advertising expenses
Gone are the days when real estate agents needed to put their faces on billboards or bus stop benches, and many no longer take out ads in newspapers in favor of listing online. Switching to online saves money.
AI in real estate marketing can help you ensure your advertisement investment is effective.
How to use Birdeye's AI in real estate marketing?
If we've convinced you that using AI in real estate marketing is a good idea, you're probably wondering which AI real estate marketing platform is best.
Let's discuss some specific services Birdeye's all-in-one AI platform offers to real estate agents and property managers.
Review generation and management
Convince customers to leave honest opinions with Birdeye's Review generation, marketing, and management tool – all powered by AI. Then, market those positive reviews on social media easily. 
Customer message management
Provide amazing customer service by responding instantly across any platform, including Facebook, Instagram, Google, and X (formerly Twitter). Birdeye's AI marketing messaging tools allow you to send welcome messages, answer common questions, and request feedback without lifting a finger.
Birdeye integrates with over 3,000 software systems to make it easy to get new reviews and be found online automatically.
Choose the property management software that will help you improve operations and increase revenue.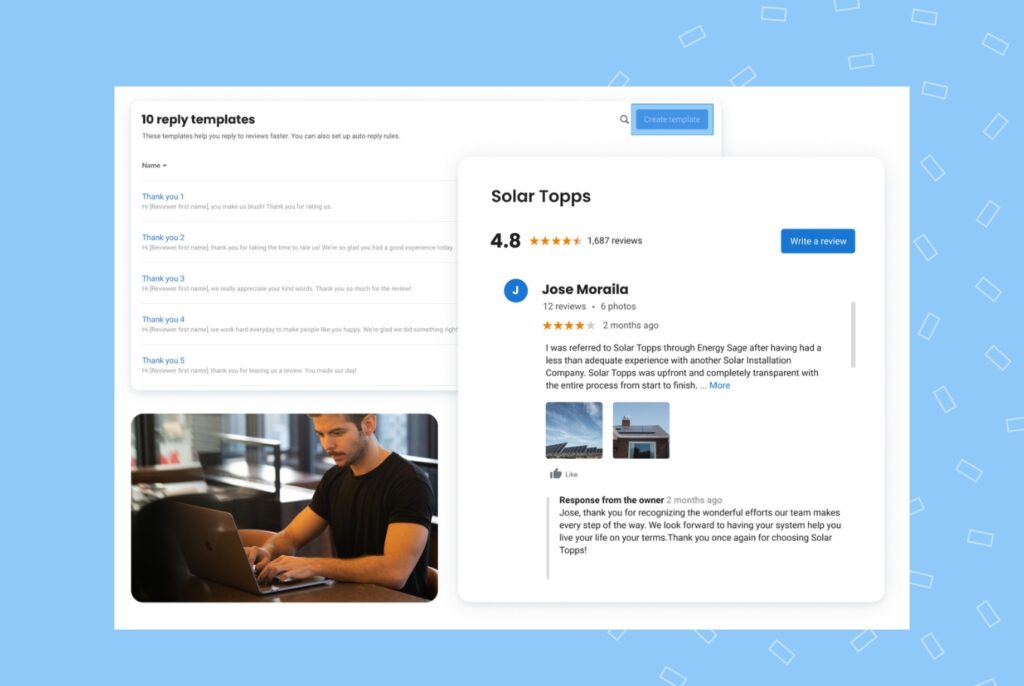 Appointments
Potential buyers, sellers, and renters don't have to wait until the morning to schedule an appointment with Birdeye's online booking tools.
Customize booking forms to match your agency's style, integrate your calendar, and book more showings. The best part is you can pre-qualify buyers before they schedule.
Multi-location social publishing and engagement
Birdeye lets you keep track of all social media platforms for your real estate agency using a single dashboard.
Our AI tools make it easy to view engagement reports and respond immediately.
FAQs about AI in real estate marketing
What are the benefits of AI in real estate marketing?
AI tools free up your time and make you more available to handle vital tasks, like hosting open houses and meeting with potential sellers.
Why should we use AI in real estate marketing?
AI-generated data reports are faster and more thorough than human-generated reports. Since 35% of companies worldwide use AI in some capacity, it's important those in the real estate industry don't get left behind. 
What is the future of AI in real estate marketing?
AI is the all-knowing assistant you never thought you'd have. In the future, most real estate agents will use AI to help determine pricing, market trends, rental leads, and investment decisions.
Leverage AI in real estate with Birdeye
AI holds the key to the future of real estate marketing. Connect with serious buyers and sellers, understand the market better than competitors, and always know where your reputation stands by joining more than 100,000 companies using Birdeye's all-in-one platform.

Originally published