Online reviews are a critical element of a business's success. Reviews show valuable social proof, create trust, and help you rank higher in search results. Help your business be chosen over your competition through online reviews.
Chapter 1: The importance of online reviews
Why online reviews matter
Online reviews affect your business's success by determining your search engine ranking, establishing your business's trust and social proof, and more. Learn why your business cannot miss out on getting more online reviews.
Reviews help your business to be found.
The more online reviews your business gets, the higher you will rank for relevant search queries. The strategy to rank higher in Google search results is called SEO, or search engine optimization. Google likes to show the best results, and if you have a lot of reviews, Google will see that you're a trustworthy source. Reviews boost your search ranking and help your business to be found and chosen.
Demonstrates social proof.
Few people want to spend their hard-earned money on a product they know nothing about. While many consumers will research the product features online, it is rarely as powerful as customer reviews. Reviews provide social proof to prospective customers because they are seen as honest insights into the customer experience. When people see many glowing online reviews, they trust that the product is worth the purchase, while negative reviews have the opposite effect. What's more, 9 out of 10 people are hesitant to buy from a business if it does not have any reviews at all.
Set you apart from the competition.
We live in a hyper-competitive world, and it's important to do what you can to stand out from the pack. One way that you can outshine your competitors is through having fantastic online reviews.
Play a key role in decision-making.
All that stands between your business and a competitor is a quick online search. Consumers often compare similar products with each other before they select the right product to meet their needs. Online reviews have a huge impact on this decision-making.
Affect your bottom line.
According to a Harvard Business School study, when a business's rating increases by a star, their revenue will increase 5-9%. Reviews are replacing more traditional forms of reputation and have a significant impact on your business's revenue.
Top 10 online review statistics
Here are ten of the most telling online review statistics that show why reviews are crucial for your business's success.
What can we make of all of these statistics? Online reviews matter. Even if you already have some reviews, a constant stream of new reviews is needed to maintain a customer's trust and a high search engine ranking. Reviews have a significant impact on your business's success, and it's important to utilize online reviews to their maximum capabilities.
How online customer reviews influence sales
Consumers trust the opinion of other consumers. Customer reviews help the prospect to understand the benefits and drawbacks of your product or service. When your prospects see many reviews sharing genuine customer experiences, this greatly influences their overall impression of your business.
If past customers have left you great reviews, this convinces prospects to make the purchase or choose you as their trusted vendor. For this reason, reviews have a direct impact on sales. But don't just take our word for it. Take a look at these numbers to see how reviews influence your business's sales.
The takeaway? If you are not investing your time and resources into gathering and managing reviews, you may be walking away from more sales for your business. Online reviews play a critical role in helping your business grow, so take advantage of this resource.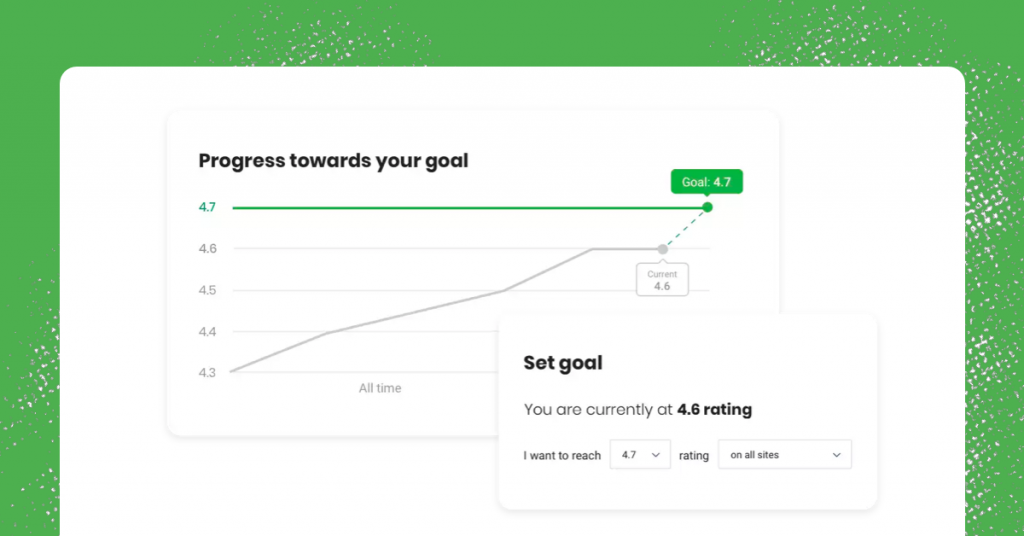 The value of negative reviews
When you encourage every customer to leave a review online, you will create an invaluable hub of honest customer feedback. This hub is bound to include some negative reviews, as you can't please everybody all the time, but don't let that worry you. Negative reviews are actually a valuable asset to your business. Here's why.
Learn from your mistakes. While everyone wants positive reviews, there are benefits to receiving feedback from unhappy customers. Less than perfect reviews help you gauge what your business is doing right, and the areas that need improvement. This helps you provide an improved experience to your customers in the future.
Customers don't trust perfectly rated businesses. Having a range of reviews is not only good for your business, it's good for your customers. Because many businesses have indulged in dishonest review practices in the past, customers don't trust perfect online reviews.
Frequently asked questions about online reviews
Can you trust online reviews?

The short answer is yes, online reviews are trustworthy, especially as most platforms are cracking down effectively on fake reviews and no longer allow anonymous reviews. Online reviews give consumers detailed insights from the customer perspective, giving a point of view that the business is not always able to provide. However, it is important for customers to do their due diligence when reading online reviews. Read more than a handful of reviews in order to understand a wide range of customer experiences. Use a healthy amount of skepticism, too. If a review sounds too good to be true, then it just might be.


Can I buy online reviews?

It is possible to pay someone to write fake reviews for your business, but it is a high risk, low reward scenario. Building your business's reputation takes time. While buying reviews may seem like a great shortcut, it almost always comes back to bite you. When you are caught, not only will you lose the trust of your customers, but you will be banned from many popular sites, including Google, and your business listing will be removed. Long story short: buying reviews is a dishonest practice and not worth the risk.


Why is review-gating bad?

Review-gating is when a business finds out if a customer has had a positive or negative experience, then only asks those who have had a positive experience to leave a review online. This is a dishonest practice because not all customers are encouraged equally to give feedback. In addition, it is against Google's policies to use review gating. It is important that your business's reviews display an honest portrayal of the customer experience. If you are dishonest, it will hurt your reputation more than a few negative reviews will.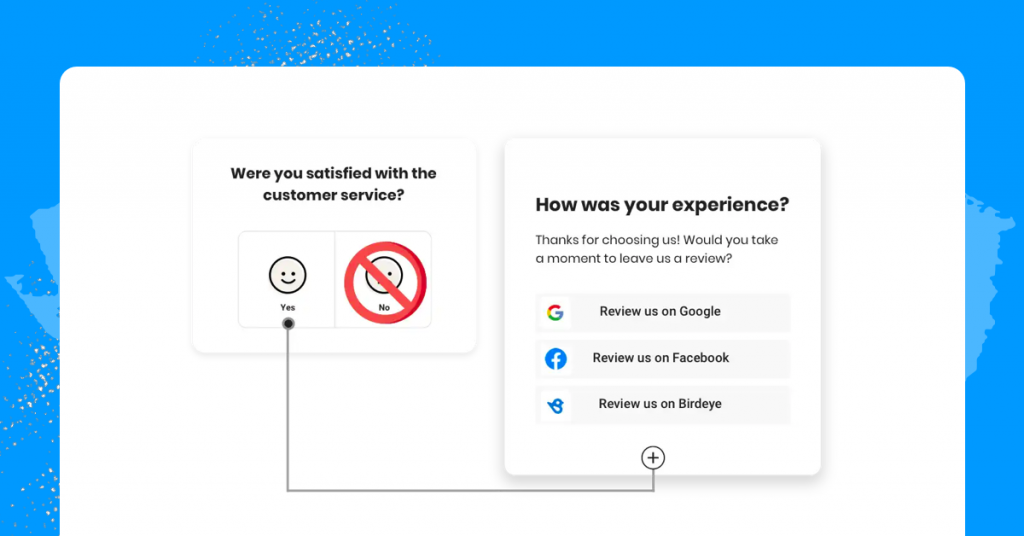 Chapter 2: Getting started with online reviews
How to get more online reviews
Many of us already know the value of online reviews, yet it can be a struggle to collect them. Manually requesting reviews from each customer can put unnecessary stress on your staff and be a drain on your resources. Even after all of that work, you may not see a high response rate. Here is how you can make the reviews collection process easier for your business and get more responses.
Automate review requests
When it comes to collecting reviews, you want to strike while the iron is hot. The longer you wait to ask a customer for feedback, the less likely they are to give it. Automate your review requests to increase the chances of response. With an automated system, you can send timely review requests without overwhelming your staff.
Make the process as easy as possible
At the end of the day, customers are doing you a favor when they leave a review online. They are taking time out of their busy schedule in order to help your business's reputation. Because of this, make sure the review process is as straightforward as possible. Include the appropriate link within the review request so that your customers don't need to do anything more than click and respond.
Respond to each review
It's important to make a practice of responding to your reviews, both positive and negative. Google has confirmed that responding to your reviews boosts your local SEO. In addition to enjoying a higher ranking in Google, responding to your reviews makes customers feel appreciated and heard, which encourages future customers to leave reviews as well. When a customer leaves a good review, thank them for their response. When a customer leaves a negative one, work with them to find a solution to their problem.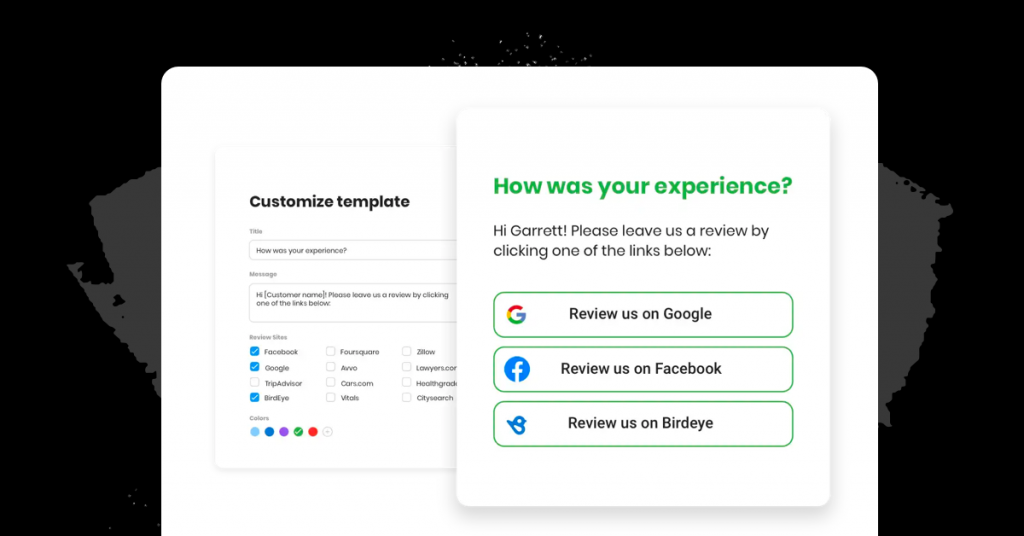 Important online review sites
There are many online review sites that your business can get new reviews on and be chosen by customers. The two main review sites that help with visibility are:
Google
With Google being the most popular search engine, it only makes sense that it is also the most popular review site. Our own research found that 67% of online reviews are written on Google. Take advantage of this by claiming your Google Business Profile and setting up Google reviews for your business.
Facebook
Facebook is the second-largest review platform. With 2.41 billion monthly active users, Facebook is a great way for your business to gain visibility. Facebook's wide reach makes it easier for your business to be discovered easily. Create a business page on Facebook and utilize this to start collecting more reviews for your business. (FYI reviews on Facebook are now called 'Facebook recommendations.')
Apart from these generic sites, there are several vertical-specific sites that you can invest your time and resources on.
Lawyer review sites: It's important to get your client to leave you reviews on popular attorney review sites. Check out this list of top 5 lawyer review sites.
Contractor review sites: Want to be seen as the best contractor in your area? Here is a list of top 8 contractor review sites.
Healthcare practice review sites: 77% of prospective patients use healthcare reviews as the first step in choosing a physician. Here are the top healthcare review sites that you cannot miss.
Realtor review sites: You need to be present where property buyers and sellers are looking. Here are the top realtor review sites that you need to focus on.
Dentist review sites: Patients need to be assured that you are the right dentist for them. Here is a list of the top dental review sites.
Automotive business review sites: If you are in the automotive business, it's important to keep track of the car review sites that customers are looking at. Here is a list of automotive review sites that you cannot miss.
Though there are many online review sites, start by focusing on these most popular ones. They will be the first stop most customers will take when searching for a new business.
Online review management
More review responses mean more reviews to manage. In order to deliver a top-notch customer experience, it's important to learn how to track and respond to your reviews. When you are managing your online reputation, it's important to be aware of the responses you are getting.
Let's say you are a contractor, and one of your customers wrote a review saying that your technician left a mess behind after they finished up the job. This would be an issue you'd want to know about as soon as possible so you could rectify the situation. Similarly, if a customer had a fantastic experience with your business and wrote a glowing review about your technician, you'd want to thank the customer for their response and business.
It's important to monitor your reviews so you can respond to them accordingly and have the best picture possible of your customer experience. Through proper online reputation software, you can effortlessly manage your reviews by:
Sending automatic review requests right after a customer message.
Getting notified when you receive negative reviews so that you can respond quickly.
Tracking your reviews over time and identifying trends to know what your business is doing well and where you need to improve.
The right customer review management software will have all of these qualities and more.
How to respond to negative online reviews
Many businesses want to know how to remove bad online reviews. No matter how fantastic your business is, you will get a negative review every once in a while. When this happens, it's important to know how to respond in order to preserve your business's reputation. Here are some tips and tricks to show you how to deal with negative reviews online.
Respond promptly
Customers expect a response to their complaint within 48 hours. The sooner you can respond to an unsatisfied customer, the better.
Don't panic
As we said earlier, negative feedback is not always a bad thing for your business. So, when you do get a bad review, don't panic. Take a deep breath and spring into action.
Apologize
Regardless of if you agree with the customer's review, it is important to apologize. Defending your business will come across poorly and escalate the situation further. Instead, start the conversation with apologizing. Something like, "Hi, [customer name]. I'm so sorry that you had that experience!" is a good way to start. Once the customer knows that you are there to help, you can move on to the next step.
Take the conversation offline
Avoid having a back and forth on a public forum. Respond to the negative review publicly with an apology, then switch to a one-on-one conversation to speak with the unsatisfied customer.
Work with the unsatisfied customer to find a solution
Whether it's on the phone, over email, or through text, it's important to work with the customer to see if there is a way you can help their situation. When a customer is upset, they are usually frustrated and seeking to be heard. Listen to their experience and offer whatever you can to help.
Ask them if they would like to change their review
If you and the unsatisfied customer were able to reach a solution, ask them if they are willing to edit their original review. Oftentimes, previously unsatisfied customers are happy to change their reviews when the problem has been solved. Turn past frustrations into opportunities.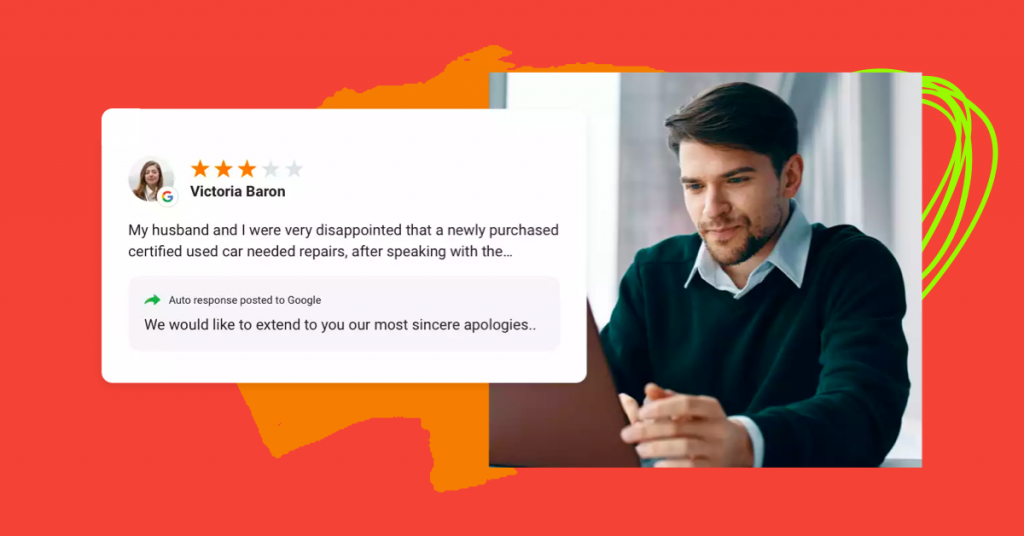 How to respond to positive reviews
We'll say it again when customers leave you a review, they are doing your business a favor. So, when a customer leaves your business a particularly valuable review, it is important to respond. Here are some steps you can follow when responding to a positive review.
Thank the customer for their time and feedback.
Tell the customer you hope to see them again soon. (If you're an eCommerce company, try saying: "We hope you decide to purchase from us again in the future!")
Through this simple response, you will build stronger brand loyalty, encourage future customers to also leave a review, and provide a better customer experience overall.
How to remove negative reviews
While you can't remove an online review simply for disagreeing with a customer's opinion, there are reasons why removing an online review may be valid:
The review is spreading lies about events that did not occur
The review is spam
In either of these situations, the reviews could be posted by people posing as customers, bots, or a competitor. Regardless of the source and motivation, fake online reviews are not tolerated across review sites. Here is how to remove a fake online review.
Flag it. Almost every review site has an option to flag a fake review.
Send a message to the review site. Explain the situation and request that the review be removed.
Respond publicly if necessary. If there has not been any action taken and the fake review is still up, respond to the review. Using a professional tone, explain why you believe the review to be false. Chances are the review will get removed eventually. However, if the review site is overwhelmed with other tasks, directly responding to the fake review can be a good solution for the time being.
There is also the rare case that a customer left a poor rating out of user error. If a customer has left a bad review, but the commentary doesn't seem to match it, contact that customer and ask if they were satisfied with their experience. If they were, politely ask them to update their review to reflect it.
Start collecting reviews today
There is a lot to learn when it comes to online reviews, but don't be overwhelmed. Here are some easy ways to get started.
Start small. Focus on getting more Google reviews first. The more reviews you get on Google, the higher you will rank in relevant Google searches. Focusing on Google reviews is a great way to help your business be found.
Industry-specific sites may be helpful. Once you feel confident with Google reviews, expand your reach to other industry-specific review sites. For example, if you work in hospitality or tourism, TripAdvisor is a great site to utilize. If you're in the auto business, Cars.com is a good site for reviews.
Get a review management system. Invest in software that can help you send review requests via email and SMS to get feedback from your customers. It should be able to alert you the moment a new review is written on any of your business review profiles. Last but not the least, the software should be able to help you quickly respond to reviews, and track your customer feedback over time.
Enjoy the benefits of more reviews! With more reviews, your business will be discovered easily online through improved SEO. By establishing your social proof through reviews, you'll attract more customers. And finally, you'll establish more trust and credibility for your business by having a great reputation.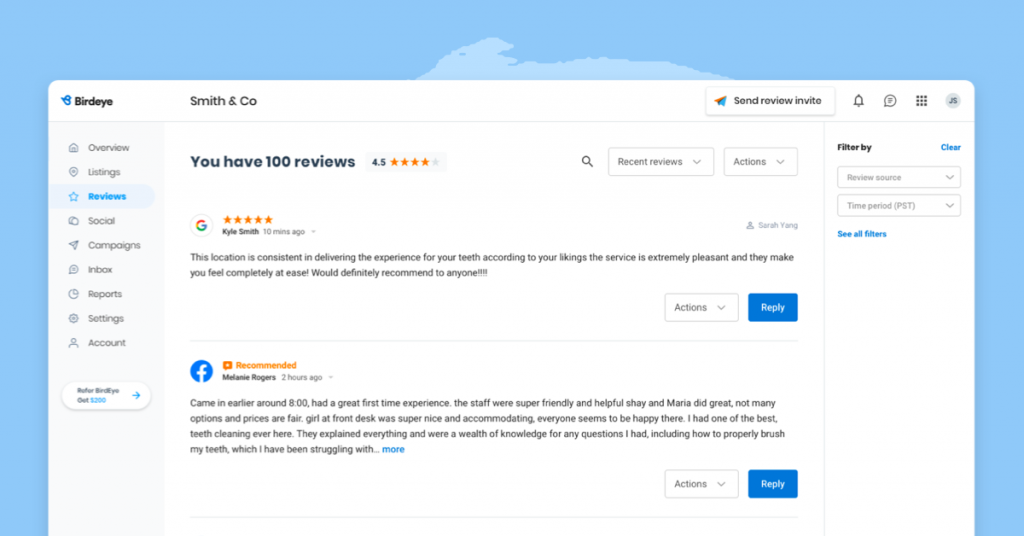 How Birdeye can help
Here at Birdeye, we know online reviews, and we have the tools you need to be successful in every stage of the review process. Whether you need help with getting new reviews, managing reviews, or monitoring reviews, Birdeye has you covered. Our streamlined and simplified review process will help your business deliver a fantastic customer experience and grow like never before. Schedule a time to meet with one of Birdeye's customer experience experts to get started with online reviews, today!


Originally published Oct 28, 2021, updated