If you want your hospitality business to stand out online, you'll need to establish a presence on both business listing and review sites. Creating business listings is a cost-effective way to bring attention to your business and build a strong online reputation, both of which will make it easier to convert potential leads into customers.
Creating a business listing on Tripadvisor can help you build a stronger online presence for your brand. In this blog, we'll walk you through how TripAdvisor can help scale your hospitality business.
An overview of Tripadvisor business listings
There are more than 1,000 credible listing sites on the internet However, only some stick around for the long haul. Tripadvisor has been in the review game for over 20 years and the site is still a popular choice for travelers.
Tripadvisor is still the highest-ranking review platform for the travel and tourism industry. Business owners can benefit from using Tripadvisor because it's one of the few platforms that offer both listings and reviews. The platform has more than 702 million reviews for most of the world's leading hotels and over 7 million listings for restaurants, tourist attractions, and hotels.
According to a study, 72% of people rely on Tripadvisor reviews to make decisions about places to stay, where to eat, and things to do. The American customer satisfaction index (ASCI) found that Tripadvisor has consistently ranked above the category average for the last four years. The platform is high on every customer's list for recommendations.
How to list your business on Tripadvisor
If your business is not on Tripadvisor, you're losing many SEO, listing, and reputation management opportunities. Let's go over the eligibility criteria to help you get started.
Eligibility criteria:
Tripadvisor can help businesses generate brand awareness, generate leads, and build a reputation for your business – but it's not for every business out there. Tripadvisor is the platform for you if you manage:
A 24-hour hotel with a front desk, housekeeping services, and a private bathroom. Bread and breakfast accommodations (B&Bs) and inns that fit into these categories can also apply for a Tripadvisor listing. Keep in mind that you can't list your hotel on Tripadvisor if you require your guests to stay for longer than three nights.
An open to all restaurant located in a prominent part of the city that prepares its own food. Catering services and other demand services do not qualify.
A travel or tour operator agency that provides private day tours with a license or recognition by the local tourism governing body. You need a functional website, proper email address, physical address, phone number, and the word "Private" in your name. Travel agencies must list as an "Attraction" on Tripadvisor.
How to create a new business listing on Tripadvisor
If you've recently started a new business or want to create a new listing for your existing business, here's how to get listed on Tripadvisor.
Head to the Claim Your Listing page and enter the location and name of your business. If your business shows up, it means that someone already made a listing for you that you can claim. We'll talk more about that in the next section.
If your business name doesn't show up in the drop-down, click "List now" to create a new listing.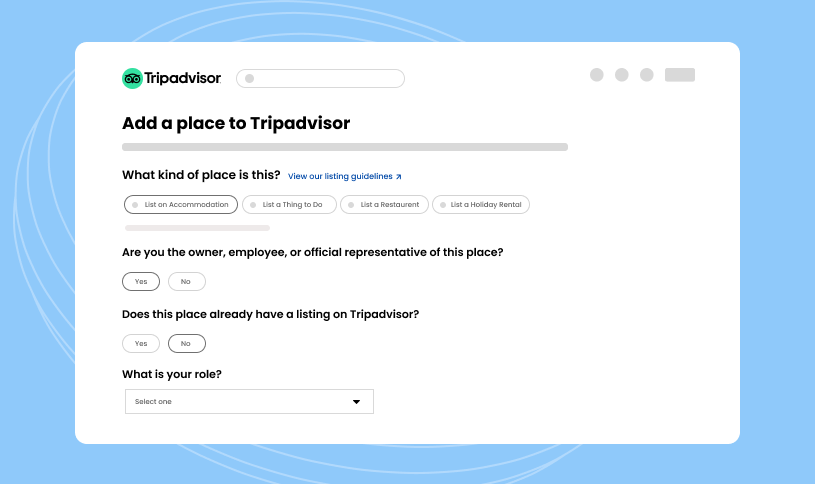 Once you click "List Now," Tripadvisor will redirect you to a screen where you'll select the type of business you own. After you make your selection, a screen will appear and prompt you to add more information about your business. Enter the necessary information to continue.
Next, you'll have the chance to add more detailed information and spruce up your Tripadvisor business listing. You'll be able to add personal, business, and industry-specific information, photos, booking links, and a detailed description of the services you offer.
Pro tip: The more information you add, the more appealing your Tripadvisor listing will be to travelers.
How to claim an existing business on Tripadvisor
If your business is already listed on Tripadvisor, you'll need to claim your listing to reap the benefits. To do this, you'll need to go back to the Claim Your Listing page. If your business is already listed on Tripadvisor, your listing will appear when you enter your name and location. Then, click "Claim your free listing" to proceed.
You'll be taken to a screen that asks you to enter your Tripadvisor business listing login or create an account. Enter these details and move on to claim your listing. Enter the name you want to appear when you respond/engage on the platform, along with your business information like your phone, and email address.
Next, you'll have to verify the details so that you can officially claim your Tripadvisor business listing.
Verifying your Tripadvisor business listing
You can verify and claim your Tripadvisor listing using either a phone or credit card.
For the phone verification method, Tripadvisor will locate the phone number on record for your business. If the number is wrong or not in service, you can add your current phone number. If your number is correct, you'll get a code via text message or phone call. When prompted, enter the code on the screen to complete the process.
To verify your listing via credit card, you'll need to use a card in your name. The platform will place a $1 hold on the card to make sure it belongs to you. Once that goes through, you can claim your business listing. The platform does not process any charges here, so watch out for fraudulent activities.
You can then update your listing to reflect the most accurate information. You can also respond to reviews and ask your customers to share their feedback on the platform.
Pro Tip: If you've purchased an existing business and want to provide updated information to Tripadvisor, you can connect with Tripadvisor support and show them your ownership documents. If the establishment has bad reviews or any wrong information, you can persuade the platform to help you start fresh.
How to optimize your Tripadvisor business listing
To make the most of your Tripadvisor listing, you'll need to optimize it for SEO, reputation management, and customer experience.
To optimize your listing, focus on:
Business information: This is what your customers are here for. They need to know how to reach you and when you are available. Keeping updated business information on your Tripadvisor listing is a great way to improve your online reputation. Update information like business hours, delivery service availability, operating hours, phone numbers, and schedule changes to appear reliable for your customers.
Description: The property description section on Tripadvisor is highly underrated. Almost 78% of Tripadvisor's traffic is search engine-based. Make sure your description includes relevant information, keywords, and everything else a customer might search for. Focus on your unique selling proposition, nearby attractions, key features, amenities, and additional facilities to stand apart from your competition.
Photos: You can add a primary photo to your Tripadvisor listing that customers will see first. You can also add multiple photos to show your property to boost its appeal to potential customers. Customers will probably click through your photo gallery before reading the details, so photos are a great way to showcase your property's best features.
Reviews: Tripadvisor is both a review platform and a listing platform. Customers trust businesses with more reviews, so make sure that you ask your guests to share their experiences on the platform. Timely responses to all positive and negative reviews also establish you as an active business on the platform.
Reviews also have an impact on Tripadvisor's rating. Tripadvisor also grants "Traveler's Choice" awards and "Best of the Best " awards each year based on customer reviews.
Tripadvisor exists to serve travelers looking for accurate information. Optimizing your listing can increase your chances of being discovered on Tripadvisor.
Frequently Asked Questions about Tripadvisor business listings
Why should my hotel upgrade to a paid Tripadvisor listing?
Tripadvisor is a free platform with a few paid promotional tools for businesses looking to build a presence on the internet. If you want to run ads or integrate booking features, you'll need to upgrade your hotel to a paid subscription plan.
How do I manage my listing and respond to reviews on Tripadvisor?
Log in to your Tripadvisor account as an owner, and you will see a Management center section.  There, you'll see options to "respond to reviews," "manage listing," and "analytics". 
Boost your Tripadvisor business listing with Birdeye
Listing your business on Tripadvisor is a great step to boost your online reputation, but it's just another site for you to track and stay on top of. With a comprehensive listing and reputation management system like Birdeye, you can manage your listings, track and respond to reviews, and monitor ratings from a single dashboard.
If you're looking to make your life easier, book a demo now.

Originally published Oct 21, 2022, updated