Google has just announced that its policy towards rich snippets has changed. So let's talk about what rich snippets are, how they affect your business, and what this change means for you.
Previously, Google allowed businesses to use a review schema to show the business's overall star rating in their search result through a rich snippet. These rich snippets helped businesses stand out in comparison to their competitors in search results.
You've probably seen rich snippets on Google search before. However, Google recently announced that many of these rich snippets are going to disappear in the near future. Here's what you need to know.
No more self-serving reviews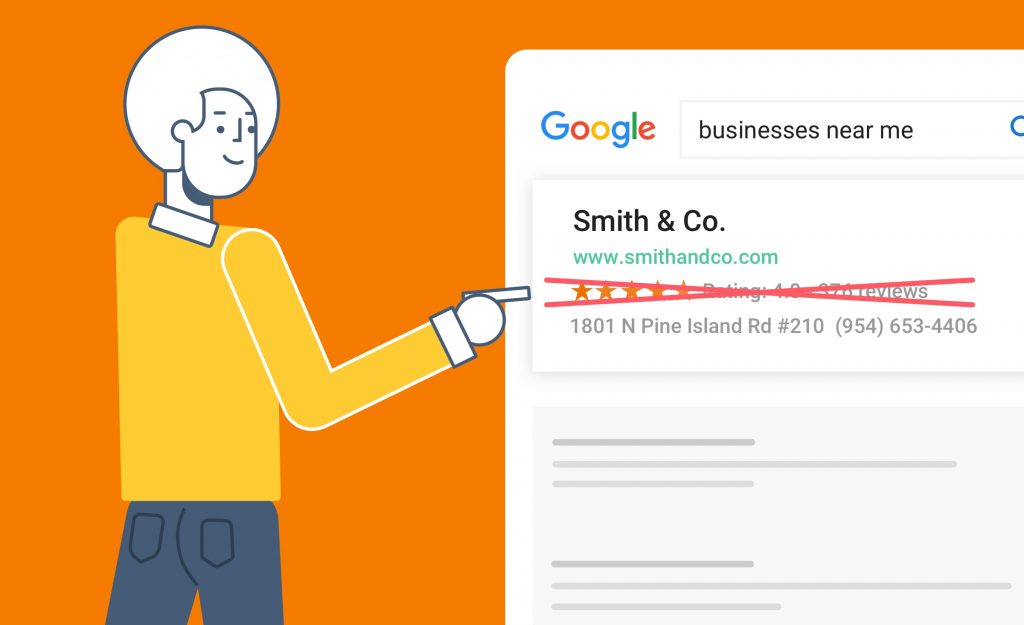 Google has banned what the company calls "self-serving reviews". Google has defined this as "reviews of a business on the business's own site". What that means is that websites with the schema "LocalBusiness" or "Organization" will no longer be able to display rich snippets in search results.

You might be wondering how this change affects how your business appears in search results. Let's answer some of the questions we've heard.

Does the rich snippet change affect all search results?
No, there are plenty of search results that will have rich snippets. You'll still see rich snippets on books, movies, and recipes. Google's definition of "self-serving" is limited to businesses and organizations themselves.

Reviews with product schema will also continue to be displayed in Google search results. While reviews for businesses won't be displayed in search results, reviews for products can.
When will this change take place?
This change is being slowly rolled out by Google, so you might still see Rich Snippets on search engine results where they shouldn't be.

Do I need to remove reviews from my website?
Don't remove reviews from your website. Reviews are a great form of social proof, and displaying a review widget on your website is an easy way to show your website visitors how loved your business is by your customers.

You won't face a penalty in search ranking when you have your reviews displayed. They just won't be displayed in rich snippets anymore.
How does this change affect SEO?
Don't expect any big change in your search ranking. While rich snippets can increase your clickthrough rate, they don't have any direct impact on SEO. Since your competitors are all affected by the change in the same way, you should not see any major changes in your search ranking.

What if I use a review widget from a trusted 3rd-party provider?
Nope. Because these reviews are still hosted on your website, even using a third-party provider will still be considered "self-serving".
Will this affect my Birdeye profile?
More than 2 million users list their company on Birdeye. Our custom profiles aggregate reviews from sites all over the Internet. If you've claimed your profile, you'll often see these Birdeye pages rank high in search results. These pages will have rich snippets displayed in search results.

Rich snippets will no longer show on your website, but they will show on your Birdeye profile. Remember, self-serving reviews are reviews posted by a business on the business's own website. Third-party sites, like Birdeye, will still be able to display rich snippets.

Does this change affect Google Seller Ratings?
For those who don't know, here's the difference between rich snippets and Google Seller Ratings (GSR).

While they look very similar, there's one key difference: Rich snippets are for organic search results while Google Seller Ratings are for paid search results. While rich snippets for business reviews are no longer okay, Google Seller Ratings for businesses will continue.

Google has previously said that Google Seller Ratings increase the clickthrough rate for search ads by 17%. So by all means, make sure your business is taking advantage and including these ratings in paid search ads.
What do you think about Google's rich snippet change?
If you have any questions on how Google's changes to Rich Snippets affect your business, send us a quick email at editors@birdeye.com.
Originally published