The Google My Business profile is the single most important factor determining local search ranking and the first impression customers have of a business. That's why it is important to stay up-to-date on the latest changes from Google. One of those changes is that the Google My Business mobile app is no longer available for download in the app store. In this article, we will discuss the change and answer those burning questions.
What is the Google My Business app?
The Google My Business mobile app is being replaced by Google Maps and Search. Don't worry, this has no impact on how customers view or engage with your Business Profile. This is great news because you can manage your Google My Business account easily in Maps and Search.
Setting Up the Google My Business App
Since the Google My Business app download is no longer available in the Google Play Store and the App Store, to get started, simply go to the Google Maps app on your mobile device and search for your business's name and click on the profile that appears. For single-location businesses, this is most likely the way you are accessing your profile already.
As mentioned earlier, there are a lot of questions surrounding this change, and we want to make sure you get the answers you're looking for. The following are the most common questions we hear.
Frequently asked questions about Google My Business app
Is Google My Business going away?
No, but Google is changing the name of Google My Business to Google Business Profile as it shifts its focus towards the management of business profiles directly into Google Search and Google Maps.
Is there a Google My Business app for desktop?
No, there is no dedicated Google My Business app for desktop computers. However, you can access Google My Business through the web on your desktop computer by going to the Google My Business website.
Is there an app for Google My Business?
No, as of July 2022, the Google My Business mobile app is no longer available. However, you can keep your Business Profile up-to-date through the Google Maps mobile app and Google Search.
What replaced the Google My Business app?
The Google My Business mobile app was replaced by Google Maps and Google Search.
Is the Google My Business app free?
The Google My Business app no longer exists. However, the Google Business Profile is free to set up and manage. Keep in mind there may be costs associated with other Google services, such as Google Ads.
How do I access Google My Business?
To access Google My Business, go to the Google My Business website and sign in using your Google account. If you don't have a Google account, you can create one for free. Once you're signed in, you can manage your business information, respond to customer reviews, and access insights about how customers are interacting with your business on Google.
Where is the Google My Business app login?
The Google My Business standalone app no longer exists. However, you can manage your Profile on Google Search — search for "my business." On Google Search or Maps, search for your business name and city. In your Google Maps app, at the top right, tap your profile photo or initial Account Circle and then Your Business Profile.
What is Google My Business messaging app?
Google My Business messaging is a feature that allows customers to directly message businesses through their Google My Business profile.
Now that we've covered those common questions let's look at how you can optimize your Google My Business account.
5 Ways to optimize your listing with Google My Business
1. Give your customers up-to-date information
Keeping up-to-date information about your business's name, address, and phone number is crucial for local SEO. According to Moz, these citation signals account for more than 10% of your local search ranking. The more accurate your listings across the Internet, the better your chances of ranking high in search results.
Plus, you want to make sure that you're staying on top of minor changes, such as new hours of operation and holiday closures. Making sure that all this information is accurate can help you provide accurate information to customers and prevent frustration. After all, 68% of customers say they will stop using a business entirely if they find incorrect information online.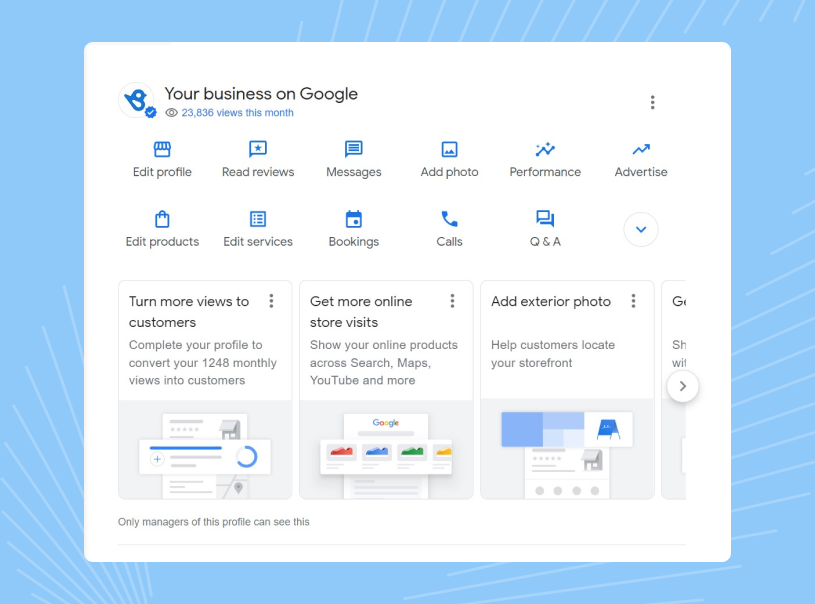 2. Check your Business Profile performance and get insights about your customers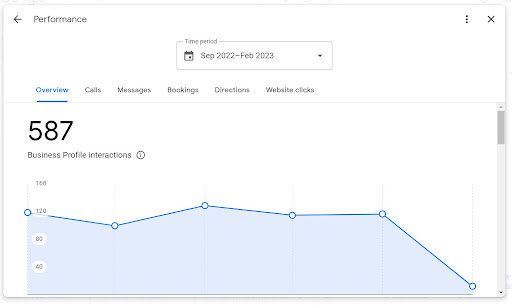 Google My Business performance is a feature of Google My Business that provides businesses with data and analytics about their online presence. It allows business owners to see how their customers are interacting with their business on Google, including how many people are viewing their business profile, where those people are coming from, and how they found the business online. Some examples of the performance metrics provided by Google My Business include:
Total number of views
Search queries
Direction requests
Phone calls
Website clicks
Total interactions
Product views
Food orders placed
Number of clicks on menus
These insights can be used by businesses to understand their customers better and to make data-driven decisions about their online marketing strategy.
3. Share posts
Google gives you the ability to make posts that will be visible to customers viewing your profile. These posts could be any sort of advertisement that you want to share with customers. The posts can include text, photos, or videos to promote Business Profiles.
4. Respond to customer messages
Businesses have the option to enable messaging on their Google My Business listing. If you turn on chat, customers and potential customers can use the "Chat" button on your Business Profile to message you.
Customers will often use messages to ask about things like your pricing or the specific services that you offer. Responding quickly can mean the difference between a customer choosing you or a competitor — so make sure that you're paying close attention to your messages.
5. Respond to customer reviews
Responding to reviews helps your business for a couple of different reasons. First, it helps your business rank higher on search. More importantly, responding to reviews is a great way to engage with your customers.
Thank your happy customers and politely respond to your unsatisfied ones. It's an easy way to show that you care and will use the feedback to improve your business. Make it a point to respond quickly to Google reviews before it ends up damaging your business's reputation. 
Luckily, there's a way for you to keep track of all of your customer reviews by using an online reputation management platform like Birdeye. That way, you'll stay on top of all your customer feedback from all over the int. Birdeye helps you to collect reviews on sites like Google and Facebook, then manage and respond to them from the Birdeye dashboard.
For even more tips on optimizing your profile, check out the 7 steps to Google My Business lead generation.
Use Birdeye, the complete Google marketing package
Birdeye offers businesses listing management tools, powerful reviews management, and a comprehensive messaging platform so you can manage Google messages directly from our platform, all thanks to our direct integration with Google.
Birdeye provides multi-location businesses with a complete Google marketing package, one of the many reasons why more than 100,000 businesses use Birdeye to help boost their local SEO and win new business.


        

This blog post is part of our Complete Google My Business Guide:


        

Google Business Profile


        

Google My Business Related Training


        

Originally published