If you are here, your Google My Business profile has probably been suspended. This can be incredibly distressing as it is the first thing people see when they search for your business's name online. To help you understand why this might have happened, we'll share information on what can cause a Google My Business suspension. We will also offer solutions to help you restore access to your account and get it back up and running.
For a comprehensive list of tips on generating more leads with Google My Business, check out this audio guide for listening on the go. It covers everything you need to know in less than 20 minutes.
What is a Google My Business suspension?
A Google My Business suspension occurs when a user violates Google's guidelines and policies for representing a business, resulting in their business listing being pulled from searches. This can happen as a result of inaccurate or deliberately false information being given or an attempt to manipulate search engine rankings. Suspensions can be appealed, but the process may require additional steps to ensure compliance with Google's standards.
Top reasons why Google My Business profile suspensions happen
One of the most common reasons for a Business Profile suspension is failure to adhere to Google My Business's terms of service for local businesses.
The following are other common reasons your Google business account is suspended.
Multiple duplicate listings – When multiple versions of the same business are detected, Google may flag them as duplicates and suspend them.
Inaccurate or outdated information – Incorrect or out-of-date business information can lead to an account suspension by Google.
Keyword stuffing in descriptions or titles – Using too many keywords in your listing can confuse consumers and lead to an account suspension.
Using offensive language in content or photos – Using language that could be considered offensive in any way can result in a suspension by Google.
Google My Business suspended for suspicious activity – Suspicious activity can be a cause of suspension with Google My Business.
[Free Guide] How to get more Google reviews
Download Now
Types of Google My Business suspensions
There are two different types of Google My Business suspensions: soft suspensions and hard suspensions. Let's talk about the difference between the two.
Soft Suspension
A soft suspension means that your Google My Business listing is still appearing online, but you're no longer able to manage your Business Profile. In this case, Google has removed you as the administrator of the Profile.
Hard Suspension
As you can imagine, a hard suspension is more serious. In this case, your Business Profile is no longer visible on Google Maps and Search. If you want to make your Google My Business listing available to the public once again, you'll have to appeal to Google.
How to recover from a suspension
If your business listing has been suspended, take a deep breath. While having your listing removed from Google Maps and Search can feel like a huge blow, you can get your listing reinstated if you follow Google's process. Here's what Google has to say about fixing a suspended listing:
Review the Google My Business guidelines and restricted content guidelines.
Review your listing for compliance with the guidelines.
Sign in to your Google Business Profile.
Once you're sure your business locations comply with Google's guidelines and include all required information, you can request reinstatement.
Filling out the Google My Business reinstatement form
When asking Google for a reinstatement of your Business Profile, you'll need to fill out the request form. Read through each question — they'll help you troubleshoot common issues that could potentially deny a reinstatement request.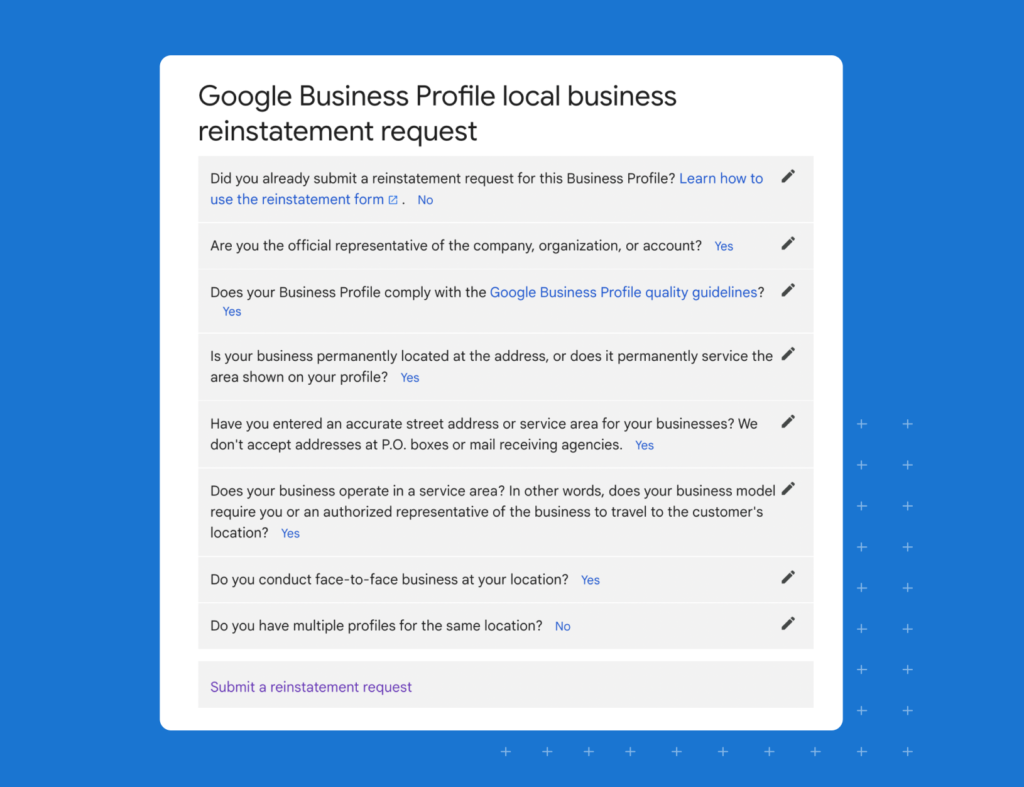 Submit a reinstatement request
In this section of the form, fill out the requested information and click submit.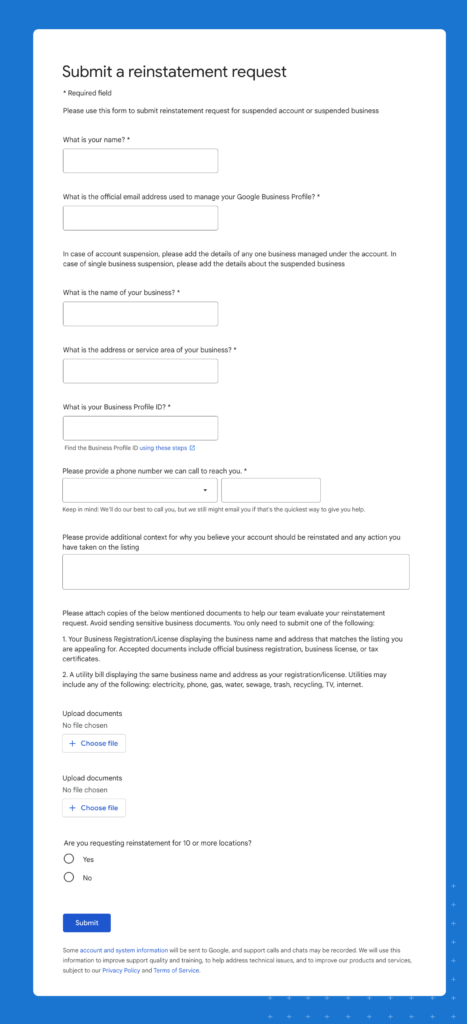 What to expect after you submit the Google My Business reinstatement request
After you submit the form, check your email right away. You should get an email from Google Specialists. If you do, write down the case ID number that is in the subject of the email from Google. You'll need this ID number for reference if you need to contact support.
If you get a denial right away, it means there is a serious issue. You need to contact a Google Specialist to find out what is happening. Do not try to make any more reinstatement requests, as it will not help.
If you didn't get an automated email, then you won't get an email from Google about this Business Profile until it goes back online. Look out for an email saying your Google Listing has updates. That is the first sign that your listing is back online. Or you can sign up for a service, like Birdeye Listings, which will keep track of your Google My Business listing for you.
What to do if your reinstatement request gets denied
If your Google My Business reinstatement request gets denied by Google, you can appeal the decision. But first, review Google's guidelines once more to ensure that you followed them. You must submit a written explanation, via email, of why you believe your profile should be reinstated. This explanation should include any supporting evidence that may help back up your claims.
Examples of supporting evidence include pictures of the front of your store and a summary of business operations. After submitting the appeal, you should receive an update with a decision within two weeks.
Why will Google sometimes remove a Google My Business profile altogether?
There are several reasons why Google may remove a Google My Business profile altogether. These include if the business has closed, is no longer operating, or has moved to another address. Additionally, if the profile contains inaccurate information or violates its guidelines, such as using false or misleading information, inappropriate language, or spammy content and links, it can be removed.
Google may also remove a profile if it's not associated with a real business or if it appears to be created for malicious reasons, such as scraping data from other profiles. If the account has been inactive for an extended period of time, it could potentially be removed.
If there have been multiple violations or complaints about the profile, a manual review by Google may result in its removal. That's why it's important to follow and be up-to-date with Google's guidelines to make sure your profile remains active and visible on its platform.
What happens when Google removes a Business Profile
When Google removes a Business Profile, all its associated content is removed from Google data sources. Any links to the account will no longer be visible on local search engine results. Additionally, you will no longer have access to the account dashboard or any related management tools.
How to prevent a Google My Business suspension
If you're Google My Business is up and you want to avoid a suspension in the future, here's how you can take preventive action.
Stick to Google's guidelines.
Take high-definition photos of your business.
Make sure the name on Google My Business is your business's actual name.
Make sure your address is at a permanent location. Google does not allow virtual locations.
Use a local phone number rather than a call center line.
Make sure that your business hours are up-to-date.
Make sure that your Google My Business categories are accurate.
FAQs about Google My Business suspension
Why is my Google business account suspended?
Common reasons your Google listing can get suspended include violating Google's terms of service, having duplicate listings or outdated or inaccurate listings, keyword stuffing, or offensive language or pictures.
How do I fix a suspended Google business account?
To fix a suspended Google My Business account, you should review your account, reach out to Google, make any necessary corrections or changes, and do a Google My Business reinstatement request.
Can I appeal my suspension?
Yes, if your Google My Business account has been suspended, you can appeal the suspension once you've fixed the problems with your listing. To appeal the suspension, head over to Google Business Profile Help Center and fill out the reinstatement request form.
What happens when Google suspends your account?
When Google suspends your account, you will no longer be able to access or manage your Google My Business listing.
Do suspended accounts get deleted?
No, suspended Google My Business accounts do not get deleted. However, if the account remains suspended for an extended period of time, Google may delete the account on its own accord. If this happens, you will not be able to restore or re-activate the listing in any way.
How long does a Google business suspension last?
A Google My Business suspension typically lasts for a minimum of 30 days. Depending on the severity of the violation, it can last up to 90 days or longer. If the violation is severe enough, Google may permanently delete the account.
In conclusion
If you're interested in improving your business's online presence, Birdeye can help. Birdeye Listings makes sure your business stands out online. You get comprehensive, accurate, and attractive listings across major business directories like Google, Facebook, and other popular online directories. This way, customers can easily find you anywhere they may search.
Find out why more than 100,000 businesses use Birdeye to drive growth. Watch a free demo and schedule a time to chat with a Birdeye product expert.
Before you go, click on the banner below to get a free Google My Business marketing toolkit.


        

This blog post is part of our Complete Google My Business Guide:


        

Google Business Profile


        

Google My Business Related Training


        
Originally published