One of the simplest and most effective ways to attract new customers is by claiming and optimizing your Google My Business (now known as Google Business Profile) listing. It's a free listing, on Google, of your business's operating information, reviews, posts, and so much more.
Google searches for local businesses have skyrocketed to nearly 100% in recent years. This makes Google My Business (GMB) an indispensable search, review, and marketing tool your business needs for growth. However, to reap the benefits of your Google listing, you need to proactively manage and optimize GMB to drive traffic, boost conversions and increase revenue.
What you need to know about Google My Business
Creating a Google My Business profile can provide a number of benefits for businesses, large and small. And if you're a business owner, there's a very good chance you've already heard of Google My Business. GMB is a free platform that allows businesses to manage their online presence on Google.
This includes things like your business name, address, phone number, and hours of operation. Claiming and verifying your GMB profile is essential for helping customers find your business on the most popular search engine on the globe. It also gives you the opportunity to control what information appears about your business when people search for it using Google.
In addition, having a GMB profile can help improve your chances of appearing in Google's Local 3-Pack, which is a feature that shows relevant local businesses at the top of the search results page. Overall, there are many benefits to claiming and verifying your google my business profile – so if you haven't already, be sure to do it soon.
Benefits of claiming a Google My Business profile
We keep talking about the many benefits of having a Google My Business profile, so here they are:
Increased visibility and traffic: When you claim or create a GMB profile, you make it easier for customers to find your business online. This can result in increased website traffic and visibility for your business.
Better local search engine ranking: Google gives priority to businesses with verified GMB profiles in local search results. This can help you get more exposure and leads from potential customers in your area. More leads equal more sales revenue.
More control over your business listing: With a Google My Business profile, you have total control over the information that appears about your business online. You can add photos, videos, and even special offers to your profile to attract more customers.
Greater customer engagement: A GMB profile allows you to connect with customers directly through Google+. This provides an easy way for customers to reach out to you with any questions or comments they may have.
More online reviews: Having more online reviews can help boost the credibility of your business and attract new customers. With a GMB profile, you can easily collect and display customer reviews on your website and other online directories.
SEO benefits: Google My Business profiles can also help improve your website's SEO ranking. This is because having a GMB profile signals to Google that your business is a legitimate, local business. As a result, your website may rank higher on local search results pages.
More Google My Business benefits
The number of benefits associated with claiming your Google My Business profile couldn't just fit in one section. So here are a couple more GMB benefits for you to consider.
Google Maps
Claiming your GMB profile automatically lists your business on Google Maps. For those not aware, Google Maps is a map application developed by Google. It offers satellite imagery, street maps, 360° panoramic views of streets, real-time traffic conditions, and route planning for traveling by foot, car, or public transportation. This can help customers find your business more easily, whether they're searching on a desktop computer or using the Google Maps app on their mobile phone. And since Google is the most popular search engine, being listed on their Maps application can significantly increase your visibility.
Additionally, being listed on Google Maps also means that your business is eligible to show up in Google's "Local" search results. This can be a great way to attract new customers, as local search results are often given priority over non-local results. Finally, having your business listed on Google Maps is a good way to build credibility and improve your online reputation. Since Google only lists businesses that they trust, being listed on Maps is a valuable endorsement that can help boost your business's image.
Google Posts
If you're like most local business owners, you're always looking for ways to get more exposure for your business. And with good reason – the more people who know about your business, the more likely they are to use your products or services. One way to get more exposure is to take advantage of Google's "Posts" feature, which is accessible to you once you claim your GMB profile.
When you publish a post through your Google My Business profile, it shows up in search results as well as on your Google Maps listing. This can certainly help attract new customers. Plus, posts give you a chance to share useful information about your business, such as special offers or upcoming events. And best of all, creating posts is quick and easy, so there's no excuse not to take advantage of this great marketing tool.
Optimize Google My Business infographic
The infographic below identifies key areas of yourGoogle My Business listing to optimize in order to turn your profile into a powerful lead-driving channel that is fundamental for growth initiatives.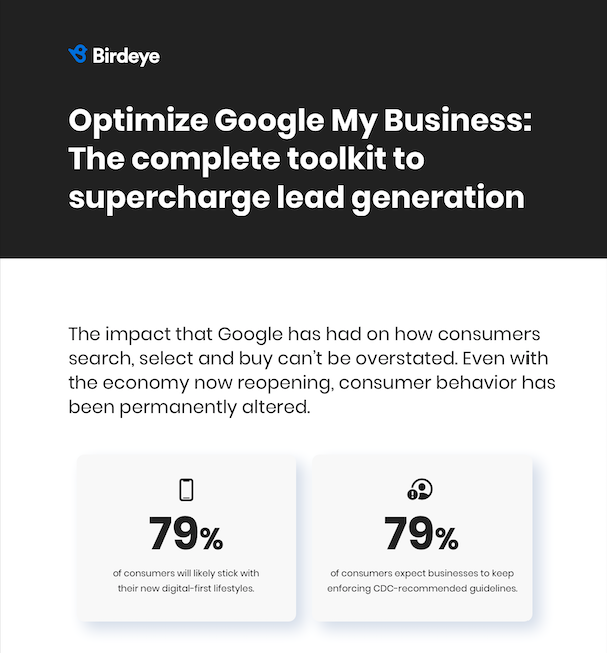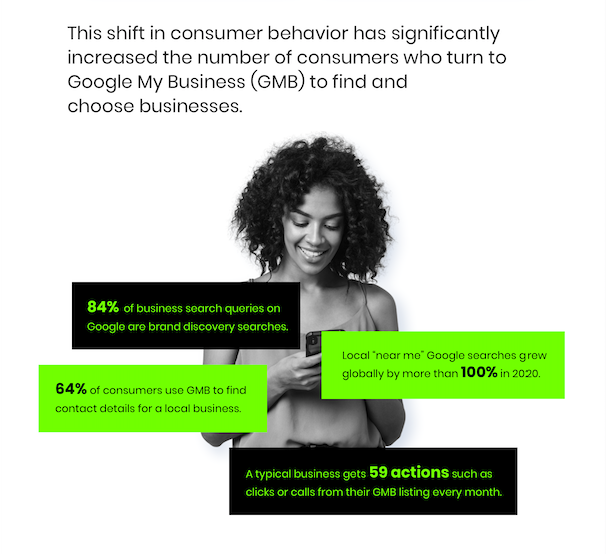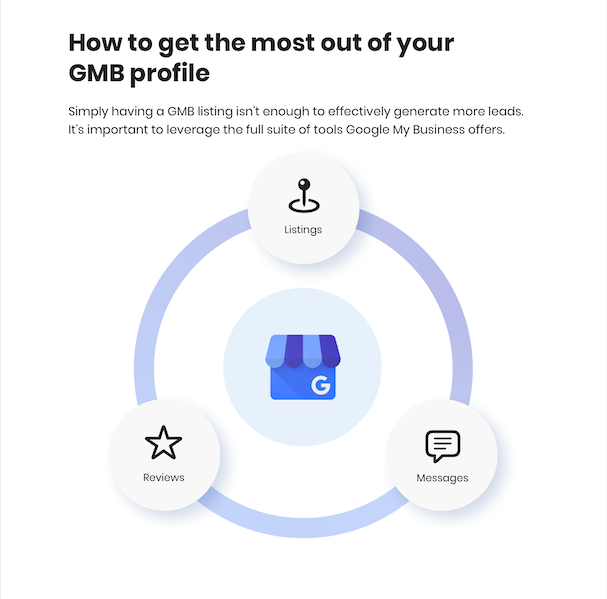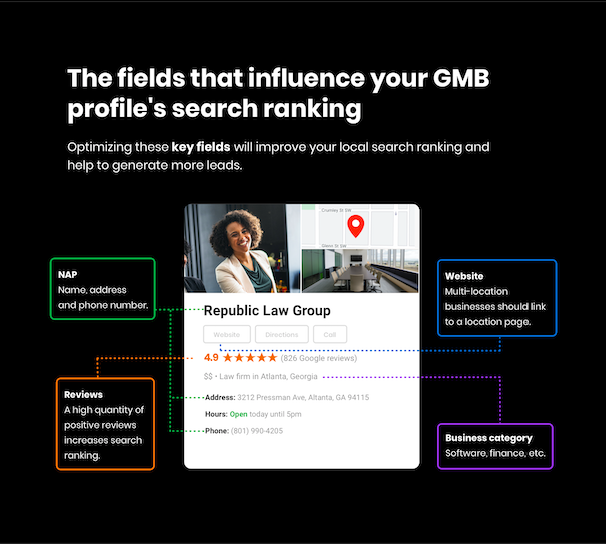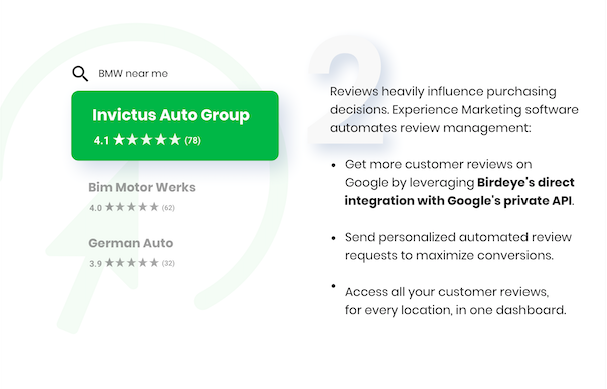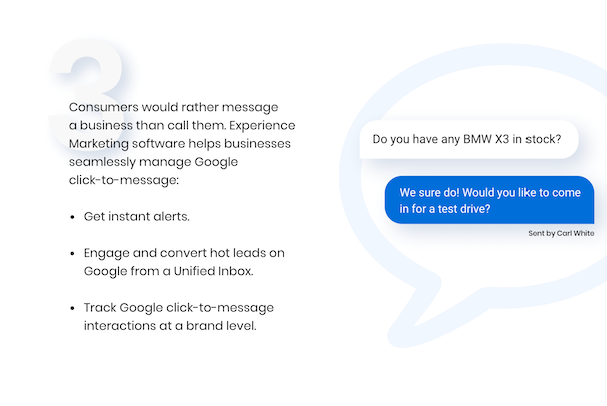 Birdeye: All-in-one local business marketing
Birdeye offers businesses listing management tools, powerful reviews management, and a centralized inbox so you can manage Google messages and messaging from all other platforms like Facebook, Instagram, etc. directly from our platform, all thanks to direct integration with Google.
Birdeye provides multi-location businesses with a complete Google marketing package, one of the many reasons why more than 100,000 businesses use Birdeye to help boost their local SEO and win new business.

Originally published Apr 27, 2021, updated