As a business owner, you already know you need a website. It's a great way to showcase your products and services and helps customers learn more about your company. But with so many different website builders and options, it can be tough to know where to start.
Fortunately, Google has made building a website easy with a free service that lets businesses create and customize their own Google My Business website. This blog will tell you everything you need to know about Google My Business websites – what they are, the benefits of using one, how to get started, and more.
Important note: Google My Business changed its name to Google Business Profile.
What is a Google My Business website?
A Google My Business website is created through your Business Profile on Google. It's a simple and convenient tool that makes it easy for businesses to reach their customers online. Google automatically pulls the information and photos from your Business Profile to create the website. You can further customize the website with themes, photos, and text.
[Free Guide] The complete Google My Business marketing toolkit
Download Now
Key features of a Google My Business website
The Google website is optimized for display on desktop, laptop, and mobile devices. It also comes with a range of features that can help you promote your business online.
Easy-to-use interface: The Google My Business website builder is easy to use, and you can add photos, videos, and text to create a website that truly showcases your business.
Automatic updates: Your Google business website will automatically update whenever you change your business profile information or post new photos.
Mobile responsive: The website is mobile-friendly and designed to look great on smartphones and tablets
Comprehensive reporting: The Google My Business website builder includes a range of built-in analytics tools to help you see how well your website is performing.
Benefits of having a Google business website
There are many reasons why you should create a Google My Business website. First, a Google business website allows companies to create a free website optimized for Google search. This can help businesses be found online and improve their visibility to potential customers. It also lets businesses control their information and make changes quickly and easily.
By creating a Google My Business website, businesses can add valuable information about their company, including their contact details, opening hours, and a description of their services. Businesses can also use the website to share news, blog posts, photos, and videos.
Companies can showcase their products and services, customer reviews and ratings, and engage with customers directly through various features, like Google Business Messages, Google Maps, and Google reviews. 
A Google business website is a great way to build credibility for your business. Customers will see your website as an authoritative source of information about your business, which can help you attract new customers and boost your sales.
Google My Business website builder
In order to build a Google My Business website, you'll have to have already created or claimed your Google Business Profile (formerly known as Google My Business listing). For step-by-step instructions on how to do this, check out our comprehensive article on how to optimize and manage your Google Business Profile. If you don't have time to read the entire blog, there's also an audio guide for on-the-go listening.
For the sake of this article, we'll assume that you've already claimed your Google Business Profile.
Here's how to create a website:
Go to Google.com/business
Select "Edit profile" and then "Business information" 
Select the "Contact" tab at the top of the page
Under "New website," select "Get Started"
Start creating your website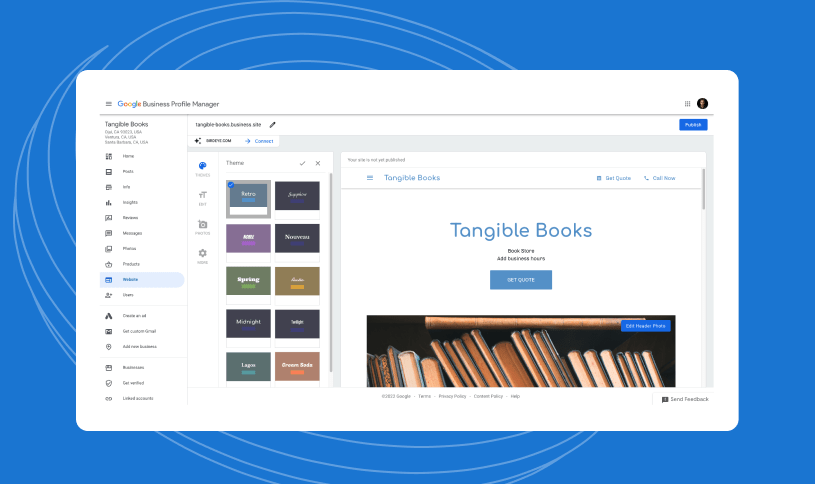 As you build your website, think about how you can customize it to match your business's brand and needs. The website builder lets you customize the following:
Themes: Google has ten different themes that come with a variety of fonts and color schemes to choose from.
Edits: You can further customize the primary call to action (Get Quote, Call Now, Contact Us, etc.) and edit headlines, descriptions, summary headers, and body copy.
Photos: Add photos of your storefront, products, and services to give prospective customers an idea of what your business is like.
Google will host your website at no charge, and the website name will include "business.site" in the web address, such as "yourcompanyname.business.site."
If you are eager to have a custom domain like "yourcompanyname.com," you can buy one. Just publish your website and then click "Buy domain." You can search for a custom domain name and see the purchasing options. (Google domains at the time of writing start at $7/year.) Once you purchase a custom domain from Google, it'll automatically connect your website to your domain name.
How to optimize your Google business website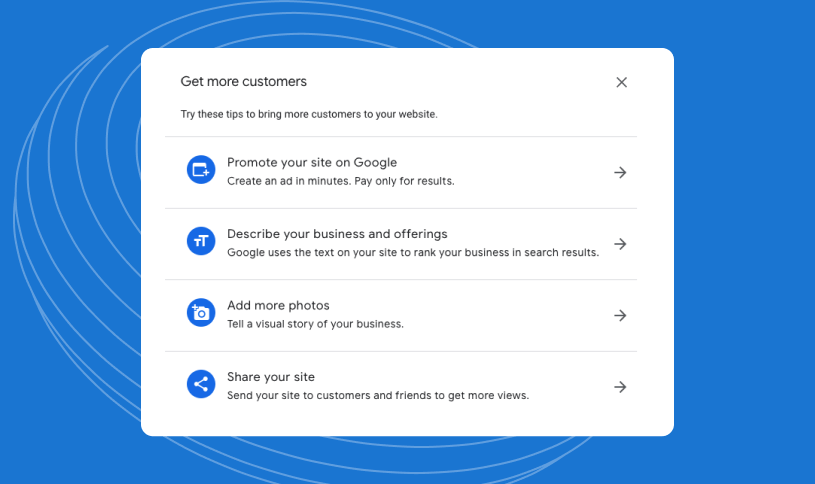 After you've published your site, Google will share some tips on how to attract more customers to your website. Some suggestions include promoting your website through Google ad campaigns, adding more detailed text to rank higher in search results, and sharing your website on social media or via email to get more views. Let's look at some other tips in greater detail.
Add photos
The photo you choose for your cover image is important because it's what customers see when they find your business on Google. Make sure you use a high-quality photo that is relevant to what your business is and does. The cover photo will appear with your headline and text directly on top of it, so choose a photo that doesn't include text. Interior photos of your business or products also work.
This is not the time to get artsy. Photos should be in focus and well-lit. Include clear photos to show what your business offers, photos of your team, or your business location. For example, if your business is a pet store, you may want to show photos of different kinds of pet products you carry and how the inside of your store looks. Google lets you display a maximum of nine photos on your website.
Make use of the text editor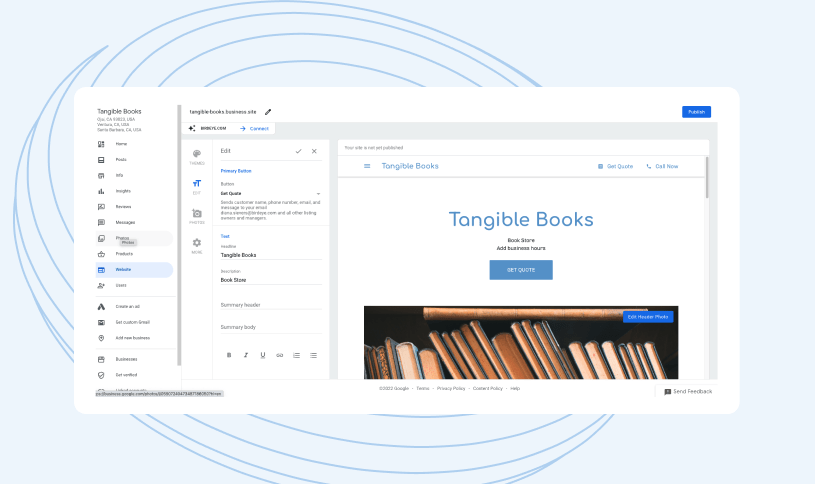 As a best practice, use the text editor to highlight your products, services, and the unique value your business provides. Your headline should always include your business name.
In the "Description" and "Summary header" sections, briefly describe your business's unique value proposition — how it makes you different from competitors in this industry or niche market. Try to make it as compelling as possible so readers will want to learn more.
Then use the "Summary body" to provide even more valuable information. Let's say your business is a repair shop. In that case, you can provide details on what jobs you perform and emphasize qualities like experience, customer service, responsiveness, etc. You can also use the "Summary body" to link to other pages, like your Facebook Business Page or online ordering system.
Pro tip: Make sure all of your company information is always up-to-date on Google. This includes everything from special offers and promotions to hours of operation and contact details like your business phone number. By keeping your Google profile well-maintained and up-to-date, you can help boost traffic to your website and get more exposure for your business online.
How to manage your Google business website's settings
Managing your website settings can seem a bit daunting at first, especially if you're a new business owner or are just getting started with your website. Thankfully, Google makes it easy. Once you've created your website, you can edit the website's theme, text, photos, and more at any time.
Similar to the 'create steps' process, you'll start by going to your Business Profile. First, select "Edit profile" and then select"Business information." Next, select the "Contact" tab at the top of the page, and next to "Website," click on the pencil icon, then select "Manage." When the page opens, you can choose the part of the website you want to update. Once all your edits are in, select "Done."
Since Google operates your website, make sure that it complies with its website policies, or you risk suspension of your website.
If you decide to unpublish your Google My Business website, follow the steps above through "Manage." Once the page opens, select "More" with the gear icon next to it and then select "Unpublish website."
Google My Business website examples
Regardless of the size of your business, a Google My Business website can help you connect with your customers. Some examples of businesses that have successfully used Google My Business websites include restaurants, retailers, hotels, and travel agencies.
For example, a pizza restaurant created a Google My Business website to showcase its menu and specials and provide directions to its location. A dog adoption center used its website to post photos of dogs available for adoption, hours of operation, and contact information. A local flower shop used its website to provide a gallery of photos of arrangements, contact information, and pricing.
If you're not using your Google My Business website yet, you should be. It's a great way to get your business in front of more people and increase your website traffic. And the best part is it's easy to set up and manage.
Google My Business website frequently asked questions
Is the Google My Business website free?
Yes, it's a free service for businesses to build, customize, and manage their Google My Business website.
How do I delete my Google business website?
You can't delete your Google business website without impacting your Business Profile. Instead, follow the instructions above to unpublish your "yourcompanyname.business.site" so it won't be visible anymore.
What if I already have a website?
That's great news. But if you feel that the website from Google is better and easier to maintain, you can migrate your Google business website to the existing domain.
Get Birdeye's complete Google marketing package
In today's digital age, the customer journey now begins on Google. Therefore, it's essential to have a comprehensive strategy on how to attract, grow and retain customers using Google. That's where Birdeye can help. Birdeye provides local businesses with a complete Google marketing package. It's one of the many reasons over 100,000 businesses use Birdeye to help boost their local SEO ranking, communicate directly with leads, and win new business. For more information on how Birdeye can help your business, schedule a time with our experts. And in the meantime, click on the banner below to get the free Google My Business toolkit and start generating more leads right away.


        

This blog post is part of our Complete Google Reviews Guide: 


      

            

Google Merchant Center Related Training


        
Originally published