If you want your business to have a well-established online presence, you need to consider the weight of Google reviews on your ranking and reputation. Reviews are a way to grow your business digitally, both in how you rank on Google and how customers rate and review your products. But, getting more reviews on your own is not that simple. This article will show you how to get more reviews, and more customers using a Google review service.
How more reviews lead to a growing business
We've established that reviews are vital if you want your business to be successful online, so it should be evident that the more reviews you have, the better off you'll be. Here are a few reasons why you should be getting more reviews right now.
Reviews lead to increased ranking
The more reviews you have, the more Google will look at you as a successful business and rank you higher on their results pages. Therefore, more reviews make you more visible on major search engines like Google. The more visible you are, the more customers you'll get. The more customers you get, the more reviews they'll leave, and the cycle continues.
Here is our take on the top Google review trends to keep you up to speed.
Reviews improve customer interactions
Reviews provide the opportunity for more direct feedback from customers. They can tell you exactly how customers are feeling about your products from direct experience after purchasing them. Both negative and positive reviews allow you to stay in touch with your customers and respond to their thoughts and concerns, so more reviews mean you'll know exactly what you're doing right, and where you need to improve.
Reviews lead to customer trust
Most new customers read at least a few reviews before buying a product, and 88% of customers trust reviews as much as a personal recommendation. So, most customers will look at a business with many reviews that are majority positive as a trustworthy business worth their time and money. Therefore, the more reviews you have, the more trust your customers will have with your business.
Genuine reviews beat bought reviews every time
Five-star reviews are what all businesses strive for, but nobody is perfect, and customers know that. That's why it is preferable to get genuine reviews that customers will trust as opposed to buying reviews online. This can be done organically but is much more feasible using a Google review service.
What is a Google review service?
A Google review service is an all-in-one system that can help you get more reviews, manage the reviews you get, and improve your online reputation altogether. Birdeye is an example of a review service that can help you automatically ask more of your customers for reviews and create responses to the reviews you get to improve customer interactions.
Google review services are a streamlined way to help you manage your reviews in a way that doesn't take time and resources away from other essential aspects of your business. One way Birdeye has a competitive advantage as a Google review service is through an integration with Google's private API as a priority Google partner.
This partnership between Google and Birdeye enables Google's review functionality to be directly embedded into the Birdeye platform making it easier for customers to review a business on Google. Customers that have used Birdeye find that this functionality gets them 195% more Google reviews in just their first year with twice the conversion rate from review requests than previously before.
Let's look at why getting more reviews can help your business grow and how using a platform like Birdeye can accelerate that growth even further.
How a Google review service can get you more reviews
We've established why reviews are an important part of your business's online presence, and we've talked about what a Google review service is. Now, let's go over how a review service like Birdeye can help your business get more reviews on Google.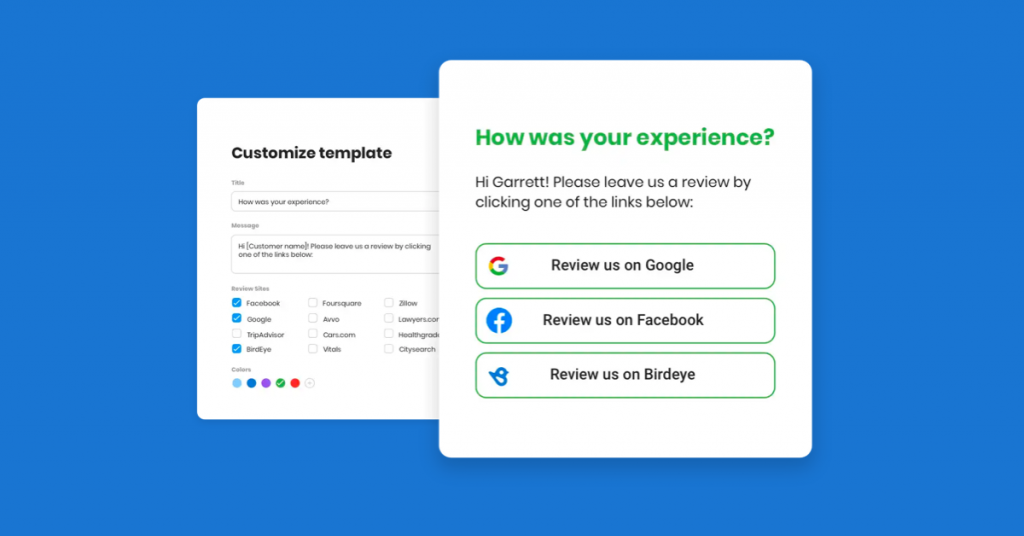 Review requests
As mentioned above, creating a streamlined way to ask customers for more reviews is something a Google review service can accomplish. A Google review service can automatically send out a request to customers who recently purchased a product or service from your business and ask them to leave a review about their experience on Google and other review sites.
Why is this effective? Because 70% of customers will leave a review on your business when asked to do so. This simply means that the more you ask, the more reviews you'll get. If you're not requesting reviews, you're just missing out on what you could have, and a review service like Birdeye can help you seamlessly request more reviews than ever before.
This can be important because many customers will look at customer reviews before deciding to buy a product. For example, a customer looking for a particular service might Google customer service reviews, or Google local services reviews to see what businesses near them have the best-rated customer service based on the reviews of their previous customers. So, the more positive reviews you get, the more customers might see your business as reliable and choose you over the competition.
Responding to reviews
A google review service can also help you respond to more reviews. This is important to nurture and retain current customers. In fact, 80% of your future profits come from just 20% of your existing customers, proving that gaining new customers isn't everything; building a relationship with existing customers is equally important.
Why you need to respond to reviews
Responding to reviews increases business ranking. This is because it shows you are listening to customer reviews making new customers more likely to leave their own if they know they will be heard.
Review responses can play a role in increasing your SEO ranking. Replies provide more opportunities to use keywords, emphasize your products and services, and show Google that you are actively engaged with your business profile online. All of these can increase your SEO ranking with Google.
Responses are just good customer service. As we mentioned before, reviews are an asset that your customers use to build trust in your business. The same can is true of responses. If customers see that you actively attempt to thank customers for their positive reviews and address any issues brought up in negative reviews, they will be more likely to put their trust in your brand. Remember to reply quickly, try to make responses personalized, and address both good and bad reviews to bolster your reputation.
Automating review requests and replies
Automating review requests and responses with a Google review service is much more efficient than trying to do so manually. In fact, sending review requests and replying to all reviews on your own is just not feasible. If you want to optimize your online reviews strategy, you'll need to implement a platform that will allow you to automate the most review requests and responses possible.
As mentioned before, the more you ask for reviews, the more you'll get them. Unless you had a dedicated team strictly focused on requesting reviews, you would not be able to keep up with the pace of your competitors, who are likely automating their review strategy in one form or another. Keep this in mind when considering a review service like Birdeye.
Final thoughts
Can you get reviews naturally online? Of course, but it simply won't be a feasible solution compared to the competition. Using a review service like Birdeye will allow you to fully optimize review acquisition and communicate more efficiently with your existing customers, who make up most of your revenue.
If you are interested in adding a reputation management system like Birdeye to your online marketing strategy, take a look at our latest report, The 2022 State of online reviews. We analyzed the latest trends of more than 90,000 Birdeye customers and found significant increases in reviews from businesses using the Birdeye platform in 2021.
Originally published May 16, 2022 8:19 AM, updated Aug 19, 2022