Google reviews are crucial for businesses to be discovered in search results and build trust with potential customers. For a small business, a higher volume of Google reviews can help edge out competitors and establish their brand in their target market.
In this guide, we'll break down how you can get Google reviews, how Google reviews work, how to manage and respond to them and use the power of social proof to grow revenue.
Chapter 1: Google reviews explained
More reviews
More revenue
Want to see the impact of Birdeye on your business? Watch the Free Demo Now.
Here's why Google reviews matter for your business.
What are Google reviews?
Google reviews are online reviews that customers leave on your Google Business Profile about their experiences with you. When someone looks up your business on Google or Google Maps, they can see the reviews and ratings your existing customers have left for your business.
Since Google is the largest search engine on the internet, reviews published on the platform have a significant impact on the online reputation of businesses.
How do Google reviews work?
Google reviews work in a very simple manner. When a customer wants to share their experience with a business, they can leave a review on Google that will then go live on the respective Google Business Profile. The Google review will be available to view on Google Search and Google Maps.
Businesses can either send a link for customers to write a review or customers can look up the business on Google Search or Google Maps to leave the review.
Google reviews make it easy for consumers to identify the best business to meet their needs. And for businesses, it is a great opportunity to showcase unbiased opinions about their products and services to attract future customers.
Where to read Google reviews?
The reviews your business receives show up in three places on Google:
1. Google knowledge panel
When someone searches for your brand name, Google offers a digital business card-like presentation of your business on the right side of the screen. This is called the Google knowledge panel. Google pulls in details on this card from the linked Google Business Profile.
If you are a multi-location business, each location of your business will have its own local knowledge panel that will show up on local searches on Google. The reviews from your existing customers are displayed here.
2. Google 3-Pack results for local search
If Google users search for something like "plumber near me," they'll see something like this.
This is called the Google 3-Pack or Local Map Pack. The Map Pack includes three local businesses that Google considers the best results based on relevancy, prominence, and proximity to the user. Google reviews are visible along with the business information to help users make informed decisions.
3. Google Maps search
Customers search for businesses on Google Maps, especially if they are looking for a physical location of a business. When your customers leave a review for your business on Google, they are also visible on Google Maps search results.
When someone finds your listing on Google Maps, they can scroll down to see the rating and reviews that your business has received.

Why Google reviews are important
Google is the most popular search engine in the world. The tech giant currently holds over 92% of the search engine market share – making it the first stop for customers when reading and submitting reviews. So, if you want to target the majority of your audience, you need to focus on getting Google reviews.
These days, potential customers are more likely than ever to consult online reviews before making a purchase. 92% of respondents in a recent survey by Birdeye agreed that they read two or more reviews before forming an opinion about a business. Moreover, 50% of respondents mention reading 5 or more reviews.
Online reviews provide customers with important information about your products and services. But what many people don't realize is that effective review management can also have a big impact on a business's bottom line in other ways as well.
Google reviews help your search ranking so you get found online
Google reviews help you rank higher in search results in three different ways.
Google trusts your customers –
Google sees the reviews your customers give you as a testament to the quality of your products or services. The more positive reviews you have, the higher Google will place you in search results when your customers do relevant searches.
Google gives users the best information on the search topic – Google also aims to give searchers relevant information. When a customer review contains relevant keywords about your business ("Awesome estate planning!"), it will help Google better understand the kinds of services that you provide. According to Moz, review signals make up over 15% of your local search ranking.
The more reviews, the higher you rank on Google – Overall, a star rating alone doesn't determine your search ranking. A high overall star rating shows that customers value your business, but it doesn't tell the whole story. For instance, a business can have an overall rating of 5 stars but only 3 reviews. That's not a very big sample size, so it's hard to tell if this business is actually providing great services or if those 3 reviewers are just outliers.
That's why it is so important to continuously add more reviews. Remember, Google uses reviews to understand the quality of your services. The more reviews you have, the higher likelihood that your overall rating is an accurate depiction of your customer experience.
Increases trust and credibility
Many people trust Google, so when they see your business has good reviews on Google, that transfer of trust allows them to believe in your credibility more easily. The more reviews you have, the easier it is for potential customers to understand that others support and trust your business.
Gains customer insights
Honest customer feedback in the form of reviews can be a great source of actionable business insights. Insights like what customers liked or didn't like about your business, obtained from Google reviews, can help inform business decisions and fuel growth.
Influences purchase decision
Local search and product search are two of Google's most searched categories. If you are a retail business and have optimized your Google Business Profile for a particular product and location, you can show up for both types of searches.
According to a recent survey by Birdeye, 73% of respondents say that they searched for local restaurants in the last 12 months, while 47% of consumers searched for local retailers or healthcare providers. Also, 65% of respondents chose search engines like Google to be the place for local business recommendations. This makes Google reviews an important lead-generation tool for businesses.
Improves click-through rates on local search results
Businesses with a higher overall star rating tend to see up to a 35% higher click-through rate when featured in the Local Map 3-Pack results. A higher star rating also helps customers choose the best service possible, resulting in more traffic to your website and more attention from potential customers.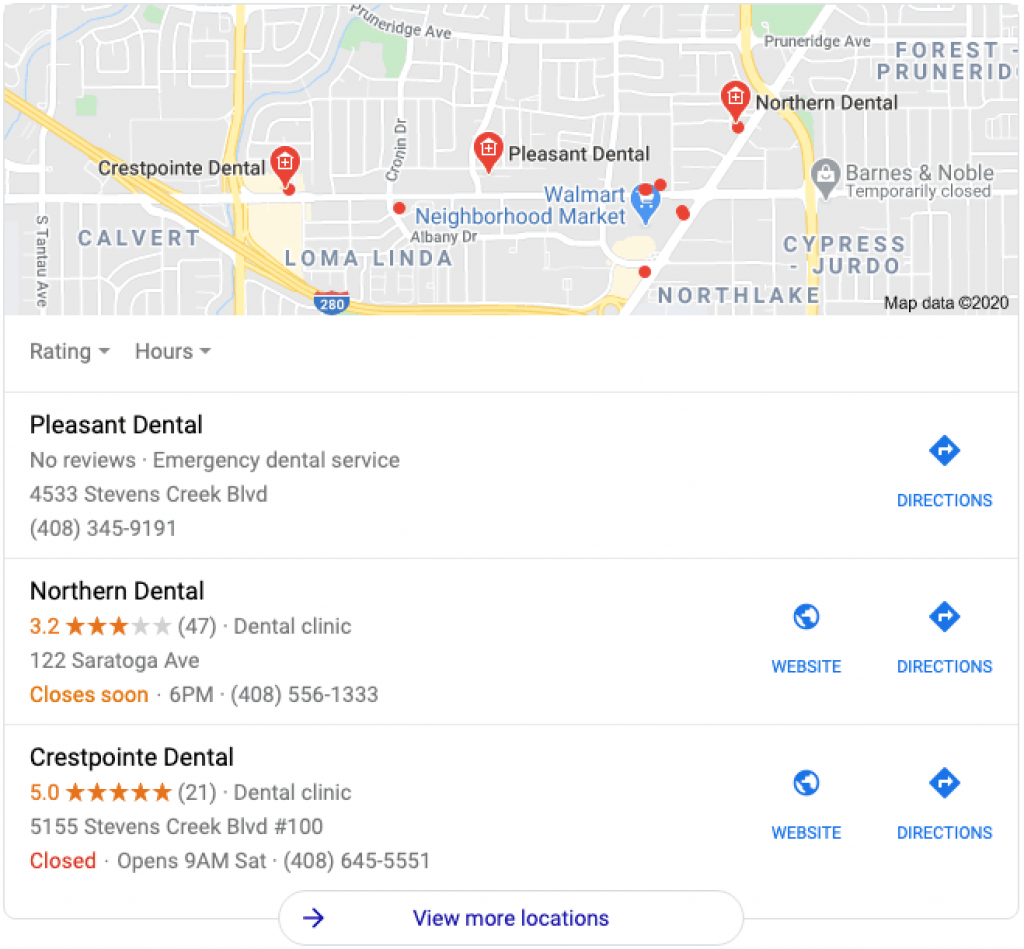 Improves the click-through rate of Google Ads
Google allows businesses to display star ratings with their Google Ads via a program called Google Seller Ratings. This helps businesses display their star rating with the number of reviews they have, thus, improving the click-through rate (CRO) of their Google Ads. According to a study by Google, displaying star ratings of your business on Google Ads increases click-through rates by 17% on paid ads.
Chapter 2: How to get more Google reviews
Let's talk about how you can get more Google reviews for your business. But first, let's talk about Google Business Profile.
Importance of the Google Business Profile for Google reviews
In order to get Google reviews, you'll need to claim your Google Business Profile first as:
Your Google Business Profile holds all the information about your business listing and helps you manage your online presence across Google.
The information on your Google Business Profile, such as business name, address, phone number, working hours, products, services, and so on, appears across the knowledge panel, Google Maps, and Google search results.
Your Google Business Profile is what shows up first when someone searches for your business's name on search engines.
Your Google Business Profile matters a lot when it comes to search engine optimization (SEO). According to Moz, the Google Business Profile is the largest factor determining your business's local search ranking.
With a properly set up, verified, and optimized Google Business Profile, you can start the process of getting new reviews for your business.
How to set up a Google Business Profile for your business
Most existing businesses will already have a Google Business Profile, but if you're starting a new business, you must create a Business Profile from scratch. Our article on how to set up Google Business Profile will walk you through the entire process.
Optimize your Google Business Profile for the best results
Your Google Business Profile can turn into a powerful lead-driving channel. But first, it needs to be optimized by using all the in-built functionality to its fullest. Read our comprehensive article on Google Business Profile optimization to use all the features and get the most from your Business Profile.
Verify your Google Business Profile to use its full functionality
By creating and verifying your business on Google, you'll be able to control how customers see your business by deciding which information is displayed. As we mentioned, it also allows businesses to get new reviews and efficiently manage them. You can read more about how you can verify your Google Business Profile in our in-depth article.
How to leave a Google review (step-by-step process)
Getting Google reviews is more than just asking for one and hoping your customers will respond to your request. You have to make the process easy for it to succeed.
Before we dive into tips on collecting more Google reviews for your business, let's go through how customers can leave reviews from your website browser on a desktop or mobile device.
How to write a Google review from your website browser
Step 1: Locate your Google Business Profile by typing in on the Google search bar. 
Step 2: Next, ask the customer to click on the 'Reviews' tab and scroll down to the section 'Write a review.' 
Step 3: A pop-up with the star rating will open up. Click on the number of stars you want to give the business.
Step 4: Add a comment to share your experience with others. 
Step 5: Click 'Post' to submit the review.
How to leave a Google review on the Google Maps app
Step 1: Open the Google Maps app.
Step 2: Type the business name in the search bar.
Step 3: Click on the business, then click on the tab labeled 'Reviews.'
Step 4: In the pop-up that opens, add a star rating and leave a description (optional).
Step 5: Click the 'Post' button to submit the review.
How to create and share your Google review link
Google allows businesses to create their Google review request link from their Google Business Profile. Having a custom, short URL makes it easier to share your review requests in person and in marketing materials. Here's a step-by-step guide on how to get a custom short link from your Google Business Profile.
Step 1: Sign in to your Google Business Profile account. You will start seeing the Profile you manage right within Google search.
Step 2: If you have a multi-location business, select the location you wish to create a review request link.
Step 3: Next, click on the tab labeled 'Promote.'.
Step 4: Select 'Ask for reviews' from the available options.
Step 5: The URL that shows up next is the one that can be copied and sent to customers to write a review.
Step 6: (Optional) The link you get from the above process will look something like this – https://g.page/r/Cc6PXI89JDtvEBM/review. As you can see, it looks complicated. You may want to use a link shortener to make it look tidy before you send it to a customer. For example, see this shortened link – bit.ly/3gXmGSY for the above URL.
You can now send this review link via any channel you and your customers prefer – email, SMS, or through direct messages (DMs) on any social media platform.
Birdeye can reduce these steps for your customers by using deep-linking, which will take your customers right to your Google Business Profile, so you get more reviews automatically.
Tips to help you get more reviews from review requests
Want to start collecting more reviews for your business? Follow these three tips for the best results.
Tip 1: Timing is everything
Make sure you send review requests to all your customers on the same day as their purchase. The longer you wait, the more the memory fades, and your customers will be less likely to leave a review.
Tip 2: Keep it simple
Just like you, your customers are busy people who lead busy lives. If leaving a review requires too many steps, they probably won't do it. That's why businesses that ask for reviews in-person typically don't see results. Most customers happily agree, then forget about it as soon as they walk out the door. Luckily, there's an easier way: sending review requests through email and SMS. All your customers have to do is click a link and leave a review.
Tip 3: Empower your employees
If your employees are spending face-to-face time with customers, allow them to send review requests via text and email. If customers have a personal relationship with the employee, they may be more inclined to leave a review.
Tip 4: Use a review management tool
There are several review management tools that can help you manage reviews. These tools can help you track reviews, respond to reviews, and promote your reviews. Birdeye is one of the most popular reputation management review tools to help you collect reviews seamlessly.
Adding more reviews continuously is a great way to improve your business's online reputation. By following these tips, you can make it easy for customers to leave reviews and increase your business's click-through rates (CTRs).
3 things to avoid when requesting reviews
Some businesses resort to the following tactics to collect reviews. We strongly recommend that you avoid them at all costs. Doing any of the following will lead to a penalty in your search rankings and may even cause your business to be de-indexed from Google entirely.
1. Don't provide incentives
Providing incentives to customers for reviews is against Google's policies. Google believes that incentives bias your reviewers and prevent them from giving honest feedback on their experiences. If you're discovered doing this, you will be penalized in your search rankings.
2. Don't gate your reviews
Avoid review gating — the practice of selectively soliciting reviews from customers who you're absolutely sure will leave a positive review. Not only is this against Google's policy, but this strategy might also just end up hurting your online reputation. When you're being this selective, you might miss out on asking customers who would be happy to leave a good review.
3. Don't ask employees to write reviews
Don't ask for reviews from current or former employees. According to Google, these reviews are likely to be biased and do not represent the true customer experience.
5 tips on how to ask for reviews respectfully and effectively
Address the customer by name and thank them for their business.
Tell the customer what you would like them to review. For example, you could ask them to review the product they purchased, the service they received, or their overall experience with your business.
Keep your request for a review short and to the point.
Don't pressure or bribe the customer to leave a review.
It may take some time for the customer to leave a review. Do regular follow in a cadence but make sure it isn't annoying.
Effective Google review request templates
Wondering how to request reviews from your customers? Here's an email review request template that you can use.
Subject Line: How Was Your Experience?

Thank you for choosing us! Please take a moment to leave us a review. Your response will help us better serve customers like you in the future.
If you are planning to send your review request via SMS, here's a template that you can use. We've found that keeping it short and sweet usually gets the best results.
Hi [Customer Name], please provide your feedback by clicking the link. Thanks!

Of course, you want to make sure that both of these review requests include a short link to your Google Business Profile. Remember, the easier the process is for customers, the more reviews you'll get.
How to automate getting Google reviews
Mostly your team is already swamped. Sending review requests to all your customers manually at the end of every business day can be a time-consuming process. It's a lot of work to add on for your employees.
That's why we recommend that you automate the process of getting more reviews. Make review generation part of your business practices, just like sending invoices.
An all-in-one reputation management software can take care of the whole process for you. This makes the process of writing a review even easier than not writing one — especially when the customer is happy with their experience and likes your business. Birdeye takes care of this process for Google and over 250 other review sites.
Birdeye is fully integrated with Google, so every step of the review collection process is automatic. In fact, Birdeye is one of the few companies integrated directly with Google's private API, which makes the collection process easier and review load times faster.
Chapter 3: Manage Google reviews
The story isn't over when you get new Google reviews. Let's talk about how you can manage your reviews and make a great first impression on potential customers.
Why do you need to manage Google reviews?
There are many reasons to invest in managing Google reviews, and it goes well beyond a basic business sense. Managed Google reviews:
Keeps your Google Business profile active
When you manage a single-location large corporation or a multi-location business, it is easy to get lost in the details.
Google reviews are a good reflection of the state of your business, your employees, and customer sentiment. The best insights are here.
Establishes a connection with your customers and leads
Digital marketing can be faceless, but responding to your customer reviews humanizes your business, convincing customers to reach out to you.
Helps you handle any negative publicity
When you constantly monitor and respond to reviews, you will not be blindsided by any misunderstanding that may be building up in the review section.
How to respond to Google reviews
Customers are investing time when they leave a review. It's only fair that you acknowledge that effort by responding to these reviews in a timely manner.
Plus, Google reviews with responses from the business tend to rank higher, and customers see it as a sign of trust. Proactive and professionally responding to negative reviews can be a great way to understand issues in customer experience and take immediate action.
Here's a step-by-step process of how to respond to Google reviews:
Step 1: Sign in to your Google Business Profile account. You will start seeing the Profile you manage right within Google search.
Step 2: Click on the tab labeled 'Customers.'
Step 3: Select 'Reviews' from the available options and scroll to the review you want to reply to.
Step 4: Click on the blue button on the bottom left of the review, and a reply box will open up.
Step 5: Now type your reply and submit.
How to respond to positive Google reviews
Here are a few tips for responding to Google reviews from happy customers.
Thank the customer for leaving feedback
A simple "Thanks for the kind words!" can go a long way. It's an easy way to show your appreciation to loyal customers.
Encourage the customer to return
Let the customer know that you'd be happy to serve them again. This can motivate them to make repeat purchases.
Keep your response short
There's no need to leave an essay here. Remember that customers don't want to read long paragraphs anymore than you do.
How to respond to negative reviews on Google
Responding to customers who are angry and frustrated is slightly trickier than thanking someone for leaving positive feedback. Still, a genuine, well-crafted, considerate response can motivate these customers to edit or delete their original reviews.
Take a deep breath
It's important to remain objective and not get emotional in your review response. Even if all you do is ask them to contact you directly, it's better than getting drawn into a public-facing argument.
Respond quickly
Try to respond within the first 24 hours. If you wait too long to respond to a negative review, it might be too late to change the customer's opinion.
Leave contact details
If you are dealing with a negative review, take the conversation offline whenever possible. Not only does it speed up the resolution process, but it also leaves potential customers with the impression that the problem was handled. Be sure to provide a phone number or an email id where the customer can contact you.
For even more tips on responding to positive and negative reviews, check out our blog on responding to Google reviews.

The do's and don'ts of responding to Google reviews
Do: Respond to reviews quickly.
Do: Stay professional at all times. Google reviews is not the platform to display emotions. Stay neutral at all times and be respectful of everyone.
Do: Develop templates and guidelines to ensure branding consistency, especially if a team is handling review responses.
Don't: Avoid stuffing your review response with keywords. While keywords in your reviews will help you, stuffing them in your response makes it sound spammy or artificial.
Where should I be promoting my Google reviews?
If you ask us the best place to promote your Google reviews and ratings, we have just one suggestion: Everywhere.
Displaying customer reviews is a foolproof marketing strategy that helps businesses build a stellar reputation across channels.
A few avenues where you can promote your Google reviews include:
Social media platforms
Newsletters
Website
Marketing materials
On-site displays 
Check out our detailed blog on review marketing to know more. 
Google reviews on the website
Benefits of displaying Google reviews on your website
Your website is one of the most important digital marketing assets. It is your digital storefront and, in many cases, the first customer touchpoint. So it becomes a vital part of the customer journey.
Start the journey off right by displaying Google reviews on your website.
How to embed Google reviews on your website
Unfortunately, Google doesn't provide a widget for displaying reviews on your website. However, they do allow you to display your Google reviews on your website via their application programming interface (API).
Apart from this, there are developers who have created plugins or codes that handle this for you. To learn more, check out our article on the three ways to add Google reviews to your website.
How to delete Google reviews
If you are a customer and have written a review for a business, you can absolutely edit or delete it. However, if you are a business and a customer has left you a review, you can't. Google does, however, allow you to appeal for the removal of a review if it is spammy, identified as written for another business or if it does not follow the Google reviews guidelines.
In order to appeal, go to the review that you want to flag for Google to review and select the most appropriate reason for why you feel the review should be removed. Follow the step-by-step process of flagging a Google review in our in-depth article.
It's important to remember that there's no guarantee that Google will actually delete the review. Regardless, if you see a review that you believe is fake, we recommend leaving a strong but polite response so that your prospects who read the review can understand both sides of the story.
For example, here's a polite way of calling out a fake review: 
Hey "John Smith," did you leave your review for the right business? None of our team members remember doing business with you. Please reach out to me at "phone number," I'd be happy to clear up any confusion.
Frequently asked questions about Google reviews
Why can't I see Google reviews for my business?
There are various reasons why your Google reviews might not be showing up: inaccurate listing information, duplicate business listings, inactive listings, Google identified issues with the review, etc.
When I receive a Google review, will it show up on search?
It is said that businesses need at least 5 reviews to show up on search; however, we've seen businesses with just 1-2 reviews show up on search too.
How can I promote my Google reviews in person?
Yes, when you get a great Google review, you can promote it through Google's Marketing Kit. This is a service that Google offers that allows you to print great reviews into stickers and posters.
Can I ask customers for reviews?
Yes. Google encourages businesses to solicit reviews from all customers to help businesses get honest and reliable feedback from their customers.
Can I buy Google reviews?
No. According to the Federal Trade Commission (FTC) Consumer Review Fairness Act, it is illegal to buy reviews for your business. Paying for Google reviews or giving incentives for writing reviews is against Google's policy.
Can I stop customers from writing negative reviews?
No. Trying to stop your customers from writing reviews is considered "review gating." Remember, a few negative reviews can not hurt your business, as they prove that all your reviews are authentic.
Can I share Google reviews on my website?
Yes. You can share your Google reviews on your website and social media. Since these reviews are already publicly-posted, you don't need to ask the reviewer for permission.
Can I delete Google reviews?
No. There is no way that a business owner can delete Google reviews.
Can Google reviews be traced?
No. There's no way that you can trace a Google review. If you feel that you're dealing with a fake review, consider flagging the review for Google to address.
Can I write a review without a Google account?
No. It's no longer possible to write a Google review without a Google account.
Google has made it mandatory for the reviewer to have a Google account to ensure that the reviews posted on its platform represent actual customer experiences.
Are Google reviews reliable?
Yes. Google reviews are automatically processed so that they can remove inappropriate content like fake reviews or spam.

For more information, check out our article, "Are Google reviews reliable?"
How many Google reviews do I need?
There is no rule on how many Google reviews a business needs. But, the more reviews you have, the better it is for your online reputation and local SEO efforts. 
How to get more Google reviews?
You can improve your Google reviews volume by actively requesting all your customers to leave reviews for your business. Treat every customer touchpoint, such as email, text, and website, as an opportunity to request reviews.
Can Google reviews be removed?
Yes, Google reviews can be removed if they violate any Google community guidelines. Businesses can flag objectionable reviews and justify their case to Google if they want to remove any review from their profile.
Manage your Google reviews with Birdeye
To grow your business with Google reviews, you need a system to send out requests periodically, respond to them, and manage them across various marketing channels. You need Birdeye to make the process efficient.
Birdeye gives you the tools to automatically send review requests, manage and respond to reviews across the internet and drive growth.
With Birdeye, you can go beyond Google reviews and manage your online reviews across review sites from a single easy-to-use dashboard. Leverage reviews to be the marketing asset they can be with Birdeye.
Originally published